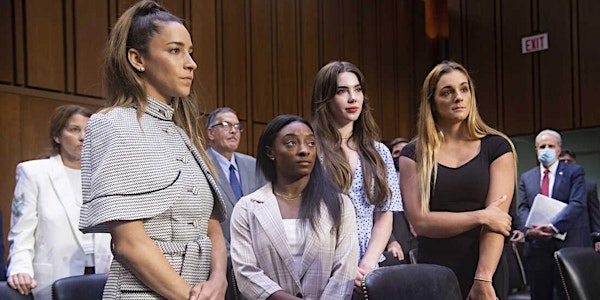 50 Years of Title IX: The Pivot to Justice in Women's Gymnastics
In honor of 50 years of Title IX, a discussion on the legal fight for safety and transparency in the world of elite women's gymnastics.
About this event
Join Cardozo School of Law's FAME Center and Sports Law Society as we present a virtual panel with three women advocating for change in the world of women's gymnastics. The evening will be framed around Title IX, part of the groundbreaking Education Amendments of 1972, and will include clips from Jill Yesko's documentary, Broken Trust , as well as Mary Pilon's Audible original audio series, Twisted: The Story of Larry Nassar and the Women Who Brought Him Down."
This event is open to the public, but you will need to register for a ticket to receive the Zoom link.
**This program of one online panel is approved for up to 2.0 transitional/non-transitional New York State CLE credits in the category "Areas of Professional Practice." To receive CLE credits for a panel, you must attend that part of the program "live." We cannot award CLE credits for watching a recorded version of any part of this program.**
Please find documents relevant to CLE accreditation below:
CLE AFFIRMATION FORM * : https://forms.office.com/r/0616fBxJ4g
*Please record all attendance verification codes announced during the program on the CLE Affirmation Form
2) Heather Udowitch, The Larry Nassar Nightmare: Athletic Organizational Failures to Address Sexual Assault Allegations and a Call for Corrective Action, 16 DePaul J. Sports L. & Contemp. Probs. (2020) Available at: https://via.library.depaul.edu/jslcp/vol16/iss1/6
Panelists:
Jessica Armstrong: Jessica is a mother, lawyer, activist, and former elite gymnast. As a survivor of sexual abuse by her gymnastics coach, Jessica advocates for change and education in elite sports. She is a proud member of Team Integrity – the Committee to Restore Integrity to the USOC, and has worked on legislative initiatives, including the passing of Senate Bill 534 – Protecting Young Victims from Sexual Abuse and Safe Sport Authorization Act of 2017.
Mary Pilon: Mary is a journalist focused primarily on the worlds of sports and business. She is co-host and co-author of the audio series "Twisted: The Story of Larry Nassar and the Women Who Brought Him Down." Her work regularly appears in the New Yorker, Esquire, Bloomberg BusinessWeek, Vice, New York, and The New York Times. Pilon previously was a staff reporter with The Times on the sports desk.
Jill Yesko: Filmmaker and journalist Jill Yesko is a former cyclist who represented the United States in the 1983 World University Games and competed in the Olympic Trials. Her acclaimed documentaries include Tainted Blood: The Untold Story of the 1984 Olympic Blood Doping Scandal and Broken Trust: Athlete Abuse Exposed. Her current project is Uphill Climb: The Women Who Conquered the Impossible Race. Jill is the host of the sports podcast The Bounce on NPR.