50 Transformative Technologies for Combating Global Poverty by Shashi Buluswar

Wednesday, September 17, 2014 from 7:00 PM to 8:30 PM (PDT)
Event Details
Impact Speaker Series Presents:
The 50 Critical Technology Breakthroughs Required to Combat Global Poverty
The polio vaccine; HIV anti-retrovirals; the new seed varieties that launched the Asian Green Revolution; mobile money. All these technologies have one thing common: they are major breakthroughs, and have had a transformative effect on the lives of global poor by dramatically reducing disease, increasing food production, and enabling them to digitally included.
While there is little doubt that there are many other breakthroughs waiting to happen, there is very limited understanding of what those breakthroughs may be.
Most of the work nowadays focuses on incremental technologies, often concentrated on a small number of topics: water purification, clean cookstoves, prosthetic joints, infant warmers, and the like. Most such technologies fail to have true large-scale impact, despite the rhetoric, media hype and exaggerated claims.
One major reason is that the work is typically led by social entrepreneurs and technologists who lack a deep understanding of the core issues, and how to strategically determine when—and which—technologies can move the needle. Instead, they use available hammers, and look for nails.
The 50 Breakthroughs study, the first of its kind, is a strategic analysis of the drivers of the breadth of problems facing the global poor: health, food security & agriculture, education, human rights, the digital divide, access to water, gender equity, access to electricity, and resilience against climate change & environmental damage. It aims to arm decision-makers—philanthropic funders, impact or commercial investors, businesses, NGOs and social entrepreneurs—with the facts, analysis and questions they need to prioritize their investments and efforts.
This two-year study, which includes input from over 1,000 of the world's leading experts on the various topics, is due to be released in November 2014, to be followed by a book, and a series of media events.
Dr. Buluswar will share some of the study's key findings and conclusions, and discuss how aspiring social entrepreneurs and leaders in the social sector can use this to achieve their mission.
Date: Wednesday, September 17, 2014
Time:  Registration opens and dinner available at 6:30 p.m.  
Program: 7:00 p.m. - 8:30 p.m.
Location:  Wells Fargo Room, Haas School of Business, UC Berkeley
Directions & parking:  http://bit.ly/cnpl-parking
For other events offered by the Center for Nonprofit and Public Leadership, visit nonprofit.haas.berkeley.edu/programs/events.html
This event is sponsored by: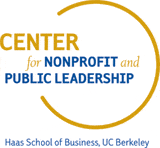 The business of making a difference starts here!
About the Impact Speaker Series:
The Center for Nonprofit and Public Leadership's Impact Speakers Series brings thought leaders and practitioners from the social sector to Berkeley-Haas to share their insights and experiences with students, alumni, and community members. This year-long speaker series, open to the public, tackles cutting-edge issues and explores best practices for social impact. For other events offered by the Center for Nonprofit and Public Leadership, visit http://nonprofit.haas.berkeley.edu/events.html.
When & Where

Wells Fargo Room
Haas School of Business, UC Berkeley
2200 Piedmont Avenue
Berkeley, CA 94720


Wednesday, September 17, 2014 from 7:00 PM to 8:30 PM (PDT)
Add to my calendar
Organizer
Center for Social Sector Leadership
Our mission is to inspire the next generation of leaders to create and seize opportunities to achieve social impact across sectors. Visit us online at: http://socialsector.haas.berkeley.edu/
Connect with us:
50 Transformative Technologies for Combating Global Poverty by Shashi Buluswar