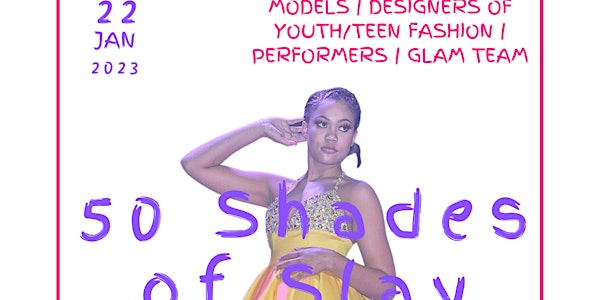 50 Shades of Slay - Youth & Teen Casting Call 2023
FASHION DESIGNERS | FASHION BOUTIQUES | MODELS | MUAs | HAIR STYLISTS | LIVE PERFORMERS | ALL ETHNICITIES | ALL GENDERS
When and where
Location
Royal Lane Studios 6400 Maple Avenue Unit 850 Dallas, TX, TX 75235
About this event
MODELS | MAKEUP ARTISTS | HAIR STYLISTS | ENTERTAINERS | DESIGNERS OF YOUTH/TEEN FASHION
*****YOU MUST COMPLETE THE ELECTRONIC APPLICATION TO ATTEND THIS CASTING CALL. ABSOLUTELY NO PAPER APPLICATIONS WILL BE PROVIDED. *****
This is a casting for a FASHION, BEAUTY, & ENTERTAINMENT show that will SLAY like no other! 
What to wear? 
Ladies: black tanks and slim jeans with heels (NO WEDGES)
Men: white shirt and jeans with black dress shoes
Kids: white shirt and jeans with black shoes
****NO RIPS/TEARS IN YOUR JEANS.*****
GLAM TEAM (Hair stylists and Makeup artists):
1. Images of your work (Hair stylist and makeup artists)
PERFORMERS/ENTERTAINERS/ARTISTS:
1. Performance track(s) on a CD, USB drive, or link.
2. BE PREPARED TO PERFORM. (1 minute performance)
DESIGNERS (MUST BE DESIGNERS OF YOUTH OR TEEN FASHION)
1. 3-5 garment samples
(Yes, designers can bring models to wear your designs for the judges or you can bring your designs in your garment bag.)
Facebook Casting Call event page: https://www.facebook.com/events/839808090720957
YOU ARE CASTING FOR THE EVENT DETAILS BELOW:
Event date: July 22, 2023
Event location: Lofty Spaces, 816 Montgomery St., Dallas, TX 75215
Facebook event page: https://www.facebook.com/events/832567478101466
Eventbrite (Event Admission): https://50shadesofslayyouthedition23.eventbrite.com
A portion of the proceeds from our event will be donated to Blown Away Adventures & Slay for Bell's Palsy .
Media Outlets: 
Facebook: https://www.facebook.com/50shadesofslayfashion
Instagram: https://www.instagram.com/50shadesofslayfashion
Facebook: https://www.facebook.com/TheSlayMagazine/
Instagram: https://www.instagram.com/theslaymagazine/
Twitter: https://twitter.com/theslaymagazine
YouTube: https://www.youtube.com/c/SlayMagazineLLC
Website: https://www.theslaymagazine.com/
***Slay Magazine's media outlets have a MONTHLY reach of over 11 million viewers. Separate from our media analytics. Our 2022 spring/summer casting call event page had a WEEKLY reach of over 15,000 SLAYers per week.****