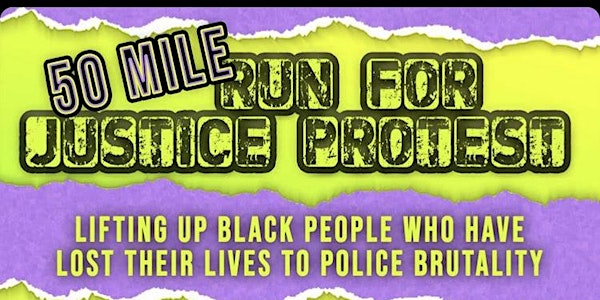 50 Mile Race for Race
50 miles race to continue to draw attention to and honor the Black lives lost to police brutality. As well as getting out the vote!!
When and where
Location
414 N Coast Hwy 101 414 North Coast Highway 101 Encinitas, CA 92024
Refund Policy
Contact the organizer to request a refund.
Eventbrite's fee is nonrefundable.
About this event
When: Sunday Nov 1 430a-430p
Where: E4E community space 414 N coast highway Encinitas
Encinitas4Equality, Ride for Breonna, and Run for Breonna are joining hearts and action to participate in the National 50 Mile Race For Race. A moving racial justice Protest to draw attention and honor Black individuals who have lost their lives to police brutality. We will also be reminding people to VOTE, as this is 2 days before Election Day. We will be running/walking/riding through downtown Encinitas, starting at the E4E community space and running a loop to Cardiff Kook and back (5.8 miles) Bikers will ride from E4E to Solana beach sign and back (10 miles).
The first leg will begin at 430a and every hour thereafter a new group will head out on the loop. You can join for the whole 50 miles or come at anytime to start, 530a, 630a, 730a
830a will be dedicated as a Run for Breonna Taylor and we will take an hour break between 930-1030a
"Racing" will resume 1030a, 1130a, 1230p, 130p, and another break 230-330p, before final loop at 330p
If you choose to complete the full 50 miles we recommend creating teams.
Each team will have a captain and they can determine if the team will be a mix of runners, riders, both or just one sport. One rider can have their own team and ride 50 miles or can be a combination.
Team names will be the name of a Black individual who you are racing on behalf of or you can choose a candidate who is fighting for racial justice and do a Get Out The Vote, on thier behalf.
You can run 1 mile. You can run 50 miles. You can run, skateboard, bike, scooter, whatever will get you from point A to point B. It's up to you! Whatever you do, come show your support!
We will be wearing white t shirts to stand in solidarity together. Because white, pink and black are the colors worn by Black GirlsRun!, please incorporate those colors if possible. Other cities hosting a 50 Mile Run For Justice Protest are:
NYC, Los Angeles, Baltimore, Dallas, Philly, Austin, and Portland Maine.
ACTION STEP 1: VOTE. CHECK YOUR REGISTRATION STATUS RIGHT NOW. https://www.usa.gov/confirm-voter-registration
If you are registered to vote, SHOW UP TO THE POLLS ON TUESDAY, NOVEMBER 3 AND VOTE OR VOTE EARLY! If you haven't registered to vote or are uncertain of your registration status on the day of the election, you can show up to the polls and ask for a provisional ballot.
ACTION STEP 2: Donate when registering and we will be sending all donations to Black Girls Run! We want Black Girls Run! to know that we stand behind them and support them!
You can read more about the organization here: https://blackgirlsrun.com/pages/about
ACTION STEP 3: Print the bib below and write down who you are running for that has lost their life to police brutality. We will have extra bibs at the race day event. https://drive.google.com/file/d/1AXWDSXhiNfBe9i42m7RbeAA0AuAqP0TL/view?usp=sharing
ACTION STEP 4: Show up to the 50 Mile Run for Justice and bring a friend. Even if you don't want to "race" you can come to the E4E space and cheer on other runners.
ACTION STEP 5: Follow @50MileRunForJustice on Instagram to stay updated with the 50 people we are running for, what cities are participating, and how you can help. Any questions? Please email Encinitas4equality@gmail.com