Description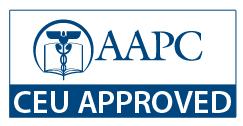 *This program has the prior approval of AAPC for 8 continuing education hours. Granting of prior approval in no way constitutes endorsement by AAPC of the program content or the program sponsor.
AAPC Approved Exam Prep Boot Camp-8 CEU's
Saturday, June 1, 2019
9:00 am-5:00 pm
Reading, Ma 01867
Cost: $50.00
Integrity Coding will be holding a LIVE, AAPC Approved Medical Coding Exam Prep Boot Camp that will also be offering 8 CEU's. The cost is $50.00. All practice exam material will be provided. I would love to meet you in person, as we go throught this live class together! These live events are enormously successful and FUN!!!! We have a great time and we are learning!

This one-day event is a simulation of your actual board exam. We will be giving students notes, tons tips and test-taking strategies that will help them succeed on their national exam. Our live boot camps have an over 80% pass rate so DON'T MISS THIS. You will feel so great when you leave this class because you will be prepared and equipped with invaluable information that will prepare you with confidence and knowledge of Coding Guidelines!
This Boot Camp is also a great review for seasoned coder's, and you can earn 8 CEU's for an extremely reasonable price.
Space is limited so register today. DON'T MISS YOUR OPPORTUNITY. To register, please go to: https://www.eventbrite.com/e/50-8-ceu-live-boston-area-aapc-approved-medical-coding-exam-prepararation-and-review-class-8-ceus-tickets-59946752350
If you have any questions, please contact Danita@integritycoding.com or call us at 781-835-7804.
Sincerely,
Danita M. Ruszkowski, CPC, CPC-I, COBGC
Integritycodig.com