5 wks Argentine Tango Class Atlanta Georgia @ Dancing4Fun Dance Studio

Wednesday, September 14, 2016 from 6:30 PM to 7:30 PM (EDT)
Who's Going

Loading your connections...
3 of your friends are going.
Share it to get more people on board!
Share

Sara Haughty
San Francisco, California

Luke Picard
London, United Kingdom

Rick Vespucio
Florence, Italy
Event Details
5wk Beginner Argentine tango
dance class with Tina Marie @ Dancing4fun Dance Studio 
Starts Wednesday September 14, 2016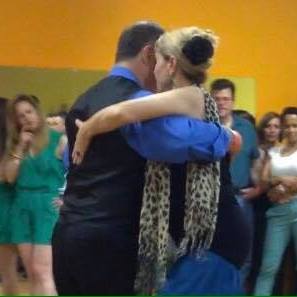 Argentine Tango is one of the most timeless class dances
you can learn. If you ever thought about learning how to
dance Argentine Tango, come check out this 6 wk
Beginner Argentine Tango class!
Taught by Atlanta's own Tina Marie,
Be sure to invite all your friends. Don't miss this opportunity
to be introduced to one of the most beloved and sensuous
dance of all time.
Where:
Dancing4Fun Dance Studio
6025 Peachtree Pkwy
Peachtree Corners Ga 30092
770.855.4396 text/call


When:
Every Wednesday @ 6:30 - 7:30 pm
Starting on September 14 --  October 12

Cost:
$65/person 
 
If you have any questions..
Please Tina a call
678.469.5005 text/call 
http://www.Dancing4Fun.com
http://www.meetup.com/dancing4fun/
https://www.facebook.com/Dancing4FunATL
http://www.NewYearsEvePartyAtlanta.com
http://www.Facebook.com/NewYearsEvePartyAtlanta
http://www.SwingDanceBootCamp.com
http://www.AtlantaHalloweenParty.com
http://www.ValentinesDayDanceParty.com 
http://www.ValentinesDayPartyATL.com
https://swingdancebootcampatlanta.eventbrite.com
https://swingdanceclassatlanta.eventbrite.com
https://speakeasydinnerswingdanceatlanta.eventbrite.com
http://halloweenbigbandswingdanceatlanta.eventbrite.com/

https://www.facebook.com/events/1268029866541099/
Zombie Zoot Suite Speak Easy Oct 21st.

https://www.facebook.com/events/1725692790994138/
Halloween Sat Oct 29th 2016  Latin
https://www.facebook.com/events/139451079831544/
Oct 29th Halloween Edition of Swing & all That Jazz
@ D4F Dance Studio

https://www.facebook.com/events/486066694918900/
Saturday Dec 17, 2016

https://www.facebook.com/events/843762062388043/
Pre-New Year's Eve Party Fri Dec 30th

https://www.facebook.com/events/919905301419838/
New Year's Eve Masquerade Party Atlanta 2017
halloween swing dance party atlanta Ga
big band swing dance party atlanta ga
17 piece big band swing dance party Gwinnett
halloween party Gwinnett
live music swing dancing halloween party near Atlanta ga
Halloween live music Swing Dancing near athens ga
Atlanta halloween event live music
big band swing dance party near lilburn ga
halloween swing dance party suwanee ga
live music halloween party near suwanee ga
halloween costume contest dance event duluth ga
halloween costume live music event atlanta ga
halloween parties gwinnett
 halloween parties Suwanee
Suwanee ga halloween event
halloween swing dance party
halloween party gwinnett
halloween party atlanta ga
atlanta ga halloween party
gwinnett halloween party
live big band swing dance party
gwinnett dinner and dancing halloween party
halloween live band dancing suwanee ga
atlanta halloween event
 lawrenceville ga halloween Swing dance party
17 piece band live music norcross ga
snellville ga Halloween dance party
halloween Atlanta Ga
Atlanta Halloween party
Gwinnett halloween event
halloween Gwinnett event
sugar hill ga swing dancing halloween event
https://www.facebook.com/events/1268029866541099/   -- Oct 21. 2016
Halloween Swing Dance Party Oct 21st
halloween swing dance party atlanta Ga
big band swing dance party atlanta ga
17 piece big band swing dance party Gwinnett
halloween party Gwinnett
live music swing dancing halloween party near Atlanta ga
Halloween live music Swing Dancing near athens ga
Atlanta halloween event live music
big band swing dance party near lilburn ga
halloween swing dance party suwanee ga
live music halloween party near suwanee ga
halloween costume contest dance event duluth ga
halloween costume live music event atlanta ga
halloween parties gwinnett
 halloween parties Suwanee
Suwanee ga halloween event
halloween swing dance party
live big band swing dance party
gwinnett dinner and dancing halloween party
halloween live band dancing suwanee ga
atlanta halloween event
 lawrenceville ga halloween Swing dance party
17 piece band live music norcross ga
snellville ga Halloween dance party
halloween Atlanta Ga
Atlanta Halloween
Atlanta Halloween party
gwinnett halloween party
Gwinnett halloween event
halloween Gwinnett event
sugar hill ga swing dancing halloween event
http://halloweenbigbandswingdanceatlanta.eventbrite.com/
Halloween Party atlanta GA
Halloween Swing Dance Party
Swing dance event Halloween Atlanta
Gwinnett Halloween party
swing dance party Halloween atlanta
Halloween party gwinnett
Halloween dance party Gwinnett
Atlanta Halloween party
halloween costume party atlanta
https://www.facebook.com/events/139451079831544/ 
Oct 29th Party @ D4F Studio
Live Swing Band Atlanta GA
Dinner and Swing dance Atlanta
Nightlife Gwinnett
Nightlife Atlanta
live music swing dancing
Live Big Band Swing music Atlanta
speakeasy swing dance atlanta
Live band speakeasy Atlanta
Atlanta Live band speakeasy
Dinner and dance atlanta
Live 17 piece Swing band Atlanta
dinner Live music Atlanta
dinner live band Atlanta
Live swing band Gwinnett
dinner and swing dance Gwinnett
Nightlife Live band Gwinett
Dinner and Live music Gwinnett
dinner and live music Norcross Ga
live music dancing Peachtree corners GA
peachtree corners Ga Live music
nightlife in peachtree Corners GA
live band swing dancing norcross Ga
dinner and live music near Duluth GA
Suwanee Ga swing dancing party   
Swing dance party Atlanta
ballroom dance party Atlanta
atlanta Swing dance party
swing and ballroom dance party Gwinnett
Peachtree corners Ga swing dance party
peachtree corners Ga dinner dance
https://speakeasydinnerswingdanceatlanta.eventbrite.com
Live Swing Band Atlanta GA
Dinner and Swing dance Atlanta
Nightlife Gwinnett
Nightlife Atlanta
live music swing dancing
Live Big Band Swing music Atlanta
speakeasy swing dance atlanta
Live band speakeasy Atlanta
Atlanta Live band speakeasy
Dinner and dance atlanta
Live 17 piece Swing band Atlanta
dinner Live music Atlanta
dinner live band Atlanta
Live swing band Gwinnett
dinner and swing dance Gwinnett
Nightlife Live band Gwinett
Dinner and Live music Gwinnett
dinner and live music Norcross Ga
live music dancing Peachtree corners GA
peachtree corners Ga Live music
nightlife in peachtree Corners GA
live band swing dancing norcross Ga
dinner and live music near Duluth GA
Suwanee Ga swing dancing party   
Swing dance party Atlanta
ballroom dance party Atlanta
atlanta Swing dance party
swing and ballroom dance party Gwinnett
Peachtree corners Ga swing dance party
peachtree corners Ga dinner dance
https://www.Facebook.com/SwingDanceAtlanta
Live Swing Band Atlanta GA
Dinner and Swing dance Atlanta
Nightlife Gwinnett
Nightlife Atlanta
live music swing dancing
Live Big Band Swing music Atlanta
speakeasy swing dance atlanta
Live band speakeasy Atlanta
Atlanta Live band speakeasy
Dinner and dance atlanta
Live 17 piece Swing band Atlanta
dinner Live music Atlanta
dinner live band Atlanta
Live swing band Gwinnett
dinner and swing dance Gwinnett
Nightlife Live band Gwinett
Dinner and Live music Gwinnett
dinner and live music Norcross Ga
live music dancing Peachtree corners GA
peachtree corners Ga Live music
nightlife in peachtree Corners GA
live band swing dancing norcross Ga
dinner and live music near Duluth GA
Suwanee Ga swing dancing party   
Swing dance party Atlanta
ballroom dance party Atlanta
atlanta Swing dance party
swing and ballroom dance party Gwinnett
Peachtree corners Ga swing dance party
peachtree corners Ga dinner dance
http://www.Meetup.com/Dancing4Fun
New years eve Atlanta
Atlanta New Years Eve
Atlanta NYE
NYE Atlanta
Atlanta NYE 2017
NYE party Atlanta
Atlanta NYE party
New Year's Eve Gwinnett
Gwinnett New year's Eve
NYE Gwinnett
Gwinnett NYE
Alpharetta New year's Eve
roswell new year's Eve
Marietta New year's Eve
New Year's Eve Fulton County GA
Athens Ga New year's Eve
NYE party Atlanta
Atlanta NYE party 2017
NYE Party 2017 Atlanta
New year's Eve party Atlanta
Atlanta New year's Eve Party
New Year's Eve Party in Gwinnett
Gwinnett New Year's Eve Party
New Year's Eve party in Alpharetta GA
New Year's Eve party in Roswell GA
New Year's Eve Party Marietta GA
Fulton County GA New Year's Eve party 
New Year's Eve party Athens GA
New year's Eve 2017
https://www.facebook.com/NewYearsEvePartyAtlanta/
 



Live Swing Band Atlanta GA
Dinner and Swing dance Atlanta
Nightlife Gwinnett
Nightlife Atlanta
live music swing dancing
Live Big Band Swing music Atlanta
speakeasy swing dance atlanta
Live band speakeasy Atlanta
Atlanta Live band speakeasy
Dinner and dance atlanta
Live 17 piece Swing band Atlanta
dinner Live music Atlanta
dinner live band Atlanta
Live swing band Gwinnett
dinner and swing dance Gwinnett
Nightlife Live band Gwinett
Dinner and Live music Gwinnett
dinner and live music Norcross Ga
live music dancing Peachtree corners GA
peachtree corners Ga Live music
nightlife in peachtree Corners GA
live band swing dancing norcross Ga
dinner and live music near Duluth GA
Suwanee Ga swing dancing party   
Swing dance party Atlanta
ballroom dance party Atlanta
atlanta Swing dance party
swing and ballroom dance party Gwinnett
Peachtree corners Ga swing dance party
peachtree corners Ga dinner dance
http://www.Facebook.com/DinnerDanceATL


Swing and Ballroom Dance classes Atlanta
Atlanta Swing dance classes
Swing dance class Atlanta
learn how to swing dance Atlanta
East Coast Swing class Atlanta
Atlanta east coast swing class
West coast Swing dance class
Lindy hop class atlanta Ga
Swing dance lessons Atlanta GA
Atlanta Swing dance lessons
Swing Dancing Atlanta
Swing dance Atlanta
Atlanta Swing dance
Atlanta swing dancing
dance lessons atlanta
dance lessons in atlanta
Roswell Ga swing dance class
Sandy springs Ga swing dance lessons
Ballroom dance studio near Alpharetta Ga
swing dance class near alpharetta Ga  
Ballroom dance class Atlanta
Atlanta Ballroom dance class
Ballroom dancing atlanta Ga
ballroom dance studio Atlanta
Atlanta ballroom dance studio
ballroom dancing near atlanta Ga
ballroom dance lesson atlanta
atlanta ballroom dance lessons
ballroom dance class near atlanta
Cha cha dance classes Atlanta Ga
Atlanta Cha Cha dance class
learn to Rumba Atlanta Ga
rumba dance class
wedding first dance choreography Atlanta
ballroom dance studio atlanta
ballroom dance studio Gwinnett
ballroom dance classes norcross GA
ballroom dance class Peachtree Corners GA
Ballroom dance lessons Norcross GA
ballroom dancing Suwanee Ga
ballroom dance studio duluth GA
John's Creek ballroom dance Studio
duluth ga ballroom dance class
http://www.Dancing4Fun.com


Swing dance lessons Gwinnett
Gwinnett swing dance lessons
east coast swing lesson gwinnett
dance lessons gwinnett
ballroom dance studio Gwinnett
Gwinnett ballroom dance studio
swing dance class in Gwinnett
swing dance lessons John's creek Ga
swing dancing class near John's creek GA
swing dance lessons near Duluth Ga
duluth Ga swing dance class

Swing dance workshop Gwinnett
Swing dance workshop Atlanta
swing dance boot camp Atlanta
swing dance boot camp Gwinnett
learn to swing dance peachtree corners Ga
swing dance lessons near lawrenceville Ga
lawrenceville GA swing dance class
Lilburn Ga swing dance class
swing dance class near lilburn GA
John's creek ballroom dance studio
dance class near john's creek GA
learn to dance swing near John's creek GA
suwanee Ga dance studio
Swing Dance party Atlanta
http://www.Dancing4Fun.com
 


Swing and Ballroom Dance classes Atlanta
Atlanta Swing dance classes
Swing dance class Atlanta
learn how to swing dance Atlanta
East Coast Swing class Atlanta
Atlanta east coast swing class
West coast Swing dance class
Lindy hop class atlanta Ga
Swing dance lessons Atlanta GA
Atlanta Swing dance lessons
Swing Dancing Atlanta
Swing dance Atlanta
Atlanta Swing dance
Atlanta swing dancing
dance lessons atlanta
dance lessons in atlanta
Roswell Ga swing dance class
Sandy springs Ga swing dance lessons
Ballroom dance studio near Alpharetta Ga
swing dance class near alpharetta Ga  
Ballroom dance class Atlanta
Atlanta Ballroom dance class
Ballroom dancing atlanta Ga
ballroom dance studio Atlanta
Atlanta ballroom dance studio
ballroom dancing near atlanta Ga
ballroom dance lesson atlanta
atlanta ballroom dance lessons
ballroom dance class near atlanta
Cha cha dance classes Atlanta Ga
Atlanta Cha Cha dance class
learn to Rumba Atlanta Ga
rumba dance class
wedding first dance choreography Atlanta
ballroom dance studio atlanta
ballroom dance studio Gwinnett
ballroom dance classes norcross GA
ballroom dance class Peachtree Corners GA
Ballroom dance lessons Norcross GA
ballroom dancing Suwanee Ga
ballroom dance studio duluth GA
John's Creek ballroom dance Studio
duluth ga ballroom dance class
http://www.meetup.com/Dancing4Fun


Swing dance lessons Gwinnett
Gwinnett swing dance lessons
east coast swing lesson gwinnett
dance lessons gwinnett
ballroom dance studio Gwinnett
Gwinnett ballroom dance studio
swing dance class in Gwinnett
swing dance lessons John's creek Ga
swing dancing class near John's creek GA
swing dance lessons near Duluth Ga
duluth Ga swing dance class

<s&
When & Where

Dancing4Fun Salsa ATL Dance Studio
6025 Peachtree Parkway
Peachtree Corners, Georgia 30092


Wednesday, September 14, 2016 from 6:30 PM to 7:30 PM (EDT)
Add to my calendar
Organizer
Salsa ATL & Dancing4Fun - Dinner Dancing Atlanta Ga
5 wks Argentine Tango Class Atlanta Georgia @ Dancing4Fun Dance Studio