5 Week Level One Course - Burlesque, Body Confidence and Self-Image Discovery

Tuesday, March 21, 2017 from 7:00 PM to 8:30 PM (PDT)
Event Details
TO FULLY GIVE EACH STUDENT THE ATTENTION THEY DESERVE, CLASS SIZE IS LIMITED TO FIVE STUDENTS  - RESERVE NOW TO SECURE YOUR PLACE!!!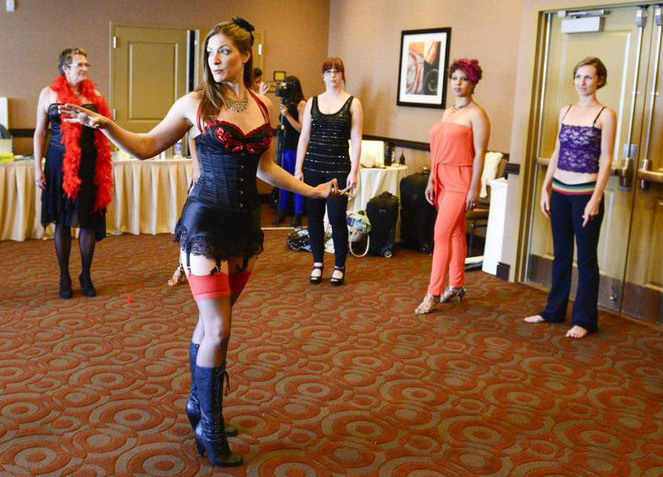 5 Week Level One Course - Burlesque, Body Confidence and Self‐Image discovery 
Presenting a unique introduction to the basics of Burlesque, fused with elements of physical theatre, stand-up and public speaking taught by actress Cat LaCohie ( aka burlesque performer Vixen DeVille - see Event Organiser desciption for more details.) 
Re-discover and take ownership of your true physical self, not only in terms of a performance career, but in everyday situations in our day-to-day lives.
This class will provide a space in which you can gain the freedom and confidence to step into your unique body, and to fully utilize this vehicle you have been given for the journey through life.
Over the 5 weeks you will cover:
- Basic Burlesque Moves
- Confidence in 'Being Seen'
- Character and Self Exploration.
- Presentation & Play: Rapport with your audience.
Course Structure
5x 90 Minute Classes with a break after week 3 for personal rehearsal and prep.  
Maximum 5 students per class.
Saturday Block A  - Starting February 18th to March 18th 2pm -3:30pm 
Monday Block B - Starting February 21st to March 21st 7pm - 8:30pm
Saturday Block B Starting March 18th to April 15th 2pm - 3:30pm
Monday Block B Starting March 21st to April 18th 7pm - 8:30pm 

Full course cost $350
Installment payment is available and will be negotiated after booking the 'deposit only' ticket option instead of 'full payment'. 
Paying in full will result in a 10% discount price of $315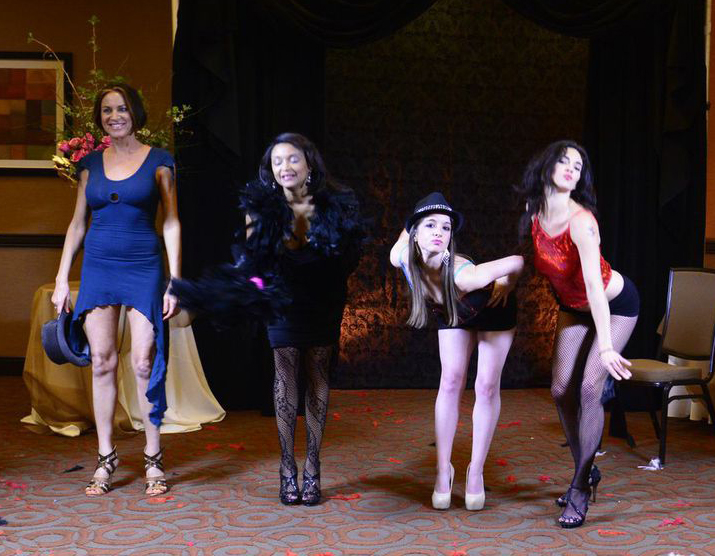 We will look at what energy you naturally bring to the stage/into a room and discover what makes you unique in terms of your characteristics and how your body looks and moves. This will enable an increased awareness of what image you present to others without even trying, how to manipulate this to your advantage as a performer/speaker/personality and how to enhance these qualities to transfer them from an 'everyday' situation to the stage.
Learn to accept, and own, what you have and who you are! Come explore a variety of 'burlesque characters' and rediscover what characteristics are hiding within you that we have all learned to bury in our everyday lifestyles….
Coupling this with learning skills in the Art of Tease, removal of various clothing items and burlesque prop-manipulation, each student will leave in Week 5 with the bare bones of a personalised burlesque routine tailored to compliment their specific, unique strengths and performance persona.
Spend your monday night finding a new sense of fun in unleashing the part of you that never gets a chance to come out and play!
Graduates of the Level One course will have the option to continue into Level TWO in order to bring their routine to a professional standard culminating in performing a guest spot in a public burlesque show in Los Angeles.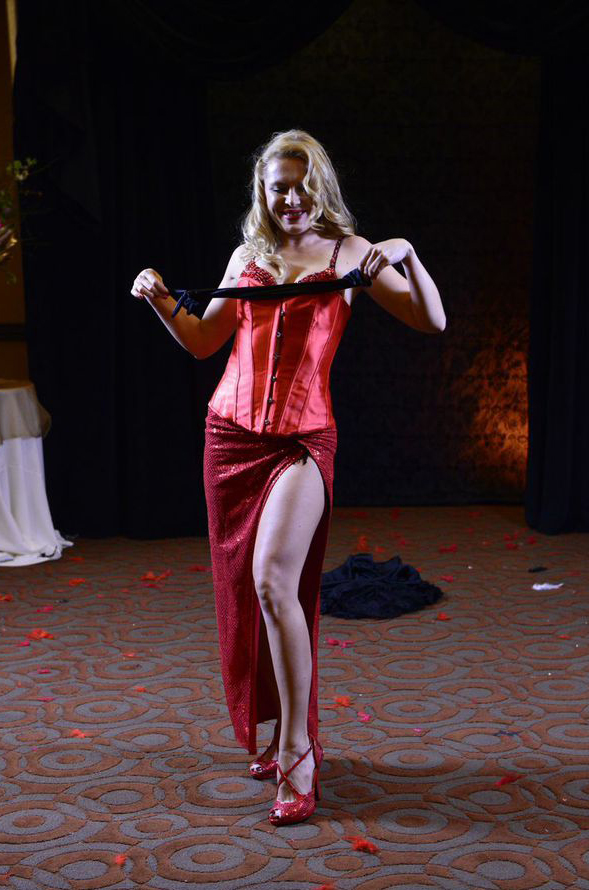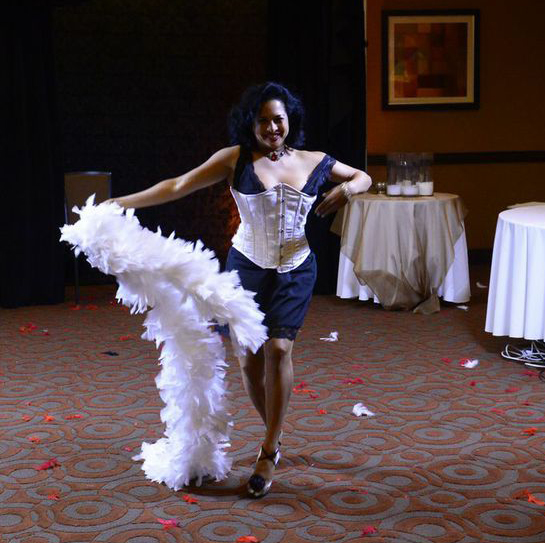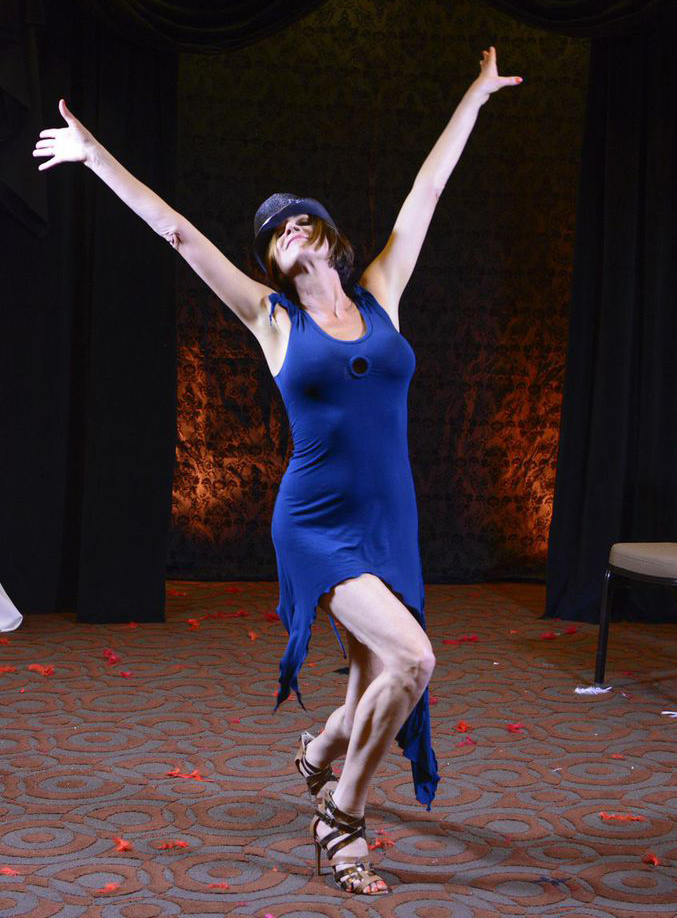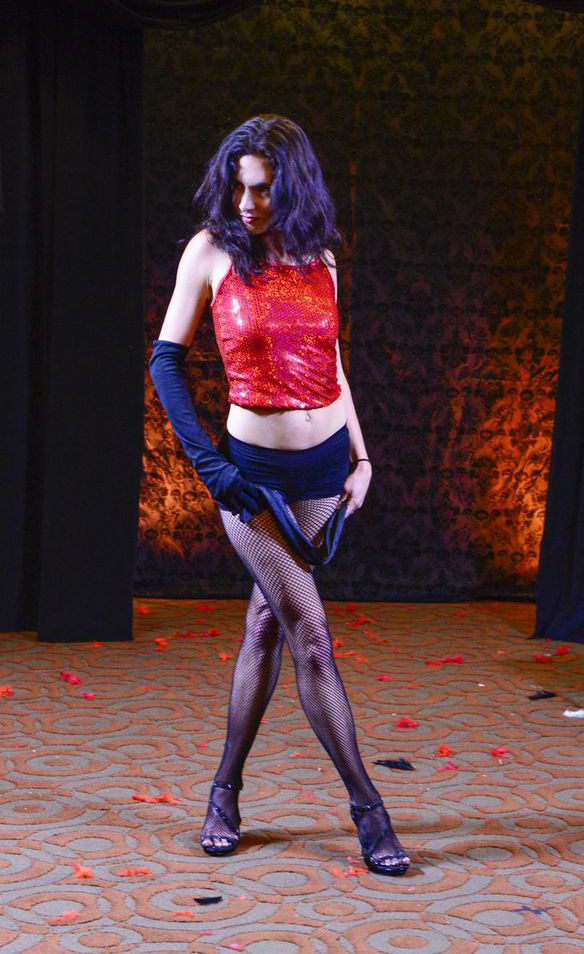 Student Testimonials:
"Thank you for a fun and expanding experience! Your dedication to each individual's routine being 'uniquely theirs' is inspiring and heart warming. You are dedicated, brave and powerful and I totally believe in what you do."
Sara Rowley - Overwhelm Relief Coach: Helping women step out of Overwhelm and into their feminine power. (upwardwithsara@gmail.com)
"I had the pleasure of taking the introductory class a couple of weeks ago, i expected to have a lot of fun, learn some stuff, meet some new people and move on with a great story to tell my friends. and i got all of that. what i didn't expect... was to find myself in a totally safe and friendly environment, with fun, friendly and encouraging women. 

I found myself so moved by Cat's opening speech i almost didn't know how to stay, but knowing that all i wanted to do was stay. i wanted what she was talking about! i wanted to find out who i really was and what i wanted people to see. It wasn't about stripping or nakedness at all, not in the traditional sense. it was about empowering myself. loving myself. all of me, even the "bits" that i was conditioned to think were faults. I learned that they were anything but, they were just as awesome a part of me as anything else and i suddenly found myself loving those "bits" too. 

I learned to look at someone in the eye and ask them to look at me... because i want them to, i'm asking them to, i'm telling them to... i'm the one sharing it... and i left being able to say "i'm fabulous!"... and for the first time, i meant it! this is a class not to miss!"
Erin Treanor - Theatre Producer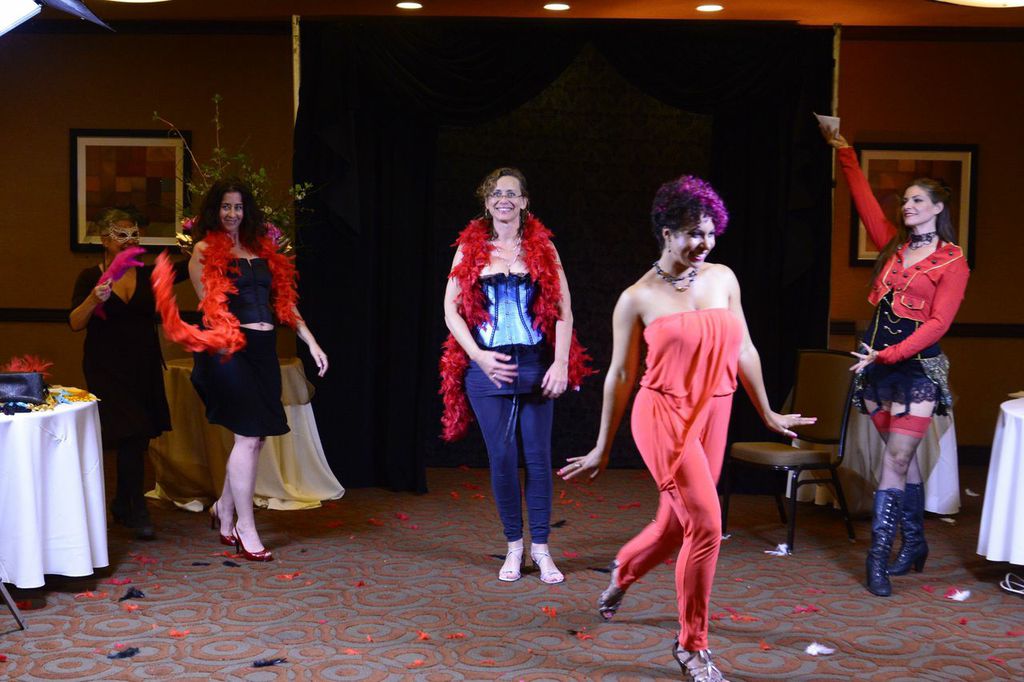 "There is a strong need to bring my authentic feminine flavor to my business! Before your lessons I had taken a chair dance class, but never explored the magical unleashing of feminine power in the burlesque class…I would not have made the investment without your encouragement."
LaShante' Williams - "The Healthy Million Dollar MVP Body and Lifestyle Mentor"
Please find us on facebook  HERE where you can also view more class pictures, and testimonials. 
You can also see Vixen DeVille in interview on 'Burlesque and Being Seen' here
And read this article written by previous Level One Student Astrid Vause on her experiences of the class here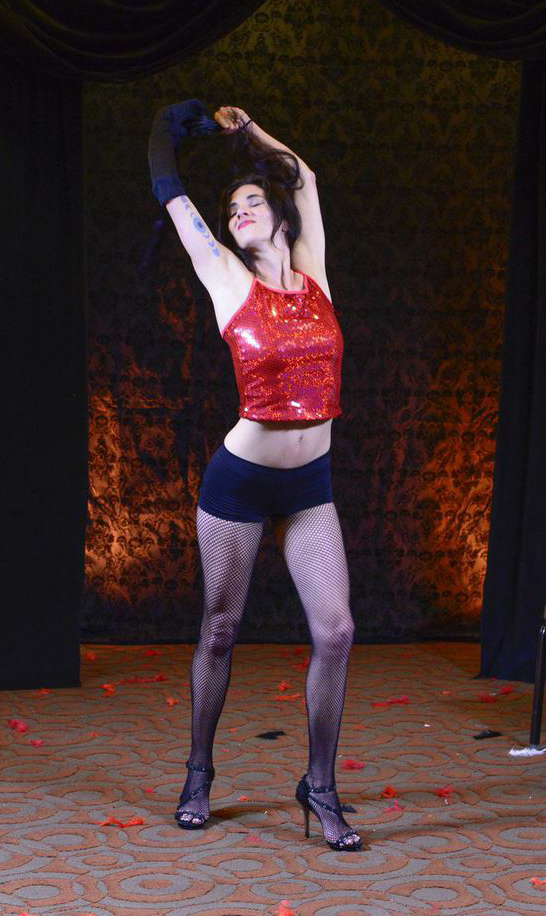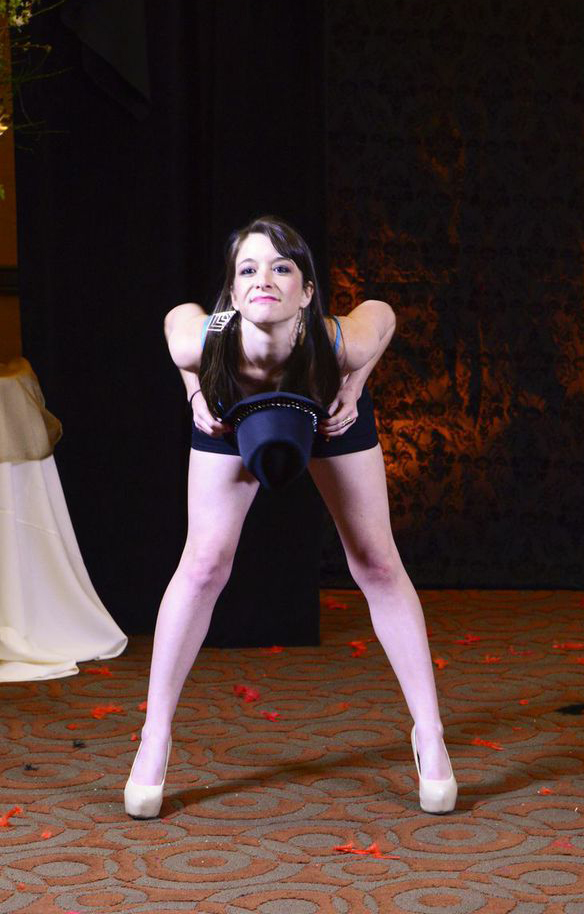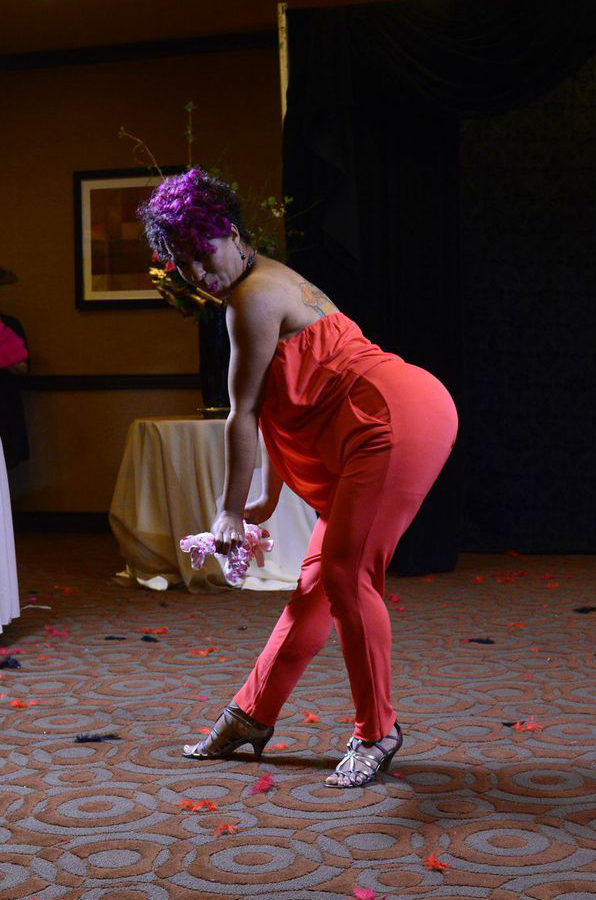 Have questions about 5 Week Level One Course - Burlesque, Body Confidence and Self-Image Discovery?
Contact Vixen DeVille
When & Where

1844 Taft ave
Suit 6
Los Angeles, CA 90028


Tuesday, March 21, 2017 from 7:00 PM to 8:30 PM (PDT)
Add to my calendar
Organizer
Vixen DeVille
Vixen DeVille
began her burlesque career in the U.K. 'purrrrrrforming' as core member of London's longest running burlesque cabaret troupes, 'The Kitten Club', with residencies at Volupte and Madame JoJos, T.V. appearances on Channel 4, BBC3 and ITV2 and three West End runs at The Charing Cross Theatre (formerly The New Players Theatre).
During her 6 year stint with, 'The Kitten Club', Ms. DeVille also performed as resident host of the monthly, 'Finger In The Pie Cabaret' (Madame JoJo's), 'A Night of Burlesque' (Oxford's Café Coco) and as co-founder of the interactive theatrical cabaret show, 'The House Of Macabre', alongside numerous guest appearances including, Café De Paris, Cirque Du Soir, 'The House Of Burlesque', 'A Night of L'Amour', The VIP Room; Paris, London Burlesque Festival 2009, and London's The RITZ .
Vixen relocated to L.A. in 2012 with a debut performance as part of 'The Sugar Club' at The Viper Room on the sunset strip. Vixen has since been the resident host at the monthly 'Sultry Sweet Burlesque and Variety Show', guest host for three years running for 'MYTH' at Anime Expo - LA Convention Center, has appeared on TV's 'The Jeff Probst Show' (CBS) and 'Masters of Illusion' (CW Network) and is a regular performer with 'The Dollface Dames', 'Vaudeville Sideshow', 'Bourbon Nights Supper Club', 'Boudoir Burlesque', and 'The Hollywood Follies'.
Vixen has previously worked as a Burlesque tutor, leading group classes under 'The Academy of Burlesque' in Hollywood and as private coach in Act Development. She is also a regular guest speaker and facilitator for Christina Morassi's 'Ecstatic Wealth' and 'Confident Business Diva' retreats. (http://christinamorassi.com/)
In 2014 Vixen was awarded the title of 'Miss England' as part of The Queen Of The Universe pageant in Los Angeles - the search for "
gorgeous, strong, inspiring women, committed to using their position and influence to better the lives of others".
Check out an interview with Vixen on 'Burlesque and Being Seen' here: http://businessheroinemagazine.com/catlacohie/
and her thoughts on the Burlesque scene in LA here: http://www.credibleinformation.com/Motionmakers.html
Performance Reviews:
"The charming and effortless manner in which DeVille hosted "Myth" showed a highly skilled hostess being in complete control…capturing the full attention of every person."
Jesus Figueroa - http://www.thisfunktional.com/2013/08/vixen-deville-takes-myth-audiences-on.html?m=1
"At the helm of the show, was the lovely Vixen Deville. She had the audience in the palm of her hand and we ate it up. She was everything you need.. funny, flirty and great command of the stage."
www.Ogeeku.com
"The real stars of the show were the burlesque dancers. Led by the funny, charming, and more than a little Eddie Izzard-esque, Vixen DeVille…With seemingly little effort she both engaged the audience and kept the entire auditorium's energy levels up for the duration of the show. I sincerely envy this woman and her ability to handle a crowd."
www.Racketmag.com
5 Week Level One Course - Burlesque, Body Confidence and Self-Image Discovery