Event Information
Refund policy
Refunds up to 7 days before event
A 5 week workshop, where we go through the alchemical stages of balancing out each of our Elemental Technologies.
About this event
WHAT IS ELEMENTAL ALCHEMY?
Watch this video where I explain in detail the Alchemical process of the Elements and the EMDR integration
In the Dagara Cosmology the masculine(Tingan) and the feminine(Tenbalu) are essences that are not necessarily part of our biology. Innerstanding that before gender, we were energy/spirits, in different forms, creating our existences from a neutral place. Some may call it androgynous.
Therefore, Earth is Male and Female with the ability to generate, regenerate infinitely. Just like the chakras, the elements within need to be rebalanced in order to create a more balanced Earth, which is you.
This includes becoming more connected to your own Elemental Technology and alchemizing the imbalances.
IN THIS 5 WEEK SERIES WE WILL GO THROUGH THE ALCHEMICAL STAGES OF BALANCING OUT EACH OF OUR ELEMENTS FOLLOWING THE DAGARA COSMOLOGY.
SESSION 1: FIRE (RED. SOUTH)
SESSION 2: WATER (BLUE, NORTH)
SESSION 3: MINERAL (WHITE, WEST)
SESSION 4: NATURE (GREEN, EAST)
SESSION 5: EARTH (YELLOW, CENTER)
Alchemizing these technologies WITHIN, frees the AIR which symbolizes the spirit. When the spirit is free from limited beliefs and scarcity, the action of the taking those next steps becomes much easier.
WHAT IS EMDR?
EMDR stands for Eye Movement Desensitization Reprocessing which energetically, emotionally, and psychologically helps to bring more awareness to your limited beliefs and transcend the pain around them. You can watch the video below for more information. Utilizing the EMDR technology, will not only enhance the alchemical process but transmit the energetic imbalances, which on neurological level, elevates a persons' consciousness. For more information click about EMDR, click on the video below.
WHAT'S ALSO INCLUDED?
~Elemental Meditations
~Weekly Practices
~Journaling
~One month Access to the Lion Heart community
PRICE: $444
Spaces are limited! Reserve your spot! Looking forward to serving you!
TESTIMONIALS
"I loved the Temple Purification sessions. It was a powerful container for healing and inviting my energy to guide me to the spaces that were stuck. I continue to journey with the awareness and integration into my highest wisdom. Thank you Taheera for offering this opportunity with heart."
~Natalie
"Taheera is truly amazing. The EMDR helps me to go deep and face hard emotional issues from the past that I was unaware was affecting my present life. She never pushes too hard and is always incredibly kind and patient. With that being said she also does not let me live in delusion and points out when I am rationalizing false beliefs. Throughout our time together she has given me several outlets and tools to utilize in between our sessions to promote further growth. "
~Rebecca
Taheera is an Earth Angel, a true reflection of my highest self! Her calmness and her voice provided instant comfort. As my first therapy session, the stigma around therapy quickly diminished. .Her professionalism and insight shined through during the consultation and the actual therapy session was VERY HELPFUL, I'm talking Day 1, the strategies she used was non invasive but definitely permeated my subconscious."
~Tiffany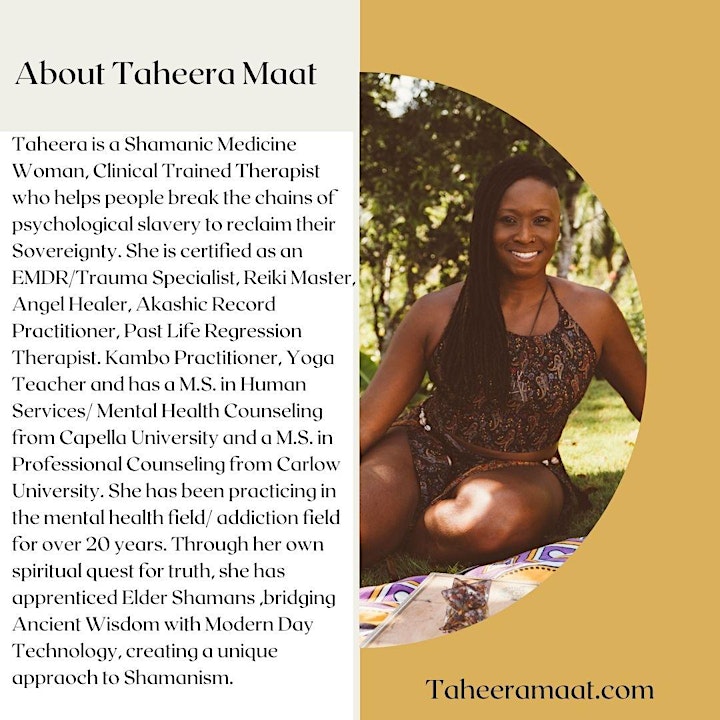 Date and time
Location
Refund policy
Refunds up to 7 days before event