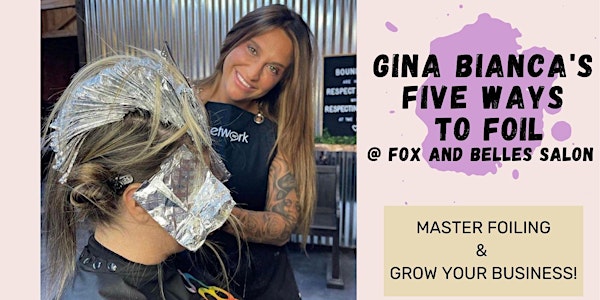 5 Ways To Foil with Gina Bianca
Whether your a foiling master or brand new the game, you will learn and grow with Gina Bianca at her #1 class: Five Ways to Foil!
When and where
Location
Fox and Belle Salon 911 University Avenue Berkeley, CA 94710
About this event
Five Ways to Foil
with Gina Bianca @iamginabianca
Master foiling with color correction specialist and salon business educator Gina Bianca!
Whether your a foiling master or brand new the game, you will learn and grow with Gina Bianca at Five Ways to Foil! This essential class is perfect for stylists at all levels who want to elevate their hair game! Gina's teaching style is easy, clear, straight forward and no nonsense. There is no fluff, only tried and true techniques that Gina has used for years behind the chair and to help elevate the beauty industry.
Are you stylist who LOVES foiling and wants to be the best at your craft?
Are you intimidated by foiling and in need of support?
Are you an experienced stylist looking for new tips, tricks and techniques?
Are you looking to network, grow and make new hair friends?!
Are you looking for inspiration, motivation and a kick in the ass?
What's Included:
IN-Person Experience:
6 Hour of Live Education focused on foiling and business with Gina Bianca @iamginabianca
1 Year Access to Five Ways to Foil Online (granted after class)
1 Year Access to Boundaries in Business (granted after class)
"I thought I was coming to learn some new foiling techniques, and what I learned was that my skills are worth more than what I'm charging. Five ways to foil is the lure, and what you're worth is actually the lesson. The content of the class was humbling, enlightening, and empowering. I would encourage anybody in this business to take the class, especially those just starting out."
Event Schedule:
Masks are required**
8:45am - Doors Open, Check In, Shopping + Networking
9:00 - Class Starts! Opening Segment, Sectioning, Tools, Mixing
9:30 - Foiliyage/Blending (Back of Head)
10:00 - Foiling Placement Intensive (upper crown)
10:30 - Money Piece + Face Frame
11:00 - Patterns/Placements/What IFs (top mohawk)
11:45 - Balayage Tip Out (whatever's left out, if required)
12:00 - Networking Lunch
1:00 - Toning, Formulation, Layered Toning, Benefits of Glossing/Upselling/Pricing Correctly
Model sent away for finishing/styling - business class/q+a begins
1:30 - Foiling Consultation, Foil Pricing/Time Standards, Hourly Pricing, Communicating Pricing
Model Reveal
2:30 - Q+A Segment
3:00 - Close Event
Testimonial:
See what Gina's 2021 students have to say about her events:
"I have been to multiple Gina Bianca events and Five Ways to Foil is such an amazing course. I have taken the class 5 times at this point both online and in person and always leave feeling like it was the very first time. Gina really knows how to keep up with new trends and adjusts her classes based on the "now." She encourages her audience to keep evolving and growing in this industry. Her "level up" mentality and energy is contagious and I love how brutally honest she is when answering questions. You can really tell that she cares about her audience and wants to see them succeed. Gina is an open book & goes out of her way to break things down so small and make sure everyone understands and is following the curriculum. The value Gina packs into her classes for the price is unmatched & all of her events are well planned and executed. I honestly would have paid more. Her team is out of this world and goes above and beyond to make the experience at the Network nothing short of amazing. If you're going to invest in your education the Network is 100% the best place to do so I will totally be returning and can't wait for the 2022 classes!"
-Kate Gaynor, Owner of Mane and Soul in New Jersey