Location
Nasdaq Entrepreneurial Center
505 Howard Street Plaza Level
Plaza Level
San Francisco, CA 94105
Description

Join us for
5 Things Every Founder Should Know About Social Entrepreneurship
with
Neetal Parekh, CEO, Innov8social
12:00pm - 1:30pm: Social Impact and Business Collide
Do you have an idea on how to solve a messy problem and maybe don't know where to start? Or are you already on your path working to improve your community or society and looking for fellow trail blazers to bounce ideas off?
This lunch and learn session will provide actionable tips on how to leverage the social impact movement from a storytelling and business perspective. You'll get a chance to interact with founders who share your vision of an improved world, and learn how to measure impact in ways that are meaningful to investors and your customers.
Topics include:
• Navigating social entrepreneurship terms
• Social enterprise case studies - lessons learned and pitfalls to avoid
• Options for legal structure, business models
• Intro to impact measurement and fundraising options
1:30pm - 2:00pm: Q & A
Have a question? Need help navigating the social impact terrain? Join in on our Q & A and chat directly with an expert.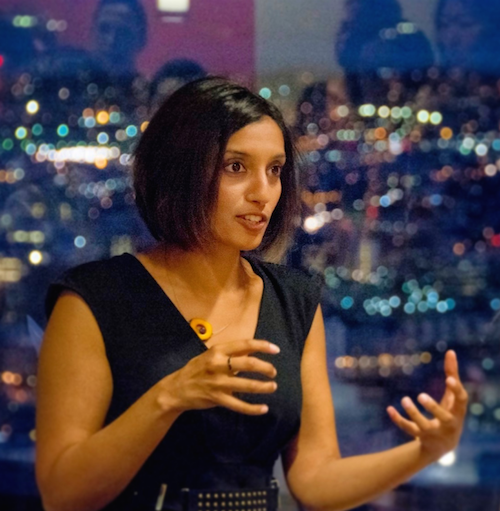 Neetal Parekh, CEO, Innov8social
Neetal Parekh is the author of "51 Questions on Social Entrepreneurship", digital communicator and storyteller, and the CEO of Innov8social. At Innov8social.com, she and her team create content, tools, and programming to empower social entrepreneurs, social intrapreneurs, and companies reach their potential to create social impact. She is the host of the Impact Podcast by Innov8social, featuring interviews with thinkers and doers in the social impact space. Neetal serves as an advisor to social enterprise startups and frequently speaks on social impact to diverse audiences.

The Nasdaq Entrepreneurial Center is a San Francisco-based non-profit that provides aspiring and current entrepreneurs with access to quality resources, including mentors, training, and networking.