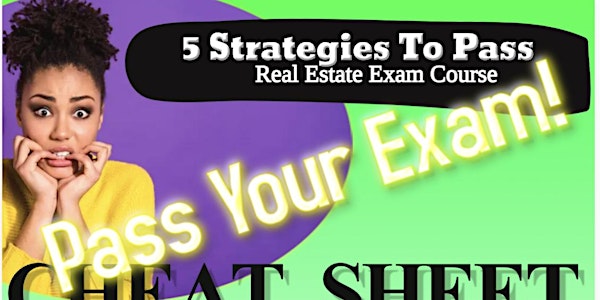 5 Strategies To PASS Your Real Estate Exam (SESSION 2)
We invest in you dream to become a real estate agent. We have created strategies proven to lead you into a path of reaching your goal.
About this event
If real estate is your dream career, passing the real estate license exam is the first step to success. Our instructors experienced your stressors caused by preparing or failing the exam. We understand with your hard work and study skills you will succeed the accomplishment. NO EDUCATIONAL CREDIT IS GIVEN FOR THIS PROGRAM . OUR SESSION 2 COURSE IS OFFERED AS A SEPARATE COURSE.
Time: 3:30 P.M. to 6:00 P.M.
Focus: State Salesperson Examination
Optional Purpose:
The cheat sheet strategies are taught and applied for usage during SESSION 1. Session 2 uses the learned strategies from SESSION 1 to overview the study of State Salesperson Examination.
The Cheat Sheet Study Course (SESSION 2) provides the concept of strategies to master passing the real estate license exam. SESSION 2 course is scheduled weekly providing cheat sheets study guides pertaining to the topics relating to State law and the specific real estate practices followed in State.
Reschedule & Refund Policy
NO REFUNDS or RESCHEDULING will be issued under any circumstances. Please be mindful of your effective planning and various offered timeframes to meet your needs.