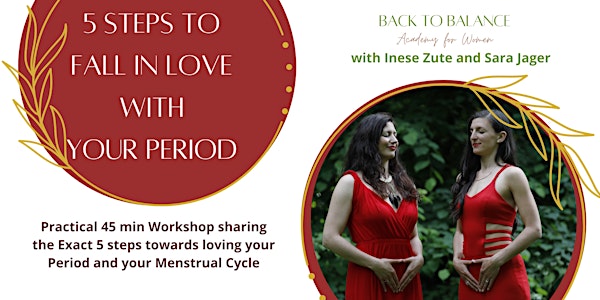 5 Steps to Fall in Love with your Period
In this 45 min Workshop you will learn about the 5 steps you can take to fall in love with your period and whole menstrual cycle.
About this event
Dear Woman, can you find yourself in these words?
My PMS symptoms are driving me crazy every month
I need to take pills to manage my menstrual cramps and period pain
I deal with back pain, bloating, painful breasts
I experience food cravings that mess with my intention to eat healthier
I experience PCOS, Endometriosis, ovarian insufficiency or thyroid problems
I have irregular periods or my period went 'missing'
I experience extreme changes in physical and emotional wellbeing during the month, it's a real roller coaster, with anxiety and depression joining the party
I gained weight and don't feel good in my skin
I feel shame about my body, blood, body changes, being a woman
I already have some awareness about my cycle, but want to dive deeper
If you nodded at any of these statements, then you are in the right place.
Register for this Free 45 min Workshop, in which you will learn
The exact 5 areas you absolutely need to focus on if you want to fall in love with your period
Which are the four phases of your menstrual cycle and what is actually going on in you body during your menstrual cycle
Why paying attention to your menstrual cycle is the number 1 health priority you should be focusing on
How to start living with in sync with your natural rhythm, and look forward to your period days
RAW truth:
If you are not consciously working with your cycle, you are constantly working against yourself.
NOTE: This is a recorded workshop - when you sign up you will immediately receive an email with the link to the Workshop Sign up page, where you will be able to watch the workshop in your own time.
Meet your hosts
we are Inese and Sara, founders of Back to Balance Academy, where we empower women all around the world to be in rhythm with their menstrual cycle with confidence, celebration and connection with themselves
After struggling with our menstrual cycle for years we have come a long way to fully surrendering into our natural flow, and now we want to make it easier for women to shorten this process. We really believe in the power and importance of this work and that is also why we are here today, sharing this with you!
Inese Zute
Conscious Feminine Mind and Body Coach, Nutritional Therapist,
Personal Trainer, Intuitive Alchemy Coach,
Sara Jager
Holistic Health Coach, Womb Healing Facilitator,
Yoga Teacher, Embodiment Mentor