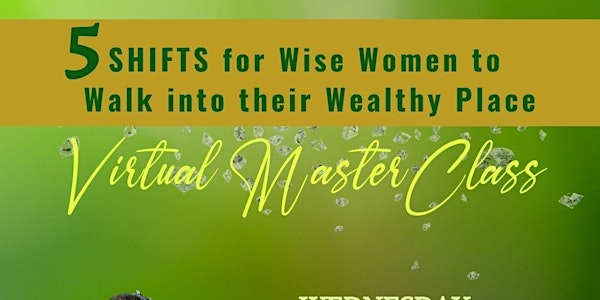 5 SHIFTS for Wise Women to Walk into their Wealthy Place
2-hr on-line Master Class to equip you to walk into your Wealthy Place! Discover the 5 powerful SHIFTS to experience your wealthy place.
About this event
5 SHIFTS FOR WISE WOMEN TO WALK INTO THEIR WEALTHY PLACE...
Here is your invitation to align fully with the TRUTH that you have been given the power to create wealth (Deuteronomy 8:18).
This season of the "wealth transfer and debt cancellation" marks the beginning of your time for a turn-around and a spiritual disruption driven by a divine collision of faith, fortitude and FAVOR.
It's time to move through your transition and give birth to the divine transfer of your "expected end" -- EXPANSION into New Beginnings!
DISCOVER the five (5) life-changing SHIFTS that will set you on the course to walking into your wealthy place.
If you are ready to Embody and Embrace your New Beginnings and Walk Into Your Wealthy Place, register TODAY and save $100 (price increases soon).
SUPER 24-HOUR SATURDAY BONUS WHICH WILL EXPIRE ON SUN SEPT 11 INCLUDES:
30 Minutes Complimentary "Wealth Building Strategy Session" via Zoom!!
VIRTUAL MASTER CLASS FOR WOMEN OF WISDOM (men are welcome):
Wednesday September 14, 2022
8:00pmEST - 10:00pmEST
(seats are limited to allow for Q/A & hot seat laser coaching)
Zoom Link will be sent upon registration
Instructor: Apostle Dr. Lougenia J. TrailBlazer Rucker | Divine Diamonds Ministries
Author of Amazon-Best Seller Book "The 10 Commandments of the Wealth Transfer"
www.trailblazingtransformations.com