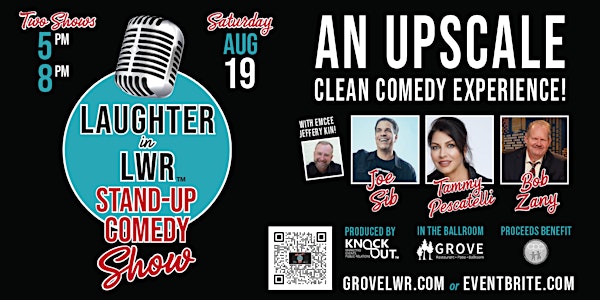 5 PM SHOW - LAUGHTER in LWR - at GROVE!
August 19, 2023, 5 PM SHOW, Laughter in LWR at GROVE An Upscale, Clean Comedy Experience!
By Knock Out Marketing & PR
Date and time
Saturday, August 19 · 5 - 6:30pm EDT
Location
GROVE Restaurant • Patio • Ballroom 10670 Boardwalk Loop Lakewood Ranch, FL 34202
About this event
1 hour 30 minutes

Mobile eTicket
You are purchasing non-refundable tickets for the August 19, 2023, 5 PM show.
All our shows at the Grove Ballroom SELL OUT quickly and receive STANDING OVATIONS! Don't miss this event!
KNOCK OUT MARKETING & PR and GROVE restaurant have partnered to bring you an extraordinary upscale, clean comedy experience event on Saturday, August 19, 2023 starring 3 hilarious, headliner comedians and an emcee.
We hope you'll join us to sit back and laugh with your friends!
• Come early and socialize.
• After the Show, meet the Comedians!
• A portion of the show proceeds will be shared with local nonprofit, 501c3, Child Protection Center. The Child Protection Center's mission is the Prevention, Intervention & Treatment of Child Abuse. They envision a community where children are safe from abuse and free to thrive.
Show Details
Start Time
Doors open 45 minutes prior to event start time. We encourage you to come early, visit with your friends, purchase beverages and relax. 

Attire
Formal casual. (No beach attire, please)
Food and Drinks
• Cash bars and beverage servers available throughout the show. No drink minimum. Cash & credit cards accepted.
• There will be no food service at the event.
• Your ticket includes a 10% off voucher for GROVE restaurant. A confirmation will be automatically emailed to you after you purchase event tickets. This email serves as your voucher.
• GROVE restaurant reservations are strongly recommended the night of this event. Call Grove at (941) 893-4321 to make your dinner reservation!


Show Flow
• Once the event doors close, we ask that you please remain seated through the show.
• Continual show time is approximately 90 minutes. No intermission.
• Bar service provided throughout the show. Please tip your servers.
• Seating: 3-foot round cocktail tables, each table seats 4 guests. Seats will be placed in a crescent pattern for optimal viewing.
Safety
• Room and tables will be sanitized prior to and in between each show.
• This is a show for attendees 21 years of age and older.
• You are permitted to take photos/videos before and after the event itself. However, no photos, video or audio recordings will be permitted during the show itself. This is for the safety of all.
Photos/Video/Audio Permission and Tickets
• By purchasing a ticket, you are simultaneously providing authorization for photos, video and audio to be recorded of you and your guests at the event. These photos may be used for promotional purposes and at the discretion of Knock Out Marketing, LLC and Grove restaurant.

• Tickets are are non-refundable. Should something arise that prohibits you from attending, please feel free to give your tickets to a friend under the ticket holder's name.

About The Comedians
Joe Sib, co-founder and co-conspirator of Side One Dummy Records for 25 years, has continued to climb up the ranks of the comedy scene. Joe released his first comedy record, Joe Sib Nowhere Near the Top, in April 2017 which debuted #3 on the Billboard's Comedy Chart. From the 1980s punk scene to millennium parent, Joe's comedy takes you on a manic, ride from growing up in the era of "safety last", and into the present, as he tries to helicopter parent without a license. Joe regularly tours with legendary Comedian, Jim Breuer.
Arguably one of the hardest working women in comedy today, Tammy Pescatelli brings brassy sexiness with a bold voice of witty sarcasm to her audiences, holding her own on the topics of sports, television, dating and family life using tongue-in-cheek humor. She is relatable to every audience member-male & female. After seeing Tammy perform, nearly everyone wishes she was their best friend or sister!
"Tammy Pescatelli's :Way After School Special", her new special, is a highly anticipated follow up to Tammy's award winning one hour Netflix (now both on Amazon Prime) special, "Finding the Funny." Both released to the TOP 3 spots on iTunes!
Recently, she had a guest star role on "Blue Bloods" and was also chosen to be one of the few hosts of a new network, Circle TV's standup show called "Standup Nashville: Live From Zanies".
The clip from Tammy's appearance on the "Just For Laugh's Gala with Sebastian Maniscalco", continues to climb in views on the JFL Facebook and Youtube page garnering close to 50 million views collectively.
Signed to Git R' Done Records, Larry the Cable Guy's label, Tammy took funny back in time with her successful album release, "#TBT: THROWBACK TAMMY". #TBT debuted at the coveted number 2 spot on the iTunes and is in continuous play on SiriusXM, Pandora and many others
Tammy has had recent big appearances on The View, Guy's Grocery Games:Comics Compete and The Howard Stern Show and her being chosen by Jenny McCarthy & Donnie Wahlberg to be a part of their Dirty, Sexy, Funny franchise that included a hilarious all-female slate of standup comedians comedy special on EPIX/ Hulu, a touring show and a pilot for A&E.
With a slew of other accolades under her belt – including co- creating, executive producing, writing and starring in her own reality show, A Stand-Up Mother, on the WeTV Network – Tammy has appeared on a number of television shows like The Tonight Show with Jay Leno (4x), A&E's Donnie Loves Jenny(twice), Bravo's Rocco's Dinner Party, CBS's The Talk, NBC's Last Comic Standing: The Best of the Best, her own Comedy Central Present Special that won that year's Comedy Central's Standup Showdown, and many, many more.
Tammy's career jumpstarted after appearing – and being one of the Final 5 – on NBC's Last Comic Standing. Her season played out to more than 18 million viewers, garnering her a mass of loyal new fans that found themselves alongside the others she had created by years of touring the comedy clubs.
She currently continues to tour and sell-out shows around the country.
He has appeared on over a thousand national T.V. shows from the Tonight Show to Last Comic Standing and a seventeen-year stint appearing on and co-hosting the National Jerry Lewis Telethon. His numerous film credits include Joe Dirt with David Spade, Stephen Soderberg's The Informant playing Matt Damon's attorney. He also has available on Amazon, a documentary about his career in showbiz, "Close, But No Cigar" opening with his appearance on the Gong Show with Chuck Barris in 1977 at the age of 15!
He's taking his act to all 50 states, three territories & Washington, DC plus 13 countries from London to Israel. Currently you can find him performing from Las Vegas to Atlantic City and a Theater or Comedy Club near you.
He's also heard weekly from coast to coast on radio with his Zany Report in over 25 markets plus 17 years on the syndicated The Bob and Tom Show in over 150 markets. He was honored to film 11 episodes in front of a studio audience for drybarcomedy.com.
Also, was named one of the Top Ten Comics at drybarcomedy.com in 2021 for his Comedy Special "I Think I Handled that well." He's on track to repeat the honor with special hitting 5 million views on YouTube.
"He simply reaches into a bottomless grab bag of jokes, so smooth and effortless that it would be easy to overlook just how much talent and skill is behind the process.
This is a 21 years old and over event.
* Clean Comedy is a comedy genre that is generally free of: heavy profanity, obscenity and similarly objectionable material.
THIS IS A NON-REFUNDABLE EVENT. Should you not be able to attend, please feel free to give your tickets to friends, under the ticket buyers name.
KNOCK OUT MARKETING, LLC and GROVE reserve the right to substitute talent, remove disruptive attendees and/or change the room layout should safety become an issue.