Description
Welcome Athletes and Donors...
Join us in rowing 5 Million Meters to raise $100,000 for the National Coalition Against Domestic Violence!!!
---
HOW IT WORKS:
The participant, person doing the rowing is the "Athlete".
The "Donor", is the person(s) giving money.
After signing up, Athlete seeks out donations from single or mulitple Donors.
Athlete should set goal of meters he/she would be able to complete throughout the month of October.
Athlete will have the entire month of October to complete their distance and can use Athletic Lab during open hours, it does NOT have to be done in one sitting.
Key distances:

BEGINNER LEVEL = 10,000m

INTERMEDIATE LEVEL = 21,097.5m = 1/2 marathon

COMPETITION LEVEL = 42,195m = marathon
FOR EXAMPLE:
Meters are purchased in 100m increments (minimum). Each 100m costs $2.00 (or 0.02/ meter. It is the athlete's objective to raise enough interest & money from donor(s). The athlete will commit to row the meters equivalent to the money raised. If an athlete gets multiple donors and raises $1,000, he/she will row 50k meters.
So are you ready?! How much can you raise? How much can you row?
---
Domestic violence is the willful intimidation, physical assault, battery, sexual assault, and/or other abusive behavior as part of a systematic pattern of power and control perpetrated by one intimate partner against another. It includes physical violence, sexual violence, psychological violence, and emotional abuse. The frequency and severity of domestic violence can vary dramatically; however, the one constant component of domestic violence is one partner's consistent efforts to maintain power and control over the other.
Domestic violence is an epidemic affecting individuals in every community, regardless of age, economic status, sexual orientation, gender, race, religion, or nationality. It is often accompanied by emotionally abusive and controlling behavior that is only a fraction of a systematic pattern of dominance and control. Domestic violence can result in physical injury, psychological trauma, and in severe cases, even death. The devastating physical, emotional, and psychological consequences of domestic violence can cross generations and last a lifetime.
For anonymous, confidential help available 24/7, call the National Domestic Violence Hotline at 1-800-799-7233 (SAFE) or 1-800-787-3224 (TTY) now.
FAQs
Where can I contact the organizer with any questions?
Your answer goes here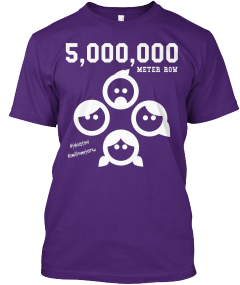 5 Million Meters Row
$21.99
We partnered with Teespring to create some awesome merchandise for this event. Show your support and look good wearing it. Check it out!
Organizer of 5 Million Meter Row
Dre Vazquez is running this fundraiser to raise an awareness about Domestic Violence, not just in North Carolina but across America and the world. Dre is a strong believer against domestic violence and was very close to it at a young age.  He has continued to witness it in stories he hears from friends and collegues.  Dre knows the long lasting affects it may have on a persons spirit and continues to be an advocate against domestic violence.