Description
Quiet Events returns to Katch Astoria for a hot night of Caribbean and Latin dancing! At 10 p.m. the party kicks off with 2 live DJs and 1 instructor teaching salsa dance moves. This spot has a perfect dance floor for all you salseros out there! At 11 p.m. all 3 DJs will be live and you'll have the power to pick what you party to! We promise you'll never want the night to end.
*Join us from 10-11 p.m. for a free salsa lesson with Jean from Salsa in Queens!
Your 3 Live DJs are spinning all night:
DJ 1 (Green): Top 40, Dance, Hip Hop
DJ 2 (Red): Salsa, Merengue, Bachata, Reggaeton
DJ 3 (Blue): Soca, Reggae, Dancehall
Your Experience Includes:
• A pair of Quiet Events headphones
• Glow in the Dark gear
• 3 live DJ's battling for your attention
• Free dance lesson
• Jello Shot specials
Special notes:
• 18+ to party, 21+ to drink
• Rain or shine
• Dress Code: Casual
What to bring:
• Valid ID
• You MUST have a credit or debit card for the check-in process. If the headphones are NOT returned, there will be a $100 charge to your credit or debit card after the event.
• No need to print your ticket, just show the code on your phone or they will have your name at the door.
How it works:
When you arrive you'll receive a pair of special wireless headphones. You can adjust the volume and choose between up to three DJ's with a flip of a switch. Each headset has a color LED that shows what channel you are listening to. It's super social; you're in control of the music! There's no loud music that you have to talk over. Plus, there's no ringing in your ears when you leave!
Never been to a Quiet Clubbing Event? Watch our YouTube video to see what everyone is talking about.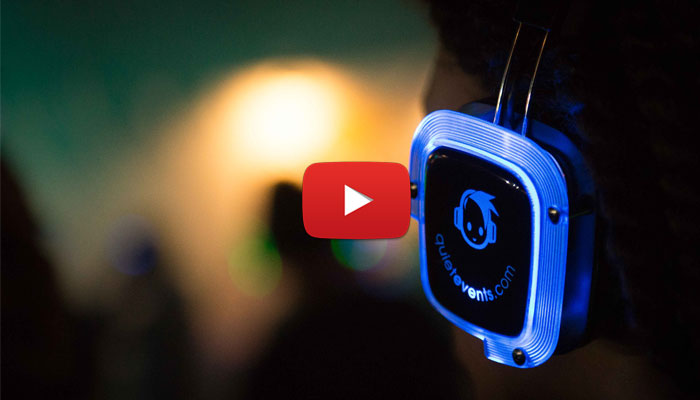 Organizer of $5 Latin/Caribbean Silent Disco
ABOUT QUIET EVENTS
Quiet Events Inc. is a global company that hosts weekly silent disco parties and events.
DISCOUNT TICKETS
Download the Quiet Events App
Host your own party for just $6!
Check out our rental site to get started.