Description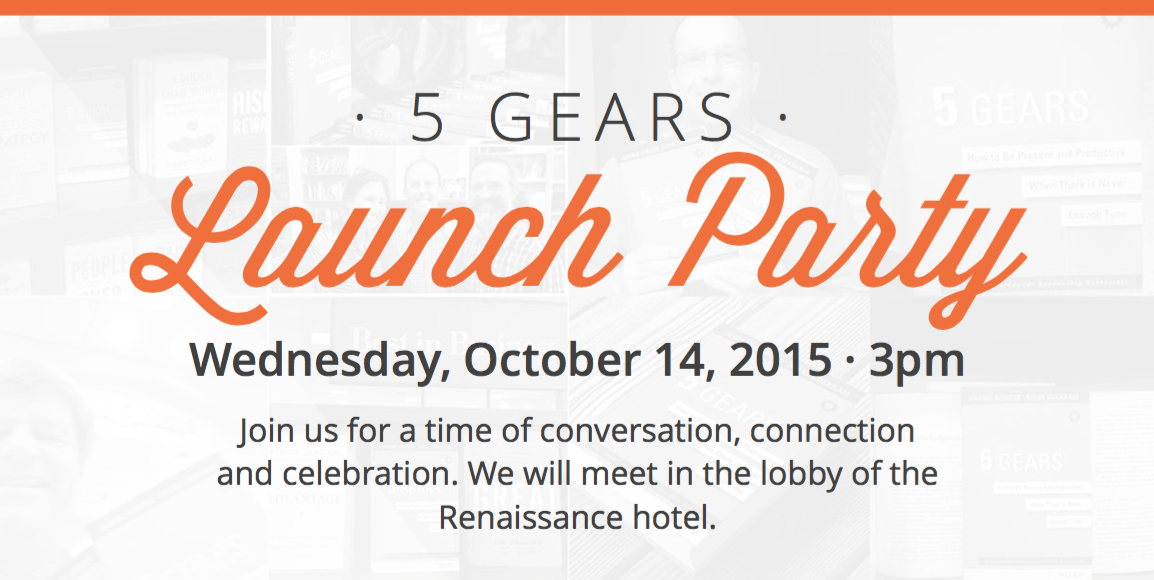 Join us for a time of conversation, connection and celebration. Meet the authors of 5 Gears and get a copy of the book signed. We will meet in the lobby of the Renaissance hotel.
People around the world struggle with work/life balance. It is difficult to be productive and manage the relational dynamics of staying connected with others, while consistently recharging personally. 5 Gears came to light as Jeremie Kubicek and Steve Cockram applied what they learned through their own experiences and their work with leaders around the globe. It is a powerful concept that has the ability to radically change the way you live and lead.
Use the 5 Gears and learn how to be present and productive when there is NEVER enough time. We've used this system with thousands of people around the world and we've seen unbelievable transformation take place. Parents are reconnecting with their kids, spouses are having fun again, and teams are reaching unparalleled levels of performance and productivity at work.
Authors: Jeremie Kubicek & Steve Cokram
Jeremie Kubicek and Steve Cockram are the co-founders of GiANT Worldwide, a global leadership development company that focuses on transforming and multiplying leaders. They've been serving leaders around the world for over 13 years.
JEREMIE KUBICEK is co-founder of GiANT Worldwide and the GiANT companies. He is a bestselling author of Making Your Leadership Come Alive and speaker to organizations throughout the world on transformational leadership, emotional intelligence, and personal growth. He currently resides in Oklahoma City with his wife and three children.
STEVE COCKRAM is co-founder of GiANT Worldwide and a recognized expert on personality development, applied leadership learning and culture change with executive teams and organizations around the world. Steve is a sought- after speaker and teacher on apprenticeship, personality development and team building. He resides in London with his wife and three children.