5 Full Courses & 5 Full Drinks! Burgers, Meatloaf, Cocktails, Pie, Beer Mil...
Description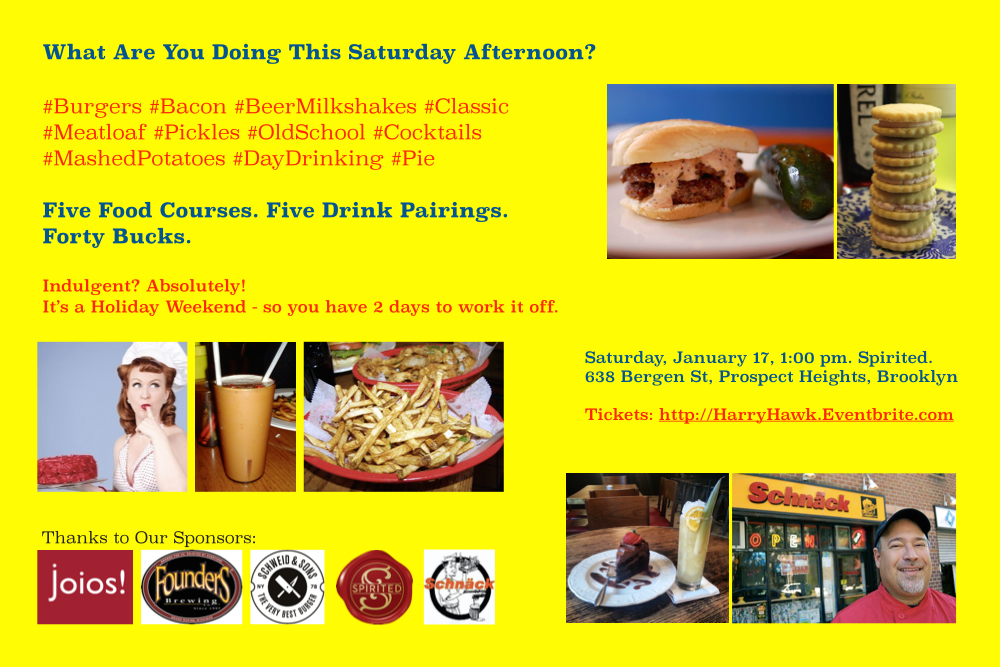 The Lineup:
Burgers by Harry Hawk, burger superstar.
"the judges agreed that [Harry Hawk's] burger — loose, juicy, and supple, and served on a warm, toasty bun impregnated with pan juices — was in a class by itself." Grub Street

Savory Classics from the Schnäck Menu: Meatloaf, Garlic Mashed, Bacon & Slaw, Beer Milkshakes
"Schnack, home of the infamous beer shake, was what I wanted most after a hard day." The Paupered Chef, CNN.

Sweets & Cocktails by Spirited: Pie, Whiskey, Punch
"Spirited might just be the best smelling bar in the world. OK, to be fair, the place is not just a bar, it's also a bakery." Brooklyn Spirits

Beer by Founders. Meat by Schweid. Fun by Joios.
Get your tickets now! http://HarryHawk.eventbrite.com