Description
ALL PROFESSIONALS, EXECUTIVES, INVESTORS, TECHS, CEO'S, AUTHORS, SPEAKERS, ETC IN CHARLOTTE AND SURROUNDING AREAS.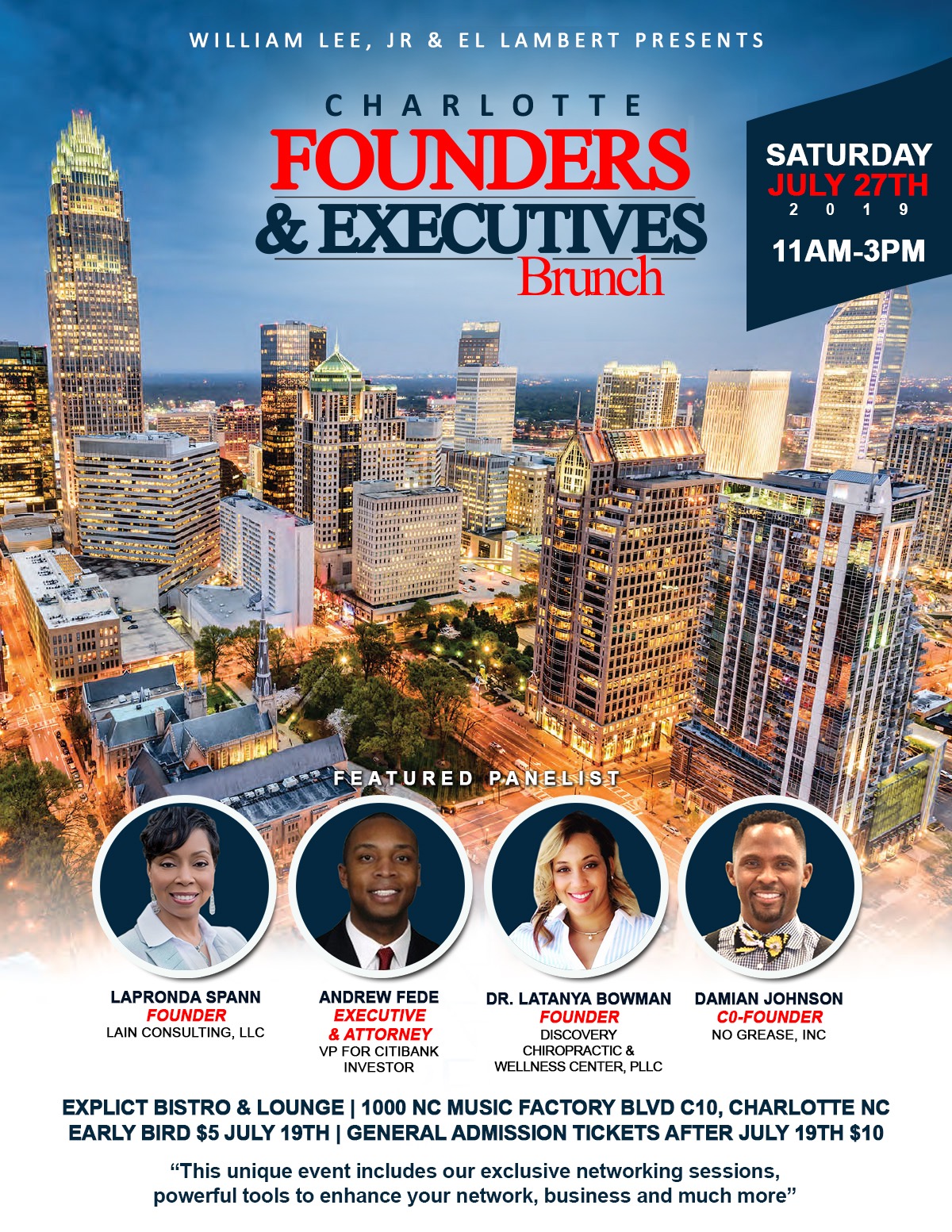 You are invited to the "Charlotte Founders and Executives Brunch" on July 27th from 11am-3pm!
Join other business professionals in an upscale and relaxed environment to network, have brunch, gather contacts, attain knowledgeable information, and build great connections.
Early bird $5
General Admission $10
Below is the event itinerary:
11am-12pm Arrival of guests and Light Networking
12pm-12:10pm Welcome, Opening Comments
12:10pm-12:45pm "Power Brunch"
12:45pm-1:15pm Featured Speaker
1:15pm-2:00pm Panel
2:00pm-2:15pm Q&A
2:15pm-2:25pm Closing Remarks, Acknowledgements of Sponsors/Partners, Etc
2:25pm-3:30pm Building Connections
There is limited space, so do not hesitate to be in the building! If you're interested in being a vendor, sponsor or just more info. Email: differentmindset@gmail.com

---
Meet Our Panelists:
Dr. Latanya Bowman:
Dr. LaTanya Bowman is a Chiropractor and Owner of Discovery Chiropractic and Wellness Center in Charlotte, North Carolina. Dr. Bowman has been in the practice of making people feel better through chiropractic treatments for over a decade. She utilizes her knowledge and skills of Chiropractic Care and Sports Medicine to help patients maintain their optimal health and well-being. She looks forward to meeting with every patient and sharing the benefits of Chiropractic Care along with a healthy lifestyle. Dr. Bowman first opened her doors in 2016 and within the first 6 months of operation, she was listed as one of the top 20 chiropractors out of 167 offices in the city of Charlotte. During this time of growth, Discovery Chiropractic and Wellness Center has been awarded 4 times in a row as one of the top 20 chiropractic offices in the Charlotte/Mecklenburg area, from 2016-2019 by Expertise.com.

LaPronda Spann:
LaPronda Spann is an award-winning business consultant who serves as Owner and Chief Visionary Architect of Lain Consulting LLC, a certified Minority and Disadvantaged Business Enterprise specializing in diversity certification support services, supplier growth planning, program development, and government contracting. She has secured $2.1M+ in grants and contracts from public and private foundations for local and regional clients. Additionally, LaPronda serves as the Moderator of Commissioner Vilma D. Leake's Small Business Consortium and works as a part-time instructor for the Central Piedmont Community College's Small Business Center.
Andrew Fede:
Andrew Fede is an accomplished businessman with a JD/MBA from Washington University in St. Louis. He serves as a vice president for Citibank, which moved him from New York to Charlotte in 2016. He is also a community organizer and speaker of the people!
Damian Johnson:
Damian Johnson is a groundbreaking entrepreneur and innovative co-founder of No Grease Inc, the country's only Black Owned Barbershop Franchise! A Buffalo, New York Native, he has always had an eye for the Barber & Beauty Industry and fully pursued his dream shortly after graduating from Johnson C. Smith University with a degree in Marketing. Over the past 23 years, No Grease has made an international name for itself as the business began to spread across Charlotte, before expanding to Georgia & South Carolina. In addition to their growing Barbershop Business, they also started a very successful Barber School to train their students how to be "The Best In The Business!"