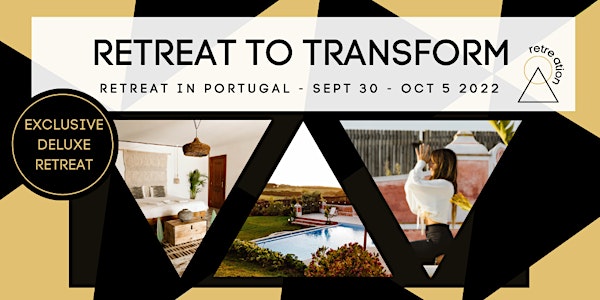 5 Day private Luxury Retreat in Portugal
5 day Luxury Retreat in Portugal - create a life you don't need a break from! Coaching, meditation & magical expiences & much more
Zeit und Ort
Veranstaltungsort
Sintra Estrada Casal Condado 119 2710 Sintra Portugal
Karte und Wegbeschreibung
Rückerstattungsrichtlinie
Keine Rückerstattungen
Zu diesem Event
More than a retreat
The retreat that helps you create a life you don't need a break from. Located in a woderful private villa in Portugal close to Sintra, with doublerooms for single use only, a private chef and an amazing pool.
What to expect in a nutshell:
4 x 3.5 hours group coaching sessions
4 x evening experience sessions (energy session, cacao ceremony etc.)
1 x private coaching session
1 x joint coaching afternoon activity (e.g. mindfulness hike)
daily meditations
5 nights in a luxurious private room
all meals included - vegan and freshly cooked with local food by a private chef
private photo shoot onsite
community space post-retreat (online)
enough free-time
This is NOT a usual Yoga retreat. It's a retreat to go deeper. One that speaks to the ambitious among us. One that combines ambitions and heart. Business and spirituality.
And it's for the ones who no longer want to choose between either-or. The ones that don't want to live a double life: suit during the day, yoga pants in the evenings. It's time to combine these two worlds. The world needs it!
Conscious business. Down to Earth Spirituality. This is what we stand for.
Out of the hamster wheel. Into a life where wellbeing, business, and spirituality represent the magic combination for a fulfilled life. This retreat offers a unique blend of business, wellbeing, and spirituality.
Location & accomodation
near the beach in the hinterland (40 minutes walk)
close to Sintra
spacious & luxurious villa
detached villa with beautiful view over the scenary
large pool
beautiful terrace
modern interior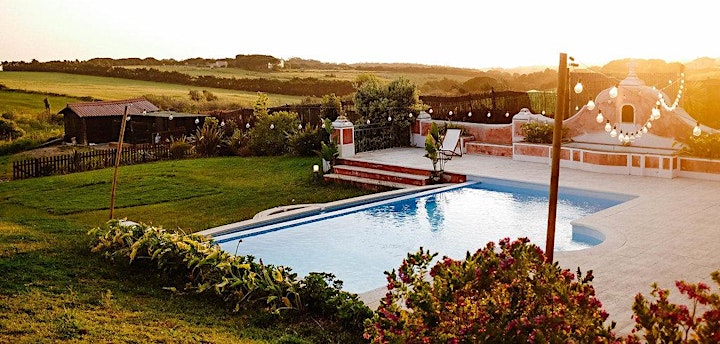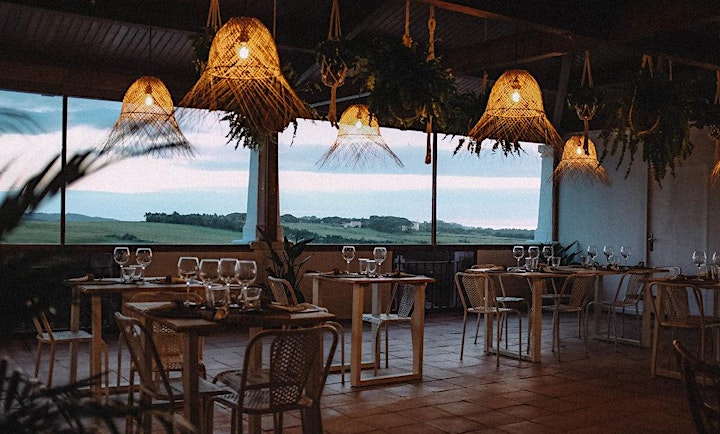 Rooms
spacious double rooms in the house with seperate bathroom or shared bathroom
or newly built large glamping tents outside with seperate bathroom
all rooms for single use only (unless you book with a friend and want to share)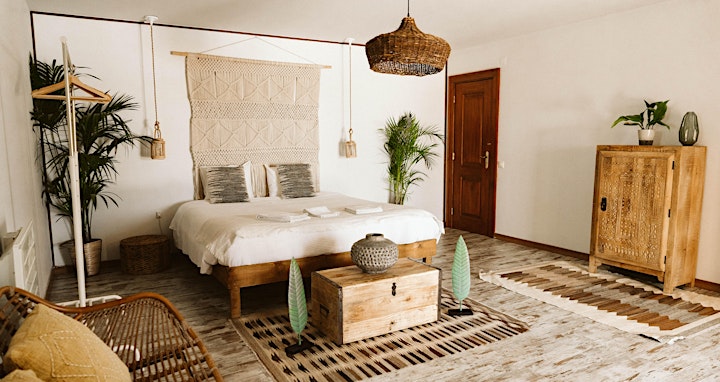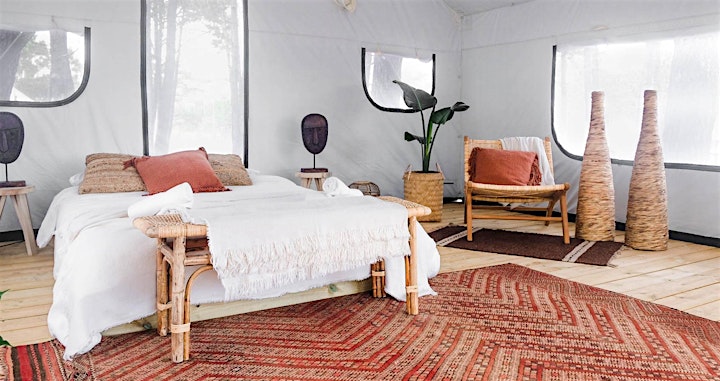 Food
private chef
freshly cooked
local products
healthy and vegan
providing fresh energy and supporting your well-being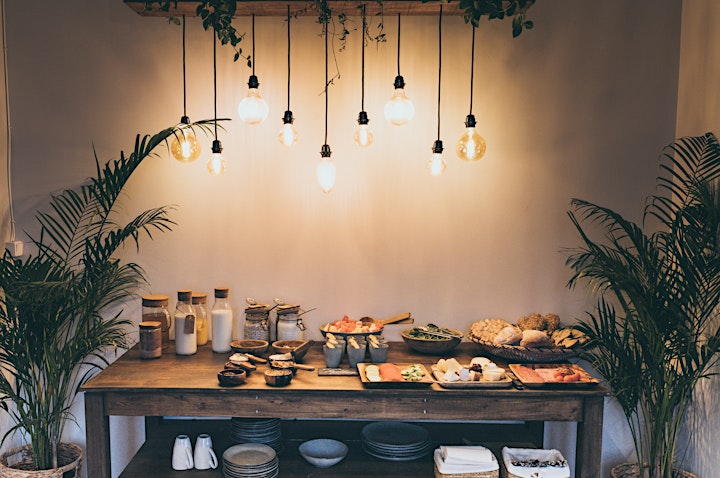 Example day schedule
07:00-07:30 Morning meditation (optional)
07:30-09:00 Breakfast
09:00-12:30 Coaching Workshop
12:30-14:30 Lunch
14:30-18:00 Free time
18:00-18:30 Meditate & reflect (optional)
18:30-20:30 Dinner
20:30-22:00 Experience session
Additionally: one afternoon group coaching experience in nature (e.g. mindfulness walk) - optional
Content of the workshops & sessions
1) Coaching Workshops
Daily 3.5 hours in total in a group setting (maximum size 15 people)
We will co-create and use the power of the group to support your transformation best and to speed up the transformation process.
Topics we will be working on include e.g.:
defining your superpowers
creating an inspiring but also actionable vision for your future
dealing with inner resistance
stress management
managing & boosting your energy levels
the power of letting go
making your vision come to life through next step definition & accountability
2) Experience sessions
Each evening we will have an extraordinary session that will provide lasting experiences and support your transformation in a completely different way. We will have:
a cacao ceremony
a ritual to let go
an energy session
a festive closing evening with dance session
What's included in the price
accomodation in a single room
all meals
water, tea, coffee
all coaching workshops
all evening experience sessions
1 x private coaching sessions
1 x joint afternoon group activity
all meditation & reflection sessions
1 x private photo shoot onsite
live calls post-retreat with the group & the instructors
What's not included
transportation to Lissabon (flight, train or any other form of transportation)
transportation from Lissabon or any other close by city to the location
Additionally bookable
transportation from the airport Lissabon to the location
Yoga classes
Surf lessons
All prices and availability for additionally bookable services on request
Your hosts
Mona Hassan
Mona Hassan (1986) is an ICF certified PCC coach (+500 coaching hours) and brings 10 years of corporate experience in the field of Marketing & Sales Leadership. 2 years ago she decided to leave the corporate world to start her own business as coach & trainer. She now holds coach certifications from 6 different schools, including somatic, embodiment and health coaching. Her coaching style is holistic, including the mental but also the emotional, physical and spiritual body in the process. Mona has coached and mentored especially people who feel drawn towards becoming coaches themselves. This made her decide to open her own school called 4-bodies. She lives in between Barcelona and Vienna and speaks English and German.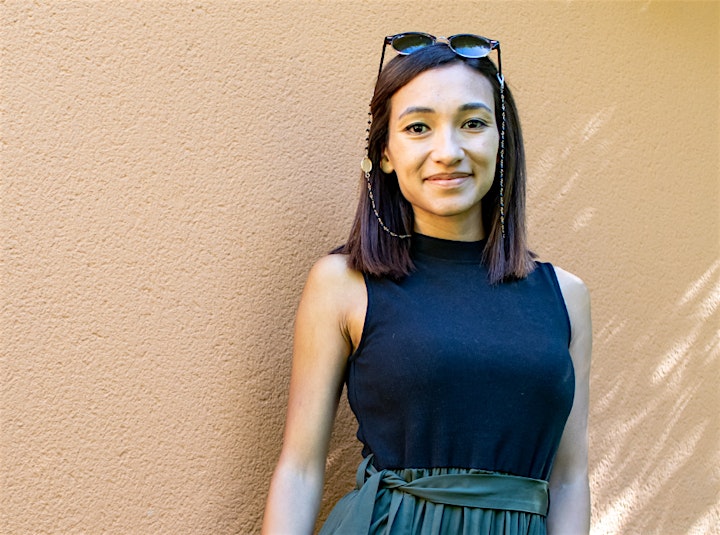 Sandra Mederer
Sandra Mederer (1988) is a certified Mindfulness Coach, burnout prophylaxe trainer, body and mind practiotioner and certified fitness trainer. She brings more than 10 years of experience in the corporate environment including leadership experience. Founder of MindFarm that is dedicated to bringing new capabilities to organizations to establish balance, productivity, focus and an appreciative and conscious culture despite increasing complexity and dynamics. She has a deep passion to support individuals in their transformation and works on a holistic approach. She works with methods from coaching, mindfulness, mental training and relaxation techniques.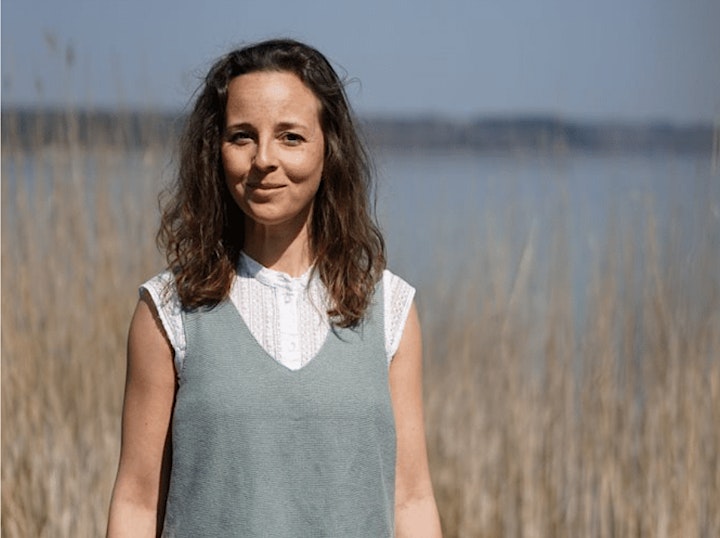 Booking
With the booking you accept out terms & conditions as well as the release of liability. You can find the documents under the following links:
Terms & conditions: https://www.retreation.co/_files/ugd/0e4ae0_4ca6d5c8722b4e16aff2483519fbc366.pdf
Release of liability: https://www.retreation.co/_files/ugd/0e4ae0_9811a9abb8f0438092e41e1d4d79e539.pdf
Minimum group size
The retreat has a minimum group size of 8 people. In case we will not reach the 8 people we will refund you the whole amount. We will inform you latest on the 31st of August 2022 in case we did not reach the minimum group size and the retreat therefore will not take place. Please beware of that especially for the booking of flights. rental car etc. that can't be cancelled.