Description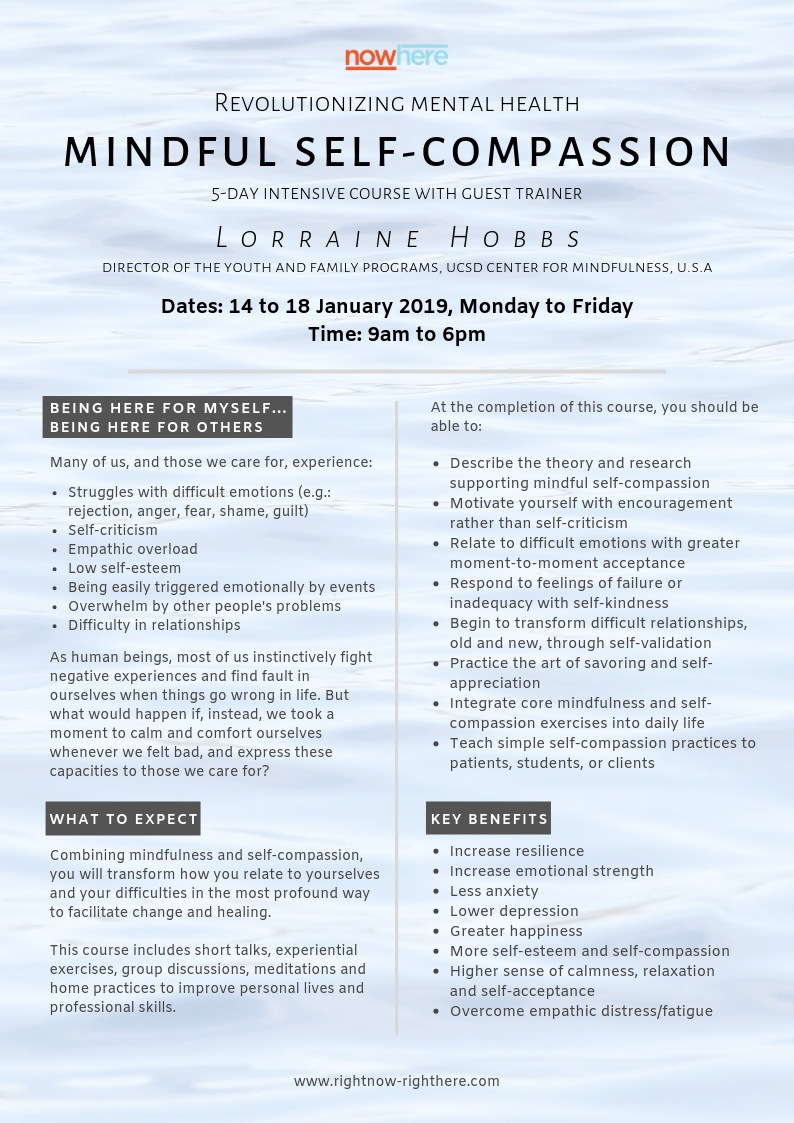 What is Self-Compassion?
Self-compassion is a skill that can be learned by anyone. All that's required is a shift in the direction of our attention—recognizing that as a human being, you, too, are a worthy recipient of compassion. It is a courageous mental attitude that stands up to the harm that we inflict on ourselves by overworking, overeating, overanalyzing, and overreacting. Needless to mention, making mistakes is part of being human. Self-compassion provides emotional strength and resilience, allowing us to admit our shortcomings, forgive ourselves, motivate ourselves with kindness, care for others, and be fully human.


About Lorraine Hobbs
Lorraine is certified in Mindful Self-Compassion and Compassion Cultivation, Stanford University. She is also a certified MBSR teacher and mentor.
Her work as a family therapist and as the clinical director of hospital-based programs inspired her to pursue mindfulness as a mediator of stress and stress-related conditions in teens and parents. During her tenure as Director of the Youth and Family Programs at UCSD Center for Mindfulness, she has created multiple programs for parents and teens such as Making Friends with Yourself as well as Mindful Self-Compassion for Parents.
Lorraine offers Mindfulness and Mindful Self-Compassion workshops and training in both the community and the workplace, and mentors professionals. In addition, she offers retreats and workshops to educators, clinicians and medical staff around the world.

Course Date: January 14-18, 2019

Course Fee:
Early Bird: SGD$900 (register from now till 31 December 2018)
Normal: SGD$1300
Scholarships and discount available, please contact us.

Who should apply?

Medical and mental health professionals

Teachers, educators and counsellors

Caregivers and parents

Professionals who wish to improve engagements and interventions

Those who wish to improve work-life balance, and develop their capacity to care for themselves and others