Description
We are on live. Jump on. No need to register now.
The number and code for the call are listed below:
Dial-in:(712) 432-0900
Passcode: 129994#
-------------------------------------------------------------------------------
Using Skype for your call.
1.You may need to visitwww.Skype.comand download the program. It is free. Select "Get Skype" from the top menu and choose the "Free Skype" option.
2.To use Skype for calling into your conference calls, please add the following Skype user to your Skype contacts: freeconferencing.0900 (last four digits of your conference dial-in number) as a Skype contact.
3.Then enter the code. (129994#)
4.To locate the Skype keypad to enter your access code when calling the conference, first select the contact and click the green 'Call' button. A new screen will be displayed signifying that the call is taking place. Locate and click the keypad at the bottom of the screen. After the call is connected, wait for the prompt to enter your access code using the Skype keypad followed by the # key. See graphic below.
FOR OUR CANADIAN PARTNERS AND OTHERS HAVING PROBLEMS WITH CALLING IN - There are some issues with Bell Canada and some other service providers in dialing the 712 number directly. Please try to connect by dialing805-360-1075and then, dialing(712) 432-0900and then entering the pass code.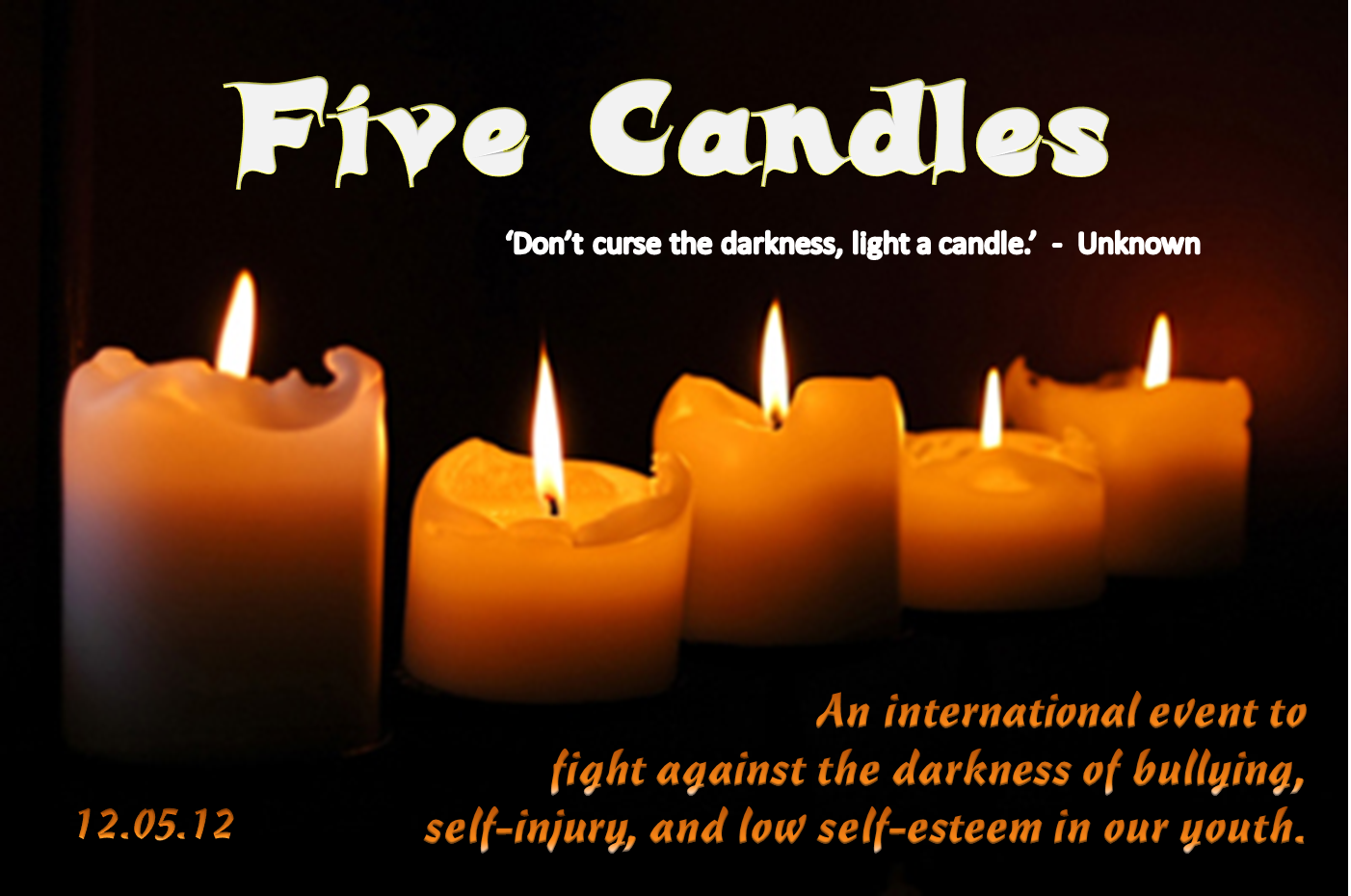 Who - For youth worldwide
What - An international event to fight against the darkness of bullying, self-injury, and low self-esteem in our youth.
When - December 5th, 2012, 8-10 PM Eastern
Where - Mainly online (virtually). Youth can also host a physical 5 Candle Gathering with parents/guardians permission.
Why - We are daily reminded of the darkness overtaking our youth through bullying, self-injury, and low self-esteem. Rather than curse the darkness we have decided to light candles of hope.
How - Every youth can invite at least 4 other friends to be lights in their world and agents of change to start a revolution against the darkness. The 5 Candle event will provide free follow-up tools and resources (digitally) which will equip and empower the youth to start a revolution against the darkness. Our youth need their voices to be heard.
This event is sponsored by YourSecretName and YouthMax. The online event will include a free prayer/support hotline for those youth in pain.
Free downloads to promote the event:
Your Secret Name Experience Kit (Special 5 candle offer)
Free Tools:
Discussion Points (see below) Your Secret Name contains discussion questions at the end of each chapter.
Introduction: The Gentle Whisper
When's the last time you've wondered who you really are?
Are you completely secure in understanding who you are? Why or why not?
Please explain what currently shapes your identity.
Are you fully resolved concerning certain monumental issues, like discerning your purpose, calling, and lot in this life?
What fears do you have related to exploring the Name Game?
Chapter 01: A World without Names
What's the meaning of your Birth Name? If you don't know, please do some research.
What are some of the "Given Names" people have granted you?
Who gave you these names and why? How did/does hearing these names make you feel?
How have you tried to hide from these name(s)?
Do you believe you've been created for more than your life presently reflects? If not, why not? If so, do you have any indication what this destiny might be?