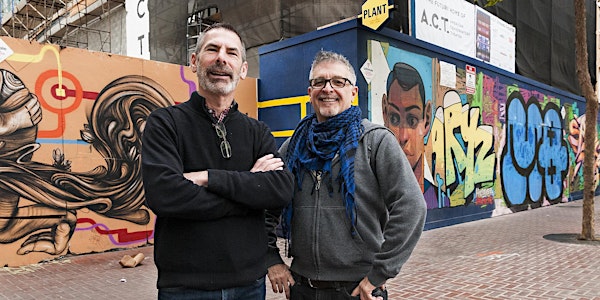 5 Blocks Film Screening
A rare screening of 5 Blocks, which explores the complex questions of income disparity, changing demographics, and the very nature of place.
When and where
Location
Tenderloin Museum 398 Eddy Street San Francisco, CA 94102
Refund Policy
Contact the organizer to request a refund.
Eventbrite's fee is nonrefundable.
About this event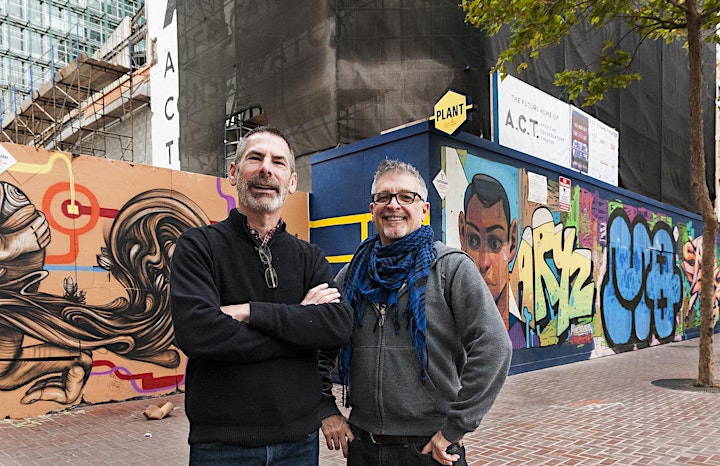 According to 5 Blocks Directors Dan Goldes and Robert Cortlandt, San Francisco's Market Street was once the grandest boulevard in America. Just minutes from City Hall, the area has hosted civic celebrations since the 1900s; but as time went on, the area fell into decline and became home to the city's poorest population.
Now, 50 years later, the Mid-Market neighborhood is currently undergoing its most dramatic changes as tech companies, their employees, and the restaurants and stores that cater to them confront the realities of a neighborhood that still houses some of the city's most marginalized residents.
On October 24th, join us for a rare screening of 5 Blocks, Golde's and Cortlandt's must-see, sold-out film which explores the complex questions of income disparity, changing demographics, and the very nature of place. Interweaving cinema vérité scenes, interviews, archival film, and photographs, 5 Blocks reveals the challenges of attracting new, wealthy residents and workers to an area with a 50-year history of housing the poor population.
Doors at 6:30pm, screening at 7pm, the film screening will be followed by a Q&A session hosted by Randy Shaw, director of the Tenderloin Housing Clinic, founder of the Tenderloin Museum, and editor of Beyond Chron. Shaw, who has witnessed the dramatic transformation of the Mid-Market area firsthand, will raise questions surrounding growth, revitalization, and redevelopment—and what that means for Mid-Market's future.
Dan Goldes, Co-Producer/Co-Director
Dan Goldes is a San Francisco documentary filmmaker. His films have screened at more than 100 film festivals around the world. Goldes' recent work includes Arrested (Again), about a San Francisco activist who has been arrested more than 30 times for nonviolent civil disobedience; Keeper of the Creek, a short film about a Southern California man who has spent eight years caring for a forgotten waterway near his suburban home; Equal Justice Under Law, about the U.S. Supreme Court's historic marriage equality decision; and ub2, an exploration of language related to HIV. Goldes has also written, produced, and directed works for hire in the San Francisco Bay Area, including a portrait of author Armistead Maupin on the occasion of his receiving an industry award. For several years before striking out on his own, Goldes wrote, produced, and directed corporate videos for the San Francisco Convention & Visitors Bureau. He is a graduate of the San Francisco School of Digital Filmmaking and has served on the screening committees for the San Francisco Green Film Festival and the Sebastopol Documentary Film Festival.
Randy Shaw, Executive Director of the Tenderloin Housing Clinic Tenderloin, Tenderloin Museum Founder
Randy Shaw is a Berkeley-based attorney, activist, and author of The Tenderloin: Sex, Crime and Resistance in the Heart of San Francisco. A longtime proponent of tenants' rights, Shaw has drafted pro-tenant key city ballot measures and state laws, co-authored studies on housing crises, and authored six books on activism and social change since the 1990s. In 1980, Shaw opened the Tenderloin Housing Clinic (THC), which prevents tenant displacement and provides legal assistance to low-income tenants. THC is currently one of the largest nonprofits in San Francisco which offers legal, housing, and support services, and continues to spearhead housing efforts for San Francisco's most vulnerable populations today. In 2015, Shaw founded the Tenderloin Museum, which preserves the Tenderloin's iconoclastic history, where he continues to serve as a board member.
5 Blocks is dedicated to the memory of Co-Producer/Co-Director Robert Cortlandt (1959 – 2016).