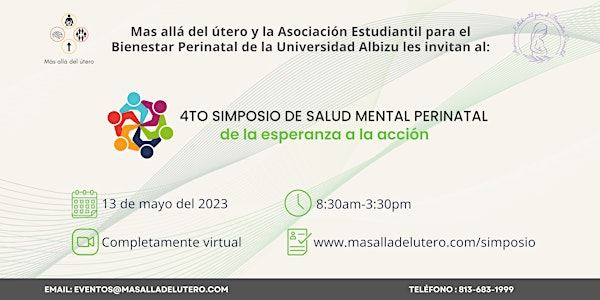 4to Simposio de Salud Mental Perinatal: de la esperanza a la acción
¡Trabajando en equipo para el desarrollo del campo de la Salud Mental Perinatal en Puerto Rico!
Date and time
Saturday, May 13 · 5:30am - 12:30pm PDT
Refund Policy
Contact the organizer to request a refund.
Eventbrite's fee is nonrefundable.
About this event
¿Cuál es el objetivo de este simposio?
Identificar, explicar y reconocer las mejores prácticas, implementadas por diversa disciplinas, necesarias para el crecimiento del campo de la Salud Mental Perinatal en Puerto Rico.
¿A quién está dirigido?
Está dirigido a profesionales que trabajan con personas gestantes durante el periparto (concepcion, gestacion, parto y posparto) tales como:
Psicólogos/as
Trabajadores/as Sociales
Consejeros/as Profesionales
Enfermeras/os
Ginecólogos/as
Obstetras
Pediatras
Doulas
Parteras
Consultores/as en Lactancia Certificados (IBCLC)
Especialistas en Lactancia
Educadores/as en Lactancia Certificados/as
¿En qué beneficia este simposio a mi profesión?
Como profesional de la salud es importante conocer la información evidenciada, los recursos comunitarios y como contribuir efectivamente con el fin de salvaguardar el bienestar emocional de las familias durante el periparto. Ya sea proveyendo psicoterapia, ofreciendo recursos o conociendo de que manera se pueden lograr referidos adecuados a los profesionales pertinentes para que las personas reciban el servicio que amerite su caso.
¿Cuales son algunos de los temas incluye este simposio?
5 conferencias. 5 temas. 1 mismo fin.
El rol de la partería en el cuidado de la Salud Mental Perinatal | Por: Tamara Trinidad, Partera, Herbóloga y Educadora Perinatal
Un acercamiento humanizado a las pruebas psicométricas: ¿Cómo explicarle a los/as padres/madres? | Por: Myrna López, Psicóloga Escolar
Telepsicología y Salud Mental Perinatal | Por: Ericka Vincenty, Psicóloga Clínica y Especialista en Salud Mental Perinatal
El cuidado comprensivo de la Salud Mental Perinatal desde el lente de la medicina | Por: Lorimar Ortíz, Médico y Consultora en Lactancia Certificada
Salud Mental Perinatal: Una mirada multicultural a la implementación de programas comunitarios y campañas educativas | Por: Marenid Planell Camacho, Terapeuta de Matrimonios y Familias (MFT), Especialista en Salud Mental Perinatal y Especialista en Alfabetización en Salud
¿Este simposio cuenta con Educación Continua?
Los créditos de educación continua están en proceso de aprobación y el proceso de adquirirlos será directamente con la Universidad Albizu. Sin embargo, independientemente si gusta obtener los mismos o no, se les estará proveyendo un certificado de participacin perfecto para añadir a su currículo.
Frequently asked questions
¿Este simposio cuenta con Educación Continua?
¿Qué se hará con el dinero recaudado?