Description
4th World Biotechnology Congress

About Conference

PULSUS brings in a new spin on conferences by presenting the latest scientific improvements in your field. Listen to motivating keynotes from thought leaders, or rub elbows with pioneers across the globe. London is all set for an amazing event as PULSUS proudly presents the"4th World Biotechnology Congress"slated on May 20-21, 2019 at London,UK.

PULSUS cordially welcome researchers, academicians, students and business professionals in the field of Biotechnology from around the world to participate in the upcoming Biotechnology 2019. The meeting for this year will revolve around the theme "A Scientific Extravaganza for the Innovations and development of research in Biotechnology" thus relaying the most cutting-edge findings in the field of Biotechnology Research. The two-day meeting is going to be an event to look forward to for its enlightening symposiums & workshops from established experts of the field, exceptional keynote sessions directed by the best in the business. It will also prove to be a brilliant open door for the representatives from Universities and Institutes to cooperate with the world class researchers and an outstanding opportunity for businesses keen at expanding their global market reach. Interested individuals can confirm their participation by registering for the conference along with their colleagues. Register soon and avail exciting early bird discounts.

Scientific Sessions

Session 01 : Pharmaceutical biotechnology

Pharmaceutical Biotechnology is a multidisciplinary topic that provides insight into the process of biopharmaceutical drug discovery and its impact on the practice of medicine. It focuses on the wide spread dispersal of recent developments in biotechnological tools and techniques and evolution of novel pharmaceutical drugs. Pharmaceutical biotechnological research includes studies on the application of recombinant DNA technology, microbiology, genomics, proteomics and industrial biotechnology.

Session 02: Medical Biotechnology

Medical Biotechnology is the field of science that encompasses over the range of areas that target towards various diseases and solutions to those diseases that increase human morbidity and mortality. Biomedical Engineering is an emerging and exciting field that mainly concerned with the development of manufacturing biomedical equipment's, biopharmaceutical drugs, clinical Researches on drugs and Tissue Engineering to improve the quality of human life.


Session 03: Plant Biotechnology

Plant Biotechnology is the study of science that entails applying technology and desirable traits on plants, it is a set of techniques used on plants to adapt specific needs and opportunities by doing genetic medication on plants such as plant tissue culture , genetically modified plants / Crops , plant pathology etc.

Session 04: Agricultural

Agricultural biotechnology is an area of Agricultural Science associated with the involvement of scientific tools and techniques such as agronomy, crop science and protection, entomology, agriculture machinery used to modify and improve living organisms Environmental biotechnology is the application of processes for the protection and restoration of the quality of the environment. The aim of environmental biotechnology is to prevent, arrest and reverse environmental degradation through the appropriate use of biotechnology in combination with other technologies such as Bioremediation .environmental biotechnology can make a significant contribution to sustainable development where the wastes can be minimized & modified, either by recycling to make new products, or by purifying so that the end product is less harmful to the environment. Replacing chemical materials and processes with biological technologies can reduce environmental damage.

Session 05: Food Biotechnology

It is a branch of science encompassed with the application of technology such as food processing and preservation and further techniques to modify changes in the genes of plants, animals and microorganisms to make new species and a more marketable product.

Nutritional Science is the Study of nutrition process as well as the components of food, their actions, interaction, dietary management and balance in relation to health and disease

Session 06: Animal Biotechnology

Animal biotechnology is the use of science and engineering to modify living organisms. The goal is to make products, to improve animals and to develop microorganisms for specific agricultural uses. Examples of animal biotechnology include creating transgenic animals, sustainability in animal production, use of animals as animal bioreactors ,to improve animals or the products they produce that promote human health and to enhances ability to detect, treat and prevent diseases.

Session 07: Marine Biotechnology

Marine biotechnology is an innovative field of Science Research and technology concerning the support of living organisms with marine products and tools. It is an innovative way to produce genetically modified drugs, food and energy to overcome global demand. The Exploitation of Biotechnology for drug discovery including enzymes, antibiotics, biopolymers and chemical compounds from marine sources.

Session 08: Genetics , Molecular Biotechnology

Genetics and Molecular Biology is the use of laboratory techniques to study and modify nucleic acids and proteins for applications in areas such as human and animal health, agriculture, and the environment. It covers a wide scope of problems related to molecular and cell biology including structural and functional genomics, Cell transformation, production of Gene cloning systems, Mutation analysis etc. By the introduction of the latest trends in the field of molecular biology in the form of genetic engineering, an entirely new quality is developed. Instead of simply isolation of some products that some organism already synthesized, it is now possible to make the whole "biological factories" from microorganisms, plants or animal cells that will produce great quantities of valuable compounds such as proteins, vitamins, amino acids, antibiotics, etc. On the other hand, by the use of genetic engineering it is possible to clone the genes encoding this product and transfer them into another organism, or make transgenic organisms.

Session 09: Biochemical Technology

Microbial Technology aims to understand various microbial mechanisms as well as determining their utilization for the interest and needs of human. One of the fundamental methods of microbiological technology is the culturing of microorganisms in a specific medium. The adoption of microbiological technology has fostered progress in a number of biological disciplines such as Microbial Nutrition, Biosensor, fermentation in biochemistry and genetics. Biochemical Technology is a field of Science that majorly Focus on in the area of chemistry associated with technology used for the welfare of living organisms this biochemical technology mostly correlates with the subjects such as protein engineering, lipid Technology etc.

Session 10: Bioinformatics

Bioinformatics and Computational Biology is the application of algorithmic concepts, computational systems and information technologies to address challenging problems in Biomedical research with a particular focus on the emerging problems in Bioinformatics and computational biology. Areas of interest to this community include health and Medical Informatics, Synthetic and systems biology, sequence analysis, Integration of algorithms and Metagenomics, image analysis, network and graph models, scientific data management and data mining, machine learning, pattern recognition, computational evolutionary biology, computational structure prediction and Variations , Simulation and Modelling and related areas.

Session 11: Immunology

Immunology and Cell biology is the interdisciplinary field of science with a particular emphasis on cell biology of the immune system that focus on cellular immunology, innate and adaptive immunity, immune responses to pathogens, Receptors & their functions , immunopathology, Histocompatibility & Immunogenetics ,immunotherapy, Post-translational modifications & their regulation, Intra-cellular traffic/ transport and immunological studies in humans and model organisms.

Session 12: Nano Biotechnology

Nano biotechnology is an enabling Technology that deals with Nano sized materials in which tools from nanotechnology are developed and applied to study biological phenomena. It is expected that nanotechnology will be developed at several levels: materials, devices and systems. It focus on the developmental research such as synthesis of nanostructure , novel characterisation of nanomaterial's , biosensors and biomaterials in delivery system , Nano crystallisation etc. Biomaterial is also a kind of Nano technology i.e. It is a small object that inserted into to the body for medical purposes.

Session 13: Stem Cell Biotechnology

There are several types of cells which come from one cell source. In the early stages of human development, these cells can become any tissue or organ - that is, they have not yet become specialized. These cells are called stem cells.

Stem cells have two important characteristics that make them different from other types of cells. All stem cells are unspecialized, and renew themselves for long periods of time through cell division. Under certain biochemical cues they can be made to differentiate. The current trending research topics on stem cells are human stem cell and Regenerative Medicine, stem cell transplantation and its techniques, stem cell banking, tissue regeneration and Therapeutics.

Session 14: Protein Engineering

Protein engineering is the design of new enzymes or proteins with new or desirable functions, conception and production of unnatural polypeptides, done through by modification of amino acid sequences that are found in nature in order to improve their use to humans. it is a highly promising technique within the frame of biocatalyst engineering to improve enzyme stability and efficiency in low water systems .It is based on the use of recombinant DNA technology ,Advances in engineering proteins for bio catalysis to change amino acid sequences, protein engineering methods and applications such as In vitro evolution of proteins, Enzyme pro drug therapy, Enzymes and Synthetic Biology, Enzymes and Sustainable Development are becoming increasingly important and widespread.

Session 15: Laboratory Methods for Biotechnology

Laboratory Methods for Biotechnology is nothing but Hands-on Training, one of the most important aspects in experimental biology. This is an introductory-level course designed to acquaint participants with the wide range of modern techniques available for separating and purifying biomolecules. Students enrolled in Biotechnology programs have an extensive opportunity to learn many cutting-edge molecular biology methods from lecture- and reading- based courses. The goal of this field is to expose students to various techniques in biotechnology as well as to prepare them for independence in research settings. The fundamentals of each technique will be presented, including practical examples such as Gel electrophoresis, Immunocytochemistry, ELISA & Spectrophotometry, Assays etc.

Session 16: Bioprocess engineering

Bioprocess sustainability and Product development is of critical importance, the monitoring and control of biotech processes in different phases of the product lifecycle from early development to commercial production is a key for accelerated development and stringent process controls. The trending Research on Bioprocess involves Bio catalysis and Biotransformation, GMP compliance for bioprocess, Engineering for sterilization, Development of Bioprocess equipment design, bioprocess purification process, upstream and downstream Bioreactors design and development, from all over the world 39 Institutes are conducting research on Development of Bioprocess. The market for bio products is being continuously growing and developing and it is placed on improving bioprocesses to maximize yield and reduce costs. Application of enzymes in bioprocess, Bioreactor design, instrumentation, control and automation, Future prospects for cell culture systems, Optimizing cell culture process, Fermentation aspects in new product development, Mathematical modelling for fermentation, new software techniques for solving optimization problems, Advances in high cell density fermentation.

Session 17: Regenerative Medicine

Biomaterial is any synthetic material which is used to replace a part of a living system or to function in intimate contact with the living tissue .The focus of research in biomaterials lies in the understanding of the interactions of biomolecules and cells with materials. The study of biomaterial is called as biomaterial Science, Experimental and theoretical approaches are being used to understand the properties of existing materials and to develop new materials for a variety of biomedical applications. Researchers are performing detailed studies such as Surgical Robotics and Navigation , Stem Cells and Organs-on-Chips, Health Informatics,3D Bio printing of interfacial interactions between biomolecules and cells, and designing novel surface modifications to control these interactions in diagnostic systems, medical devices, and other areas.

Session 18: Global biotechnology Market

Biotechnology is one of the strongest growing industries of the twenty- first century. Yet, the sector is still young and many biotechnology firms are at an early stage of their life cycle. Thus, biotechnology and entrepreneurship are intrinsically linked together, and over the last years a substantial number of articles in the entrepreneurship literature have studied biotechnology at the regional, firm, and individual level of analysis. Today the biotechnology sector has a substantial economic impact. The global biotechnology market had total revenues of $200 billion in 2009, representing a compound annual growth rate of 10.2% for the period spanning 2005–2009. Further, US biotechnology firms employed about 112,000 people and European biotechnology firms about 31,000 people in 2010, Due to these impressive numbers, biotechnology has attracted considerable attention not only from policy makers, but also from academic researchers.

Session 19: Biomarkers

World Conference on Bacteriology and Infectious Diseases April 17-18, 2019 Amsterdam, Netherlands | Biotechnology World Congress , Bangkok, Thailand February 13 - 15, 2019 | Biotechnology Congress, Moscow, Russia, September 11-12, 2019, | World Drug Delivery and Formulations Summit ,Las Vegas, USA, April 15-16, 2019 | International Conference on Pharmaceutical Biotechnology, Rome, Italy, December 10-11 , 2018 | International Conference on Environmental Biotechnology and Bioremediation Zurich, Switzerland, January 14 - 15, 2019 | Global Biotechnology Congress, Boston, USA, September 03-05, 2019

Session 20: Applications in Biotechnology

Biotechnology is also called as the 'application of scientific and engineering principles to the processing of material by biological agents to provide goods and services'. The applications of biotechnology includes Forensic Sciences, Manufacturing of vaccinations and Genetic Testing, Cloning, Recombinant selection and Expression, Biosafety and GMOs and further more etc.

Session 21: Challenges in Biotechnology

Biotechnology has indeed done a lot of good things for the world, vice versa it also has some disadvantages, in agriculture the Transgenic plants are produced by introducing some genetic traits into the gene of the plant , There are also concerns that genetic engineering of crops would reduce their long-term biological potential. The yield of such crops is typically higher than those of conventional crops. Yet there are concerns that overproduction due to transgenic crops may result in effects such as market instability and it leads to impact on production and global Market, Impact on nature, Biodiversity and the ecosystem, There are risks of transferring toxins from one life form to another, creating new toxins or of transferring allergenic compounds from one species to another, which could result in unexpected allergic reactions so it causes various Impacts on Health also.
AGENDA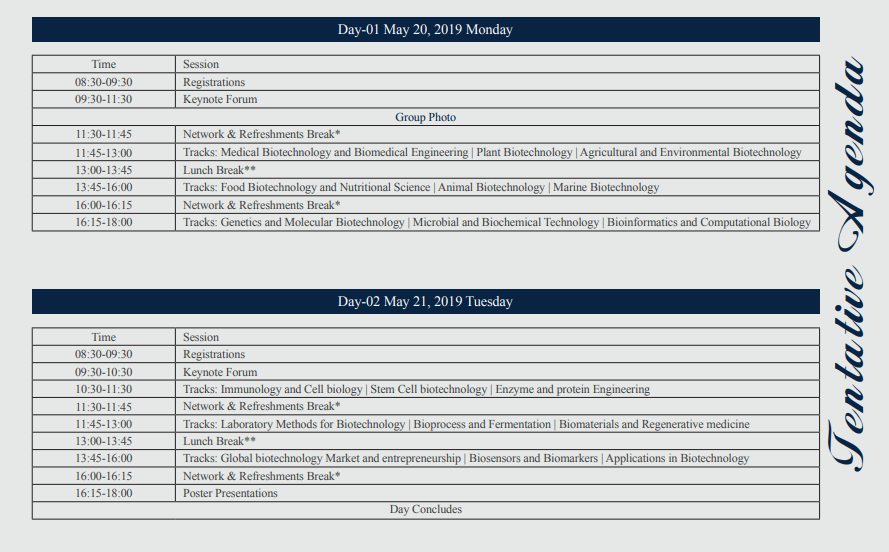 Please contact the event manager Marilyn (marilyn.b.turner(at)nyeventslist.com ) below for:
- Multiple participant discounts
- Price quotations or visa invitation letters
- Payment by alternate channels (PayPal, check, Western Union, wire transfers etc)
- Event sponsorship

NO REFUNDS ALLOWED ON REGISTRATIONS
Prices may go up any time. Service fees included in pricing.
-----------------------------------------------------------------
This event is brought to you by:
Pulsus Group - NewYorkEventsList
http://www.NyEventsList.com
http://www.BostonEventsList.com
http://www.SFBayEventsList.com
-----------------------------------------------------------------
VIO190410CRE