About this Event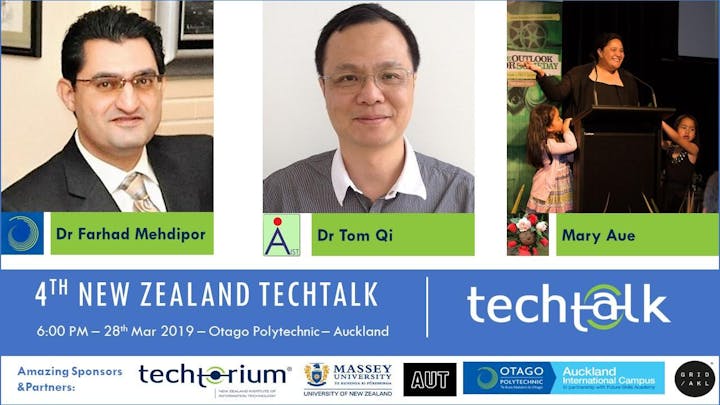 It is my pleasure to announce the 4th TechTalk event.
TechTalk New Zealand, in collaboration with Otago Polytechnic Auckland International Campus, will be organizing the 4th New Zealand TechTalk event as outlined below:
Date: Thursday, 28th March 2019
Time: 6:00 PM to 8:30 PM
Venue: Level 7, 350 Queen Street, CBD, Auckland, NZ 1010
On this occasion, we have three speakers including distinguished academics and professionals in the IT industry, who will be presenting their creative, innovative or interesting findings in a short speech (15-20 minutes).
The objective of the New Zealand TechTalk series is to share deep and practical knowledge through technical speeches. This will be achieved by creating an education-oriented platform (i.e. TechTalk) to gather all the IT industry's stakeholders (Universities, Tertiary Institutes, Companies, Entrepreneurs, Startups, Employers, and interested parties) to facilitate, support and exchange bright and original ideas.
TechTalk is a good opportunity for networking and to learn more about the new topics.
Speakers:
- Dr. Farhad Mehdipour:
Topic: AI Applications from Politics to Sentiment Analysis and STEM Education
- Dr. Tom Qi:
Topic: A design thinking: How do Autonomous Cars work in an Intelligent Transport System? – a case study in Auckland
- Mary Aue:
Topic: He tāngata, he tāngata, he tāngata |It is people, it is people, it is people
Sponsors and Partners:
Techtorium | New Zealand Institute of Information Technology
Otago Polytechnic Auckland International Campus - OPAIC
Auckland University of Technology - AUT
Massey University Albany Campus
GridAKL
Note:
Limited seats available. Please make sure to attend if you've registered
Registration required. You need to show your ticket at registration
Attendance is free for anyone who interested to IT and Technology
Free snacks and beverages will be available
More Info: