4th Systemic Economy Summit: LESS TALK - MORE ACTION

Tuesday, May 16, 2017 at 8:15 AM

-

Wednesday, May 17, 2017 at 6:30 PM (CEST)
Event Details
LESS TALK - MORE ACTION
4° SYSTEMIC ECONOMY SUMMIT - Brussels Passage 44
---
4° SYSTEMIC ECONOMY SUMMIT
NOUVEAU !!!
Ce sommet sera 100% interactif et en Intelligence Collective !
« Construisons nos villes de rêve de demain ensemble »
2017 sera une année assez rock & roll.
Notre économie « linéaire », basée sur l'accumulation, est arrivée au-delà de ses limites. Comment comprendre la suite, et faciliter cette transition ? Avec outils et clés qui fonctionnent.
Vous aussi pouvez faire partie de cette aventure. 2 journées entières de workshops en intelligence collective avec experts de 15 pays, communautés et entreprises.
Managers, entrepreneurs et leaders, démarrez les business de demain au service du progrès des territoires !
——-
« Let's build Wise Cities together »
2017 will be a quite rock n'roll year.
Our linear economic model has reached far above its limits. How to understand them, face changes, and implement what can truly work?
Let's take the leap toward the next economy together. You also can be part of economic transition. 2 full days of workshops with experts from 15 countries, communities and companies.
Interactive conferences, testimonies, panels of experts to share tools and best practices in order to be armed for economic transition.
For two days, managers, experts, politics and students will co-create and work on five concrete cases of cities and / or territories ready to move towards this change: Belgium with Brussels and Condruses, Nepal with Saping, RDCongo with South Kwamouth and Morocco with the Orientale region. Experts from Usa, France, Singapore, Austria,…
This year, we are indeed going to push, pull and co-create and incubate projects revolving around cities needing to tackle these multiple challenges… in smart & wise ways…
EVENT PROGRAM
Day 1: 16th May 2017
16/05/2017
07h45 ⇒ 8h30: petit déjeuner : présentation VIP du livre "SHIFTING ECONOMY"
07h15 ⇒ 9h00: petit déjeuner public
09h ⇒ 09h10: introduction du sommet
09h10 ⇒ 09h30: présentation des villes et territoires présents
09h30 ⇒ 10h00: le "Macroscope" : Concrete vision of disruptions in economy on 10 years Christian Ghymers, Geert Gielens, Emmanuel Mossay
10h00 ⇒ 10h30: workshop avec le public:
Qu'est ce que ces fondamentaux peuvent avoir comme impact sur nos territoires ?
10h40 ⇒ 11h10: Pause
2 Workshops en parallèle:
11h10 ⇒ 11h30

: 

Mesurer et créer une valeur immatérielle de son entreprise
Michel de Kemmeter, Philippe Dambly (AXA-LAR), Pascal Dolata (Belfius), Olivier Lefebvre (économiste, administrateur de sociétés), Chris Vanhinsberg (Tax Consult)
           11h30 ⇒ 12h00: workshop avec question quête:
Comment transformer les risques complexes en opportunité business ?
  2)    11h10 ⇒ 11h30 : L'avenir de Internet: opportunités et dangers pour votre entreprise, Frédéric Donck
     11h30 ⇒ 12h00: workshop + question quête :
Quels sont les dangers de la technologie sur l'humain et sur nos business ?
12h00 ⇒ 12h30: Développement de "Wise Cities" à partir des communautés
Question quête:
Comment mobiliser les gens à prendre leur avenir en main dans un climat de peur ?
Olivier Chaput (Bruxelles), Miguel de Clerck (Maroc), Darryl Leong (Singapour)
12h35 ⇒ 12h50: présentation du travail en plénière
12h50 ⇒ 14h00: Pause lunch – networking
14h00 ⇒ 14h20: Signes de mutation et changements sectoriels futurs – qu'en est-il de votre industrie ?
Alain Chalouhi, Olivier Chaput, Jacques Fradin, Alex Houtart
14h20 ⇒ 15h00: division en workshop avec la question quête:
L'impact des fondamentaux sur la transformation des business et des industries?
groupe 1: habitat/construction, énergie, investir, mesurer
groupe 2: éducation, santé, communauté, mobilité
groupe 3: culture/arts, agriculture, citoyenneté/management, entreprendre/jobs
15h00 ⇒ 15h15: Meilleures pratiques de participation citoyenne dans le progrès territorial
Manfred Hellrigl (Autriche)
15h15 ⇒ 15h50: en trois salles
Comment booster l'implication des citoyens et communautés dans l'économie ?
15h50 ⇒ 16h10: Pause
16h10 ⇒ 17h10: Experts internationaux: 3 orateurs, 3 thèmes, 3 groupes
Jacques Fradin: question quête: 

quels sont les leviers de changement dans les pays occidentaux ?

Emanuel Mareel (Siemens): 

comment trouver l'équilibre entre technologies et bon sens dans les villes ?

Laurie Dufays ( WSBI): apprentissage des dynamiques bancaires dans les pays en développement. Question quête: 

Que peut-on apprendre des dynamiques bancaires dans les pays en développement ?
17h10 ⇒ 17h30: mise en commun + feedback de la journée.
Day 2: 17/05/2017
08h15 ⇒ 09h00: accueil + petit déjeuner
09h00 ⇒ 09h30: welcome avec question:
Qu'est ce qui freine la création des business de demain visant le bien commun ?
Michel de Kemmeter et Cjharles-Eric Simons de Daoust, avec: Vision des emplois horizon 2025 dans les nouvelles économies
09h30 ⇒ 10h00: réponse à la question en plénière
10h00 ⇒ 10h15: Le Blockchain: quelle révolution ? (EN , par Skype)
Rik Willard (USA, Agentic Group)
10h15 ⇒ 10h45: Workshop
Quelles seront les impacts de la nouvelle génération d'innovations digitales?
Christophe de Courson, Thibault Verbiest, Frédéric Donck
10h45 ⇒ 11h15: Pause
11h15 ⇒ 12h15: Six témoignages inspirants de business "systémiques" : obstacles et solutions
Alexander de Wit, Benjamin Gérard, Sophie Guillet, Bruno Roche, Christophe Seyns, Chandar Van der Zande
Qu'avez-vous rencontré comme obstacles ?
Comment avez-vous géré cela afin de réussir ?
12h15 ⇒ 12h30: Systemic Economy Award
12h30 ⇒ 14h00: Lunch
14h00 ⇒ 15h30: présentation du Club of Brussels
Emmanuel Mossay, Michel de Kemmeter, Bruno Roche, Christian Ghymers
Débat-workshop créatif en plénière:
Comment créer une nouvelle école de pensée économique ?
Quels en seront les ingrédients ?
Comment la mettre sur la carte du monde ?
15h30 ⇒ 16h00: Pause
16h00 ⇒ 17h00: Création de feuilles de routes pour le développement des territoires présents (en fonction des différents apports de la journée).
Chaque territoire prend la main et aligne les enseignements afin de les appliquer à leur cas, avec le public. Présentation des "Best of" de chaque territoire.
17h00: Drink et concert du trio belgo-turc: "Maya Music"
Partner territories:
(A) Sud Kwamouth, RDC Congo: agroforestry project with over 25 rural villages to develop
(B) Saping, Nepal: 15 houses to rebuild after an earthquake
(C) Maroc Oriental: région et communautés à développer au niveau entrepreneurial et environnemental
(D) Le Pays des Condruses: 7 communes wallonnes à développer au niveau entrepreneurial et environnemental
(E) Villes de province Suisses: repenser l'économie et la société
*Please, note that this programme may be subject to minor changes.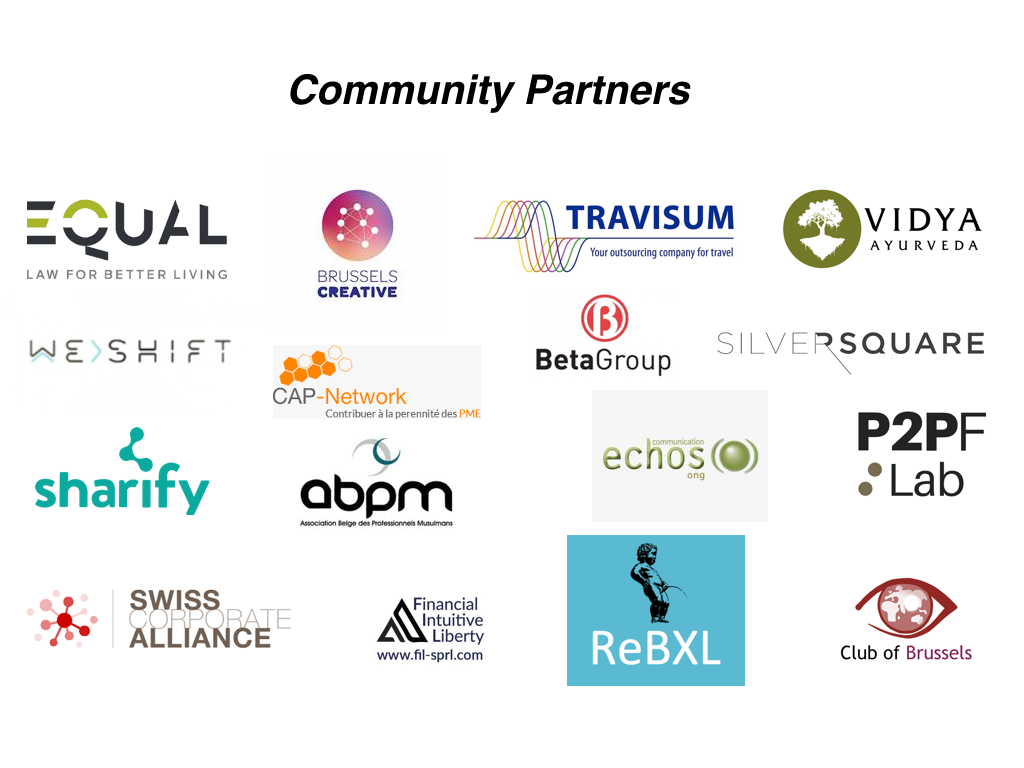 When & Where

Auditorium 44
44 Boulevard du Jardin Botanique
1000 Bruxelles
Belgium


Tuesday, May 16, 2017 at 8:15 AM

-

Wednesday, May 17, 2017 at 6:30 PM (CEST)
Add to my calendar
Organizer
English
Wise Holding is an expert do-tank whose mission is to develop tools that will activate a genuine economic transition. These tools are created for initiators of change, companies, cities, regions, associations and NGOs.
Its goal is to achieve a sustainable economy both on financial and human dimensions.
Human, economic and financial progress is systemic, transversal and multidimensional.
Wise Holding offers structured and calibrated methodologies for valuation, management and business projects development.
French
Wise Holding est un do-thank d'experts qui développe des outils de transition économique pour les acteurs du changement, les gouvernements, les villes, les régions et les entreprises.
Le but de Wise Holding est de parvenir à une économie durable au niveau humain et financier.
Le progrès humain, économique et financier est systémique, transversal et multidimensionnel.
Wise holding fournit des méthodes structurées et calibrées : la valorisation, la gestion, le développement et les projets d'entreprise de demain.