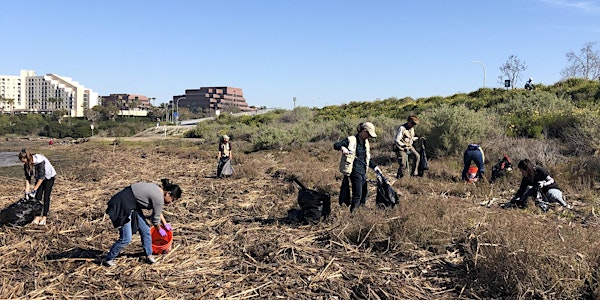 4th Sunday Cleanup Crew
Join us to remove as much trash as we can from the Upper Newport Bay! This event may include a walk of up to 1 mile to the cleanup site.
When and where
Location
Jamboree Bridge SEE EVENT DESCRIPTION FOR MAP LINK Newport Beach, CA 92660
Refund Policy
Contact the organizer to request a refund.
About this event
Our Bay is beautiful. We walk it, we ride it, we jog it, we love it…And somehow, by no mistake of our own, the garbage from gutters and trash receptacles from throughout our 154-square-mile watershed, including the cities of Tustin, Santa Ana, Costa Mesa, and Anaheim flows into the San Diego Creek and into the Upper Newport Bay. The bay's marsh flora captures this tangible pollution and it sits…in our marshes…converting this protected ecological reserve into a wasteland experienced daily by our birds, our fish, our sore eyes…
ENTER YOU! With the proper equipment, YOU can make a difference! YOU can help SAVE the homes of hundreds of species of marine animals and birds that live here year round, by removing some of this trash to create a healthier living environment for our wildlife and gradually restore our bay to its natural beauty.
In partnership with the California Department of Fish and Wildlife, Newport Bay Conservancy asks YOU to help us make a dent in the amount of trash that will reach the ocean. GREAT opportunity for service hours!
Note: Minors must have a parent or guardian present at all times throughout the event. 
Attire needed:
Closed-toed shoes required
TALL rubber boots preferred (available at Home Depot or on Amazon)
Old clothes that can get muddy/dirty
Reusable gloves if you have them
Sunscreen/sunglasses
Reusable water bottle
Bucket recommended
Equipment provided:
Trash bags
Single-use gloves
Skimmer
Trash picker-uppers
Sunscreen
Location:
This cleanup meets at the Jamboree Bridge and may include a walk of up to 1 mile to the cleanup site.
NOTE: Do not rely on Google Maps to take you to the correct location. Please CLICK HERE for an accurate map with parking and meeting locations. 
There are no restrooms available at this location.
We look forward to seeing you there! #CleanUpCrew