Location
Hughes Library
1002 North 9th Street
Stroudsburg, PA 18360
Description
The 4th Annual Pocono Writers Conference is sponsored by the Pocono Liars Club. Admission is free.
WE ARE CURRENTLY SOLD OUT. However, we have set aside some room for those of you who wish to sign up for the critique sessions. Those cost $20 per session. If you sign up for one of these, you may attend the rest of the Conference.
For the latest updates, visit our web page.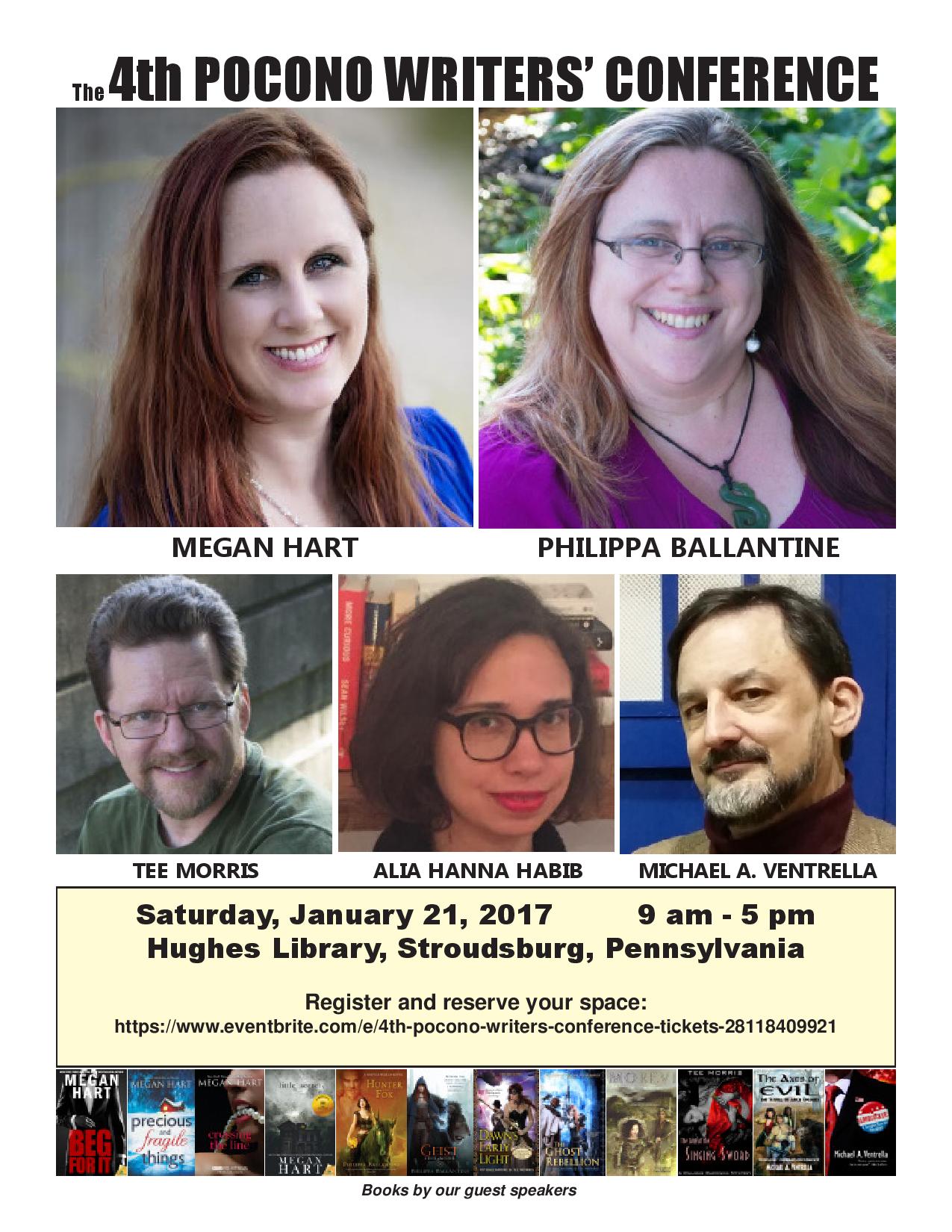 PRESENTATIONS
9:00: Introductions
9:15: TEE MORRIS: The Physics of Fighting: Swords, Sidearms, and All-Too-Common Slip-Ups: Hollywood does two things for writers: They make fight scenes look incredibly cool, and make a writer's job to capture that kind of excitement increasingly difficult. How do you get it right?
10:30: ALIA HANNA HABIB: Know Your Genre: Knowing the language of publishers' book categories is essential in pitching your book to agents and editors. This workshop will teach you how to market your book by properly categorizing its genre and potential readers.
11:45: MEGAN HART: Point of View: Getting Inside the Right Character's Head and Staying There. Figure out how to write in first or third person and which character needs to be telling the story by diving deep into point of view.
12:45: Lunch
1:45: PHILIPPA BALLANTINE: World Building: The basics of creating a world that lives and breathes around your characters, and how to use our world to inspire you
3:00: MICHAEL A. VENTRELLA: Biggest Mistakes Made by New Authors: A short presentation of things to look out for
3:15: Panel Discussion and Question and Answer session with all panelists
...
CRITIQUES
The participants are holding smaller sessions (10 maximum) during the presentations where you can have your work critiqued.
These sessions are $20 each. You can sign up for as many as you want but you must pre-register because space is limited.
Instructions on how to email your writing sample will be sent to you prior to the Conference.
9:15: Megan Hart
10:30: Philippa Ballantine
11:45: Tee Morris
1:45: Alia Hanna Habib

...
ABOUT THE PRESENTERS
New Zealand born fantasy writer and podcaster Philippa (Pip) Ballantine is the author of the "Books of the Order" and the "Shifted World" series. She is also the co-author with her husband Tee Morris of the "Ministry of Peculiar Occurrences" novels as well as "Social Media for Writers". Her awards include an Airship, a Parsec, the Steampunk Chronicle Reader's Choice, the RT Reviewer's Choice Award for steampunk, and a Sir Julius Vogel. She currently resides in Manassas, Virginia with her husband, daughter, and a furry clowder of cats. Visit her web page at http://www.pjballantine.com/
Alia Hanna Habib is an agent at McCormick Literary, where she represents narrative non-fiction and literary fiction. Her authors include NPR's Ophira Eisenberg (author of Screw Everyone), Elizabeth Green (author of the New York Times' bestselling Building a Better Teacher), Buzzfeed's Doree Shafrir (Startup, forthcoming from Little, Brown in April 2017) and the New York Times' Nikole Hannah-Jones (author of a forthcoming history of a segregation, to be published by Random House). Previous to becoming an agent, she was a publicist at Houghton Mifflin Harcourt. Alia was born and raised in Wilkes-Barre, PA. She now lives in Brooklyn, NY with her husband, Jonathan and her dog, Monty Pants.
Megan Hart writes books. Some of them use a lot of bad words, but most of the other words are okay. She can't live without music, the internet, or the ocean, but she and soda have achieved an amicable uncoupling. She can't stand the feeling of corduroy or velvet, and modern art leaves her cold. She writes a little bit of everything from horror to romance, though she's best known for writing erotic fiction that sometimes makes you cry but also sometimes makes the NY Times Bestseller lists. Find out more about her at meganhart.com, or if you really want to get crazy, follow her on Twitter at twitter.com/megan_hart.
Tee Morris has been writing science fiction, fantasy, horror, and non-fiction for over a decade. In 2011, Tee penned Phoenix Rising: A Ministry of Peculiar Occurrences Novel, alongside his wife, Pip Ballantine. Now on to their fifth book in the series, The Ghost Rebellion, and the fifth season of the companion podcast Tales from the Archives, the series has won several awards including the 2013 Parsec Award for Best Science Fiction Anthology Podcast, the 2011 Airship Award for Best Steampunk Literature, and RT Reviews' Choice Awards for Best Steampunk of 2014. Find out more about the Ministry at ministryofpeculiaroccurrences.com. Tee and Pip also host The Shared Desk, a podcast covering collaboration and other aspects of a writer's lifestyle. Explore the works of Tee Morris, and his occasional geek rants, at TeeMorris.com.
Michael A. Ventrella is a Stroudsburg writer with three novels so far, the most recent being Bloodsuckers: A Vampire Runs for President. He edits the "Tales of Fortannis" anthologies as well as the upcoming "Baker Street Irregulars" anthology, co-edited with NY Times Bestselling author Jonathan Maberry. At his web page (www.MichaelAVentrella.com), he interviews writers and editors and gives advice for the starting writer. This is his 4th year organizing these conferences.