LONG OVERDUE!! Biggest all-American party in the Southern Hemisphere...again! By Americans, for Americans & everyone who loves the USA
About this event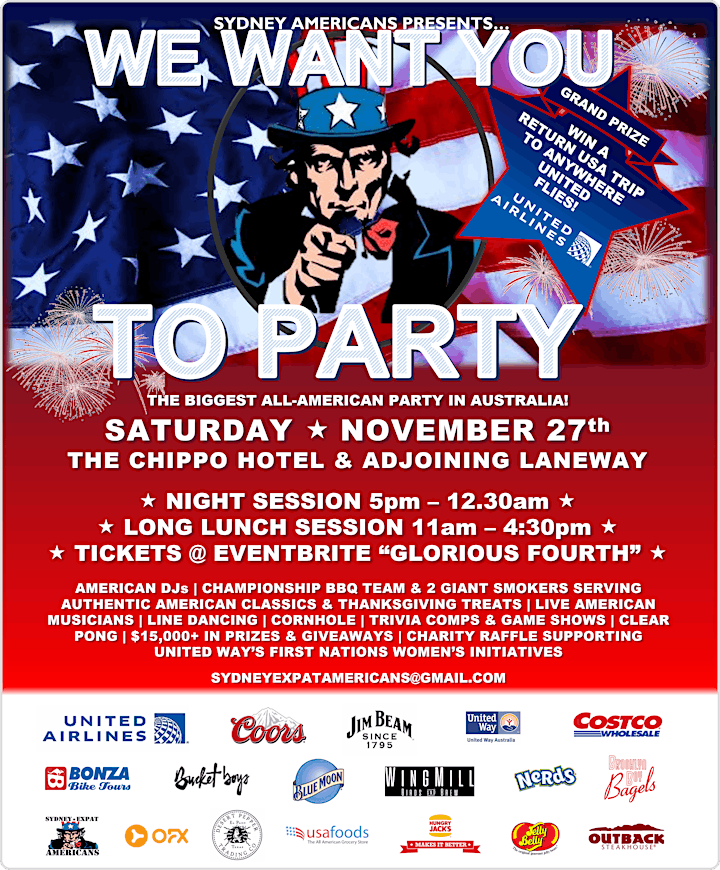 NEW DATE & LOCATION CONFIRMED
SATURDAY NOVEMBER 27th! 🇺🇸🦅
★ EVENT OVERVIEW ★
🎉 We're taking over the ENTIRE Chippo Hotel PLUS the adjoining laneway to make extra space for our Championship BBQ team, cornhole boards and lots of dancing space. Plus line-dancing, DJs, American musicians, clear-pong, trivia, amazing food inc Thanksgiving treats and $15,000 in prizes including a return trip to American anywhere United flies!!
🎉 There's 2 sessions
NIGHT session (5pm-12:30am) – ADULTS ONLY, DJs, musicians, fun & games, trivia, prizes, all American food & drink, cornhole, clear-pong, dance floor, additional laneway party space & more!
DAY session "The Looooong Lunch" (new extended hours from 11am til 4:30pm) – families welcome, chilled vibe, fun & games, trivia, prizes, awesome all-American food & drink, cornhole, DJs, musicians, dance floor, additional laneway dance space
Tickets necessary. Like last year, this will likely sell out and a lot of tix were already sold prior to lockdown (this is our postponed 4th of July party). So anyone who currently has tix but can no longer make it, get in touch and you'll get a full refund! Or use you ticket for this party!
★ MORE INFO ★
🎉 SATURDAY PARTY. NEW LOCATION. NEW DATE – November 27th for a long-overdue-4th of July-Thanksgiving-Mash-up-Party!
🎉 CHAMPIONSHIP BBQ TEAM with 2 GIANT SMOKERS serving authentic American classics and amazing Thanksgiving treats like smoked turkey & cornbread
🎉 $15,000+ in prizes & giveaways inc a RETURN TRIP TO ANYWHERE IN AMERICA UNITED FLIES thanks to the amazing folks at UNITED AIRLINES. If you show up within first 2 hours of your session time, you get 1 free entry into the draw!
🎉 American DJs, live American musicians, Awesome all-American music
🎉 Line dancing & line dancing lessons
🎉 Cornhole
🎉 Clear Pong
🎉 Trivia comps, game shows & surprises with over $2,000 in prizes
🎉 Lots of non-BBQ food specials from wings to Brooklyn Boy pizza bagels to Buffalo cauliflower wings
🎉2 SESSIONS: LUNCH (11am-4:30pm, family friendly) and NIGHT (5pm-12:30am, adults only)
🎉 Charity raffle supporting United Way's local community projects of Indigenous Women at https://www.baabayn.org.au. Show up within 2 hours of your session start time and you get 1 free charity raffle entry!
🎉 Dress: as American as Apple Pie! The theme is all things USA and there are prizes for best dressed! Everyone's welcome so don't just invite your American friends
🎉 Join the event on facebook and insta for lots of fun giveaways in the lead-up to the party!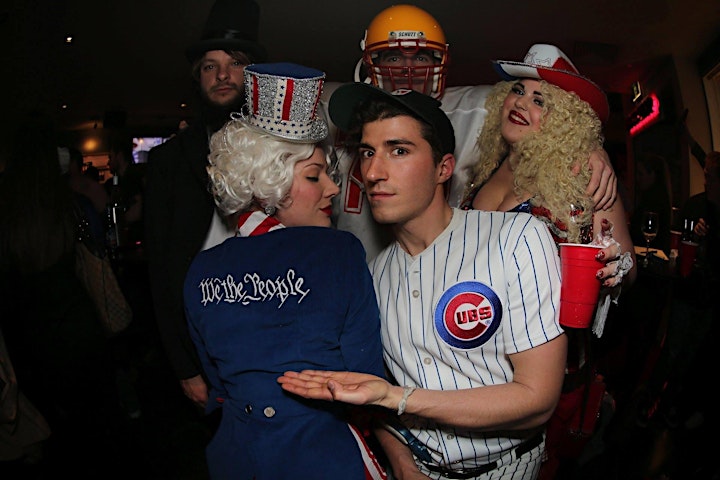 ~ HOW CAN SO MUCH HAPPEN AT ONE PARTY? ~
Thanks to our amazing sponsors! They don't ask for much and genuinely want to show their support and thanks to the American community so they deserve some mention and our support in return:
🎉 United Airlines
🎉 Jim Beam
🎉 Coors
🎉 Miller
🎉 Costco Wholesale
🎉 Hungry Jacks
🎉 Outback Steakhouse
🎉 Brooklyn Boy Bagels
🎉 Bucket Boys Craft Beer Co.
🎉 OFX
🎉 Wingmill
🎉 Jelly Belly
🎉 Bonza Bike Tours
🎉 Nerds Candy
🎉 USA Foods
🎉 Desert Pepper Trading Co.
🎉 United Way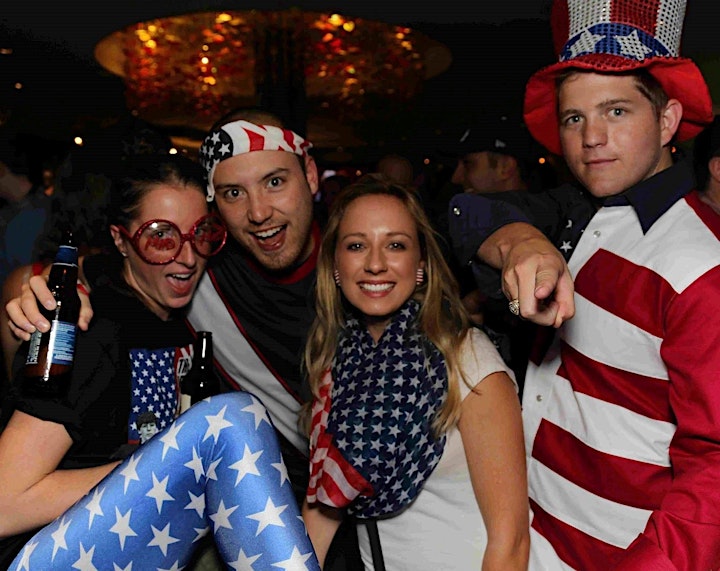 ~ MORE ABOUT GRAND PRIZE ~
✈️ UNITED AIRLINES RETURN TRIP TO ANYWHERE IN AMERICA UNITED FLIES!
✈️ Winner must be resident of Australia only aged 18 years or over. Prize: 1 return Economy flight from Sydney to anywhere in USA United Airlines flies and excludes all taxes. A Prize Voucher / Electronic Certificate will be provided to the winner with details of how to book and full T&Cs. Grand Prize will be drawn at the Night Session but everyone from the Lunch Session (who hasn't already won a prize in the draw) will remain in the draw for the grand prize.
✈️ United Airlines are being amazing about this! This flight is valid for up to 1 year AFTER they open things up! Prize value is dependent on the timing of booking. No accommodation, hospitality or transfers are included in this prize. All prize travel will be subject to United Airline's general terms and conditions, and conditions of carriage, to view visit www.united.com. Prize cannot be used in conjunction with any other special offer.