Location
The Chippo Hotel
87-91 Abercrombie Street
Chippendale, NSW 2008
Australia
The biggest authentic American party in the Southern Hemisphere...again! By Americans, for Americans & everyone who loves the USA
About this event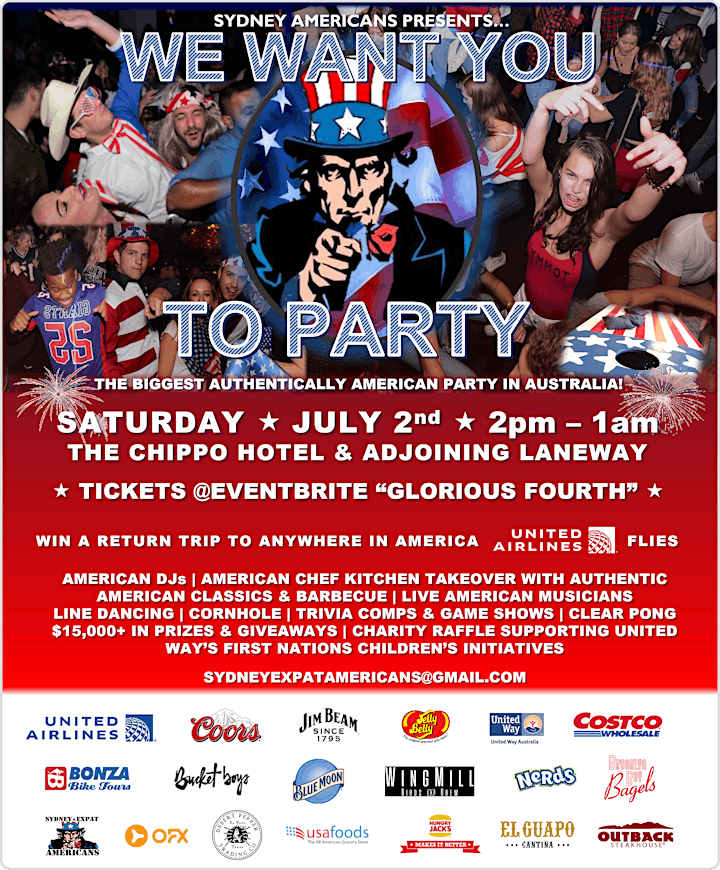 SATURDAY JULY 2ND 🦅
It's been a crazy year to say the least. Let's all come together for one night and celebrate all that's good about the USA and how lucky we are to be doing so from the beautiful shores of Sydney.
★ EVENT OVERVIEW ★
🎉 We're taking over the ENTIRE Chippo Hotel PLUS the adjoining laneway to make extra space for dancing, barbecue smokers, cornhole boards & more. SEE BELOW SECTIONS FOR MORE DETAILS
🎉 AMERICAN CHEF KITCHEN TAKEOVER.. the food will be next-level. The American food legends behind Wingmill are not only taking over the kitchen at our party, they're teaming up with the newly crowned World Food Championship - Australia 1st Place Golden Ticket Winning BBQ Champ Team, Norms Smokehouse.
We're collaborating on what will be our most unique & authentic American menu ever! More than half the menu isn't available anywhere else except our party. There'll also be some traditional items like American smash burgers (inc a 100% plant based vegan smash burger), real Buffalo wings, vegan-dairy-free-gluten free options in addition to some insane barbecue and other all American goodies. MORE INFO ABOUT FOOD BELOW
🎉 $15,000+ in prizes & giveaways inc a RETURN TRIP TO ANYWHERE IN AMERICA UNITED FLIES thanks to the amazing folks at UNITED AIRLINES
🎉 American DJs, live American bands & musicians
🎉 Cornhole plus some Cornhole Speed Tourneys (2:30pm & 6:30pm) with prizes
🎉 Clear Pong plus a tourney later in the night
🎉 Trivia comps (3:30pm, 4:30pm, 5:30pm), game shows & surprises with over $2,000 in prizes
🎉 6pm - earlybird charity raffle & lucky door prizes draw. And all winners get their tickets put back so they can win in later draws too!
🎉 6:30pm 'ish - line-dancing (Cornhole tourney and clear pong too!)
🎉 Charity raffle supporting United Way's local community projects of Indigenous children. Specifically, United Way's initiative in Mt Druitt which works closely with the Aboriginal and Torres Strait Islander community to create successful early learning outcomes
🎉 8pm & 10pm: Charity Raffles & Free Door Prize Draws including a RETURN TRIP TO ANYWHERE IN THE USA UNITED FLIES (and that's a LOT of places!)
🎉 DRESS: as American as Apple Pie! The theme is all things USA and there are prizes for best dressed! Everyone's welcome so don't just invite your American friends
🎉 Family friendly til 7pm & Pet friendly too 🐩
🎉 Volunteers Have More Fun! - and we may need a few for each session. Message us if you're interested - sydneyexpatamericans@gmail.com. You may even be rewarded with some free drinks
🎉 FREE GIVEAWAYS in the lead-up to the party! Join the event on facebook and instagram for lots of fun giveaways in the lead-up to the party!
🎉 Plus no one will leave this party empty handed as we've got so many prizes thanks to our amazing sponsors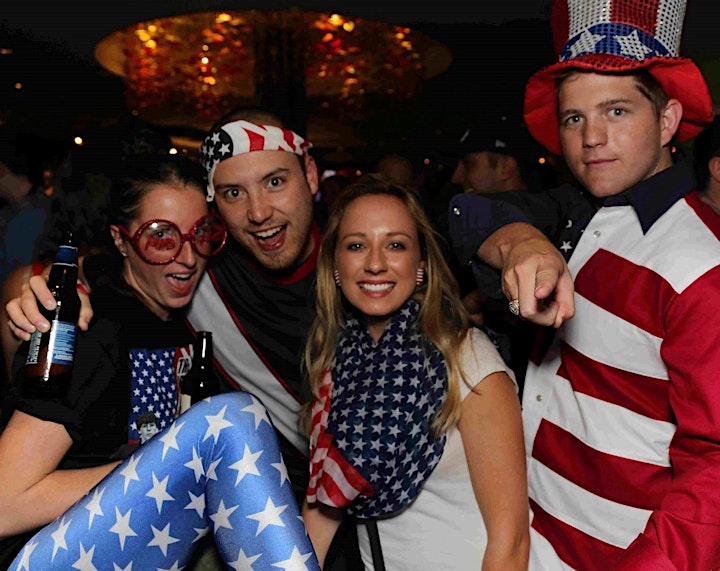 ~ TICKETS & GENERAL ENTRY ~
🎉 TICKETS - ticketholders will be guaranteed entry until 8pm (assuming they meet the venue's generic requirements for entry). Of course, a ticket is still valid after 8pm , there's just no guarantee of entry and ticketholders may have to wait in line
🎉 WALK-INS - are also welcome and the earlier you get there the better your chances. Also note, if things fill up then the priority goes to those who purchases advanced tix.
🎉 CHILDREN - under 18 are welcome until 7pm. Ticket are $2 for under 18s and all kids (and all adults too) will be getting some American treats on their way out!
🎉 Dress: as American as Apple Pie! The theme is all things USA and there are prizes for best dressed! Everyone's welcome so don't just invite your American friends
🎉 PET FRIENDLY 🐩 but please consider some areas can get quite loud which some pets do not enjoy. There'll be some at least 1 outdoor area with no amplified music in case your pet needs a break
🎉 Join the event on facebook and instagram for lots of fun giveaways in the lead-up to the party!
~ THE BEST AMERICAN FOOD WILL BE AT THE PARTY ~
🍔 American-owned Wingmill is doing a one-time collaboration with World Food Championship Winner (USA Barbecue Category), Norms Smokehouse
🌭 Lots on the menu that you can't get anywhere else except at the party and that includes the best & only American-style mac n' cheese we've ever had in Australia, Smash Chili Fatboy Burgers, proper chili dawgs, a heavenly smoked brisket sandwich served with fresh bacon jalapeno cornbread, an amazing Cubano and possibly the best sandwich I've ever had in Australia.. the waygu pastrami on Brooklyn Boy's fresh rye. Plus some Wingmill classics like 1x1, 2x2 and 3x3 smash burgers, Wings & more!
🍟 Good news for all vegans too! The BEST vegan smash burgers in Australia will be there too along with cauliflower wings plus other dairy free & gluten free options
GET READY TO EAT 🇺🇸🇺🇸🇺🇸
~ MUSIC 🎵 AMERICAN DJs and LIVE AMERICAN BAND to keep us on the dance floor all night ❤️🤍💙 ~
🎧 MAIN ROOM.. starts 2pm with all-American classics early in the day and getting VERY dancy as the sun sets and goes hard til close.
🎧 DUNGEON.. the basement will hold some fun secrets and later on it'll have an American-lead band - The Holden Caulfield Experience - who'll be rockin' hard to everything from Kiss to Lady Gaga to Whitney Houston 🤘
🎸 ACOUSTIC-ELECTRIC GUITAR GIVEAWAY.. speaking of music, we're giving away this awesome Jim Beam acoustic electric guitar that comes with a nice set of kit and ready to rock. It's part of the 8pm charity raffle supporting BLM initiatives for indigenous children in Mt Druitt.
~ DRESS AMERICAN ~
The better your costume, the more fun you'll have with everyone wanting a photo with you. And there's sooo many friendly, kind-hearted and switched-on people in our group, you'll def enjoy meeting some of them on the night. Prizes for best dressed
~ WE'RE GIVING AWAY A LOT TO HELP A GOOD CAUSE ~
🎁 In addition to a return trip to the USA anywhere United flies, the Jim Beam acoustic electric guitar & $thousands of other prizes, we're also giving away the biggest case of beer on earth.. the Pabst Blue Ribbon "99 CANS". Try walking home with that 🤩
🙏🏾 About the Charity Raffle - for the third year in a row we're supporting a BLM initiative in Mt Druitt, this time focused on early learning outcomes for indigenous children run by our charity partner United Way Australia.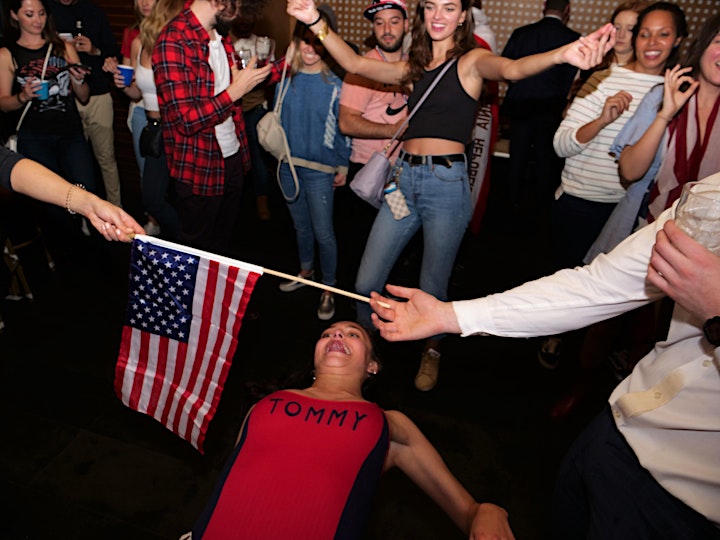 ~ HOW CAN SO MUCH HAPPEN AT ONE PARTY? ~
Thanks to our amazing sponsors! They don't ask for much and genuinely want to show their support and thanks to the American community so they deserve some mention and our support in return:
🎉 United Airlines
🎉 Jim Beam
🎉 Coors
🎉 Miller
🎉 Costco Wholesale
🎉 Hungry Jacks
🎉 Outback Steakhouse
🎉 Brooklyn Boy Bagels
🎉 Bucket Boys Craft Beer Co.
🎉 El Guapo Cantina Neutral Bay
🎉 OFX
🎉 Wingmill
🎉 Jelly Belly
🎉 Bonza Bike Tours
🎉 Nerds Candy
🎉 USA Foods
🎉 Desert Pepper Trading Co.
🎉 Suckerpunch Gourmet
🎉 United Way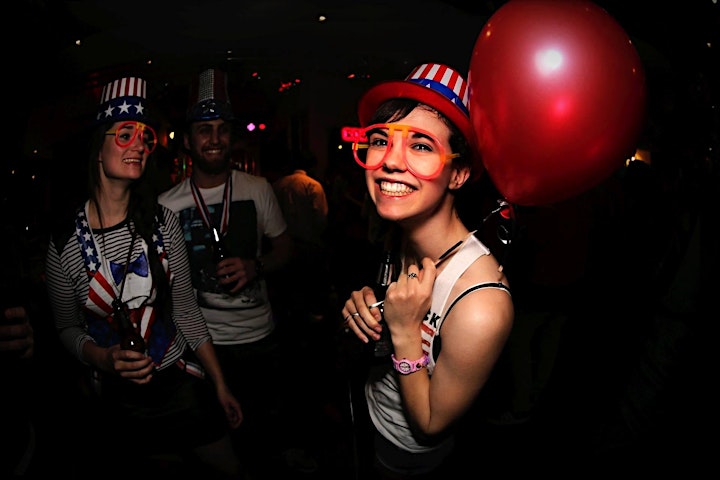 ~ MORE ABOUT GRAND PRIZE ~
✈️ UNITED AIRLINES RETURN TRIP TO ANYWHERE IN AMERICA UNITED FLIES!
✈️ Winner must be aged 18 years or over. Prize: 1 return Economy flight from Sydney to anywhere in USA United Airlines flies and excludes all taxes. A Prize Voucher / Electronic Certificate will be provided to the winner with details of how to book and full T&Cs. Grand Prize will be drawn at the Night Session but everyone from the Lunch Session (who hasn't already won a prize in the draw) will remain in the draw for the grand prize.
✈️ No accommodation, hospitality or transfers are included in this prize. All prize travel will be subject to United Airline's general terms and conditions, and conditions of carriage, to view visit www.united.com. Prize cannot be used in conjunction with any other special offer.
✈️ United Airlines have sponsored this event in the past and they were wonderful and flexible during the height of Covid. We really respect and appreciate their approach! They were also the only airline to never cease service to America at any point during the pandemic. Thanks again United!