About this Event
The 4th Annual Latin America Energy Summit (www.latamenergysummit.com) takes place virtually from Santiago, Chile on December 1-3, 2020 and gathers regional energy companies, engineering firms, infrastructure project developers, construction companies, investors and government officials to discuss opportunities revolving around the evolving energy industry in Latin America.
Register today and guarantee your spot! Group discounts available
​During the two day conference, industry experts and colleagues from Chile, Colombia, Peru, Brazil, Argentina, Canada, the United States and Europe, discuss the evolving business opportunities related to energy investments in Latin America. Significant attention is placed on the infrastructure projects related to renewable energy from wind, solar, and hydroelectric sources, as well as the role of hydrocarbons and natural gas in fueling power plant demand as well as transportation logistics. ​ 
Past Speakers Include: 
José Venegas Director Ejecutivo, Comisión Nacional de Energía - CNE
Clara Bowman, Gerente general, Andes Mining & Energy
Paolo Pallotti, Country manager Chile, Enel
Mariano D'Agostino, Gerente de Comercialización E&P, Pampa Energía
Kevin Anderson, Global Head of Strategy, Climate Fund Managers
Alejandro Larrive, CEO,  Methanex
Sebastián Fernández, VP de Desarrollo de Negocios, Transelec
Daniela Soler, Jefa unidad de transporte eficiente, Ministerio de energía de Chile
Peter Hatton, CEO, Inkia Energy
Diego Hollweck, CEO, Latin America Power (LAP)
Daniel Camac, Vicepresidente Comercial, Engie Energía Perú
Santiago Romero Oneto, Gerente Comercial Gas Natural, YPF
Rodrigo Castillo, Director Ejecutivo, Empresas Eléctricas AG
Carlos Cortés, Director Ejecutivo, AGN
Juan Pareja, LNG Business Development Latam, Shell Energy Americas
Alexander Decock, Gerente general, Solcor Chile
Jorge Manuel Dengo, Líder de desarrollo de mercados, Celsia
Juan Oliva, Jefe de gas y combustibles, Enel Generación
Nelson Donoso, Gerente general, Innergy
Gregory Dunne, Presidente, Celtic Solar Group Spa
Carlos Finat, Director ejecutivo, ACERA
Juan Antonio Rozas, Country Manager, Statkraft Perú
Ricardo Gálvez, Especialista Mercados Energéticos, Ministerio de energía de Chile
Claudia Valdés, Oficial líder infraestructura y energía, IDB Invest
Matías Haenel, Gerente General, Soventix
Federico Lau, Director de Originación del Cono Sur y Perú, CIFI
Fabian Videla, Head of Project Finance Energy, Banco Security
Alvaro Villasante, VP Generación, Grupo de Energía de Bogotá
José Lobo, Gerente general, Tambo3 Consultores
Alejandro Lucio, Director, Optima Consultores
Luciano Codeseira, Director Argentina, Gas Energy
Fernando Micó, Director, X-Elio Chile
Ian Nelson, Gerente general, Energía Llaima
Felipe Novoa, Country Manager, Antuko
José Opazo, Gerente General, Ciudad Luz
Patricia Palacios, Gerente de combustibles no convencionales, AME
David Rau, CEO y director, Flux Solar y Acesol
Lina María, Arango Directora de generación, HMV
Alvaro Rios, Socio Director, Gas Energy
Humberto Romero, Gerente general, Saferay/Seltec
Daniel Salazar, Socio Director, Energie
Claudio Seebach, Director Ejecutivo, Generadoras AG
Alfredo Solar, Gerente General, Atlas Renewable Chile
Jaime Solaun, Director Región Andina, Solarpack
Jesús Tamayo, Director, COES
César Vásquez, Sub gerente comercial, AELA
Carlos Cabrera, Socio Director, Sphera Energy y Acesol
Juan Guillermo  Walker, CEO, Freepower Group
Ralf Wiesenberg, VP Business Development, Azelio AB
Felipe Zuloaga, Especialista, Ministerio de energía de Chile
Marta Alonso Pelegrin, Gerente General América del Sur, Global Energy Services
Arturo Brandt, Green Senior Broker, TFS
and more
Competitiveness and increased productivity are crucial in today's operating environment. Don't miss this unique opportunity to develop the strategic business relationships necessary to succeed in this market.
​* Simultaneous translation will be provided.
ESPAÑOL
Identificando los cambios y oportunidades en una nueva época para la industria energetica de América Latina y Sudamerica
Durante el 1-3 de diciembre de 2020 virtualmente desde Santiago de Chile, el 4th Latin America Energy Summit 2020, reunirá inversionistas, operadores, empresas energeticas, autoridades, proveedores, empresas de servicios, consultores y financistas para discutir el entorno de negocios que se está gestando alrededor de los proyectos energeticos en la region de Sudamerica. El foro hara un especial énfasis en las oportunidades y desafios de Colombia, Peru, Chile, Argentina y Brasil.
​No pierda esta oportunidad única de construir nuevas y estratégicas relaciones de negocios con sus pares en la región.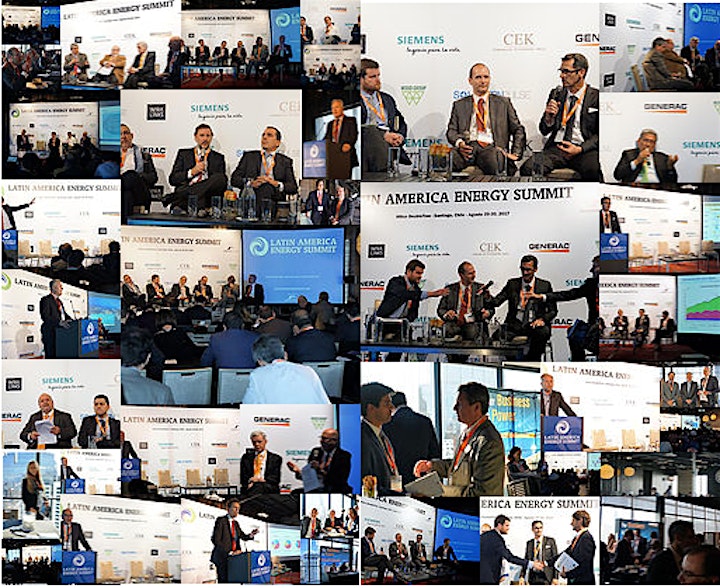 Date and Time
Location
Refund Policy