4th International Conference on Physiological Computing Systems (INS)
Description
Physiological data in its different dimensions, either bioelectrical, biomechanical, biochemical or biophysical, and collected through specialized biomedical devices, video and image capture or other sources, is opening new boundaries in the field of human-computer interaction into what can be defined as Physiological Computing. PhyCS is the annual meeting of the physiological interaction and computing community, and serves as the main international forum for engineers, computer scientists and health professionals, interested in outstanding research and development that bridges the gap between physiological data handling and human-computer interaction.

Conference Areas

1 . Devices
2 . Methodologies and Methods
3 . Human Factors
4 . Applications

Conference CO-
CHAIRs
Andreas Holzinger

,

Medical University Graz, Austria
Keynote Speakers
Keynote Lecture
Pablo Cesar
Centrum Wiskunde & Informatica
Netherlands
Brief Bio
Pablo Cesar leads Distributed and Interactive Systems group at CWI (The National Research Institute for Mathematics and Computer Science in the Netherlands). Pablo's research focuses on modelling and controlling complex collections of media objects (including real-time media and sensor data) that are distributed in time and space. His fundamental interest is in understanding how different customisations of such collections affect the user experience. Pablo is the PI of Public Private Partnership projects with Xinhuanet and ByBorre, and very successful EU-funded projects like 2-IMMERSE, REVERIE and Vconect. He has (co)-authored over 100 articles. He is member of the editorial board of, among others, ACM Transactions on Multimedia (TOMM). Pablo has given tutorials about multimedia systems in prestigious conferences such as ACM Multimedia, CHI, and the WWW conference. He acted as an invited expert at the European Commission's Future Media Internet Architecture Think Tank and participates in standardisation activities at MPEG (point-cloud compression) and ITU (QoE for multi-party tele-meetings).
AGENDA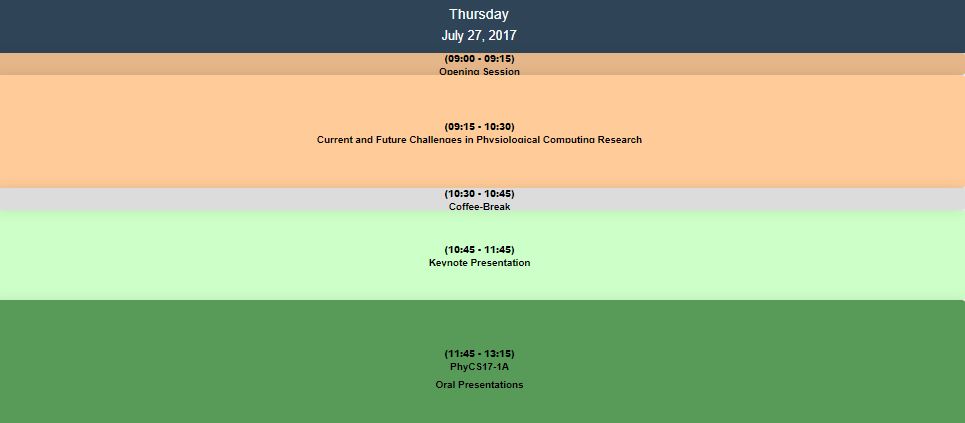 Important Dates

Regular Papers
Paper Submission: March 2, 2017
Authors Notification: May 3, 2017
Camera Ready and Registration: May 17, 2017

Position Papers
Paper Submission: April 18, 2017
Authors Notification: May 24, 2017
Camera Ready and Registration: June 6, 2017

Workshops
Workshop Proposal: April 10, 2017

Doctoral Consortium
Paper Submission: May 30, 2017
Authors Notification: June 12, 2017
Camera Ready and Registration: June 23, 2017

Special Sessions
Special Session Proposal: April 28, 2017

Tutorials
Tutorial Proposal: June 2, 2017

Demos
Demo Proposal: June 2, 2017

Panels
Panel Proposal: June 2, 2017






NO REFUNDS ON REGISTRATIONS ALLOWED

NO TRANSFER ON REGISTRATIONS ALLOWED

-----------------------------------------------------------------
This Event Listing is Promoted by
New York Media Technologies LLC in association
with INSTICC.
http://www.NyEventsList.com
http://www.BostonEventsList.com
http://www.SFBayEventsList.com
-----------------------------------------------------------------
SHU170213CEV

PRI170711UPD