4th Global Summit in Social Change through the Art of Movement

Saturday, September 21, 2013 at 9:00 AM

-

Sunday, September 22, 2013 at 5:00 PM (EDT)
Event Details
Move This World presents its 4th Global Summit in Social Change through the Art of Movement on Satuiday, September 21 through Sunday, September 22 in Baltimore, MD. 
Saturday, September 21: 9am-5:30pm
Sunday, September 22: 9am-5pm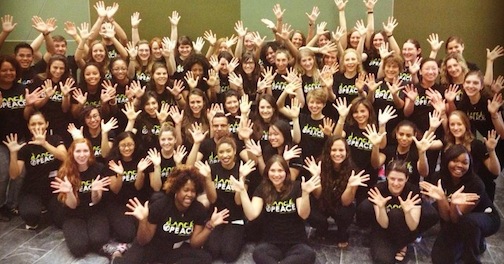 Educators, thought leaders, students, artists and social change advocates will join MTW PeaceMover Facilitators and global staff in an experiential training on movement-based approaches to instilling empathetic behavior. If it is anything like the past summits, it will be a moving, inspiring, earth-shattering few days!
You will have the opportunity to:
LEARN how to facilitate MTW's evidence-based curriculum that uses creative movement to build and cultivate Social and Emotional Learning skills.  
EXPERIENCE a holistic approach to social change that addresses the root causes of conflict. Activities will encompass deep self-reflection, group dialogue, and collaborative planning for direct application and action.

CONNECT with like minded individuals in the transformative education, arts based learning, social change, and conflict transformation arena through best practice sharing, collaborative problem solving, and networking.
Tangible Outcomes:
Strengthen Your Tool Kit: Gain valuable movement-based strategies and best practices that can be used in an array of fields and areas of study. Develop and improve your own social and emotional skills, as well as your ability to teach these skills to members of your communities.

Re-Educate: Reconstruct the way you think about approaching conflict and violence as you explore the value of movement and expression as it pertains to conflict transformation. While traditional empathy education programs focus on an intellectual understanding of conflict resolution, our unique program participants physically manifest tools for resolving conflict and managing anger.

Spearhead the MOVEment: Be a pioneer in the arena of movement-basedconflict transformation and social and emotional learning. There is ample research that supports the physical and psychological benefits of kinesthetic empathy and social and emotional learning.
Session Topics Include:
Exploring Empathy, Active Listening, Respect, Trust, and Discovering and Appreciating Differences through Self Awareness and Self Management.

 

Exploring Conflict Resolution, Ethical Behavior, Cooperation and Goals through Social Awareness and Relationship Skills Building.




Exploring Civic Engagement, Leadership and Cultural Diversity through Responsible Decision-Making and Social Awareness.
FAQ's to team MTDubz:
Why creative movement?

Our extensive research shows that movement is an embodiment of cultural knowledge, conveying ideas about nature, society, religion, order, and meaning that is emotionally charged. Empathy is a cognitive, affective, and kinesthetic construct. The kinesthetic dimension of empathy allows us to feel the physical state of another person with our own body, which is a crucial component in the perception and expression of emotions.




How do you know it works?

We have a comprehensive Monitoring & Evaluation process. Our data reveals measurable impact in the individuals and communities who experience MTW. Check it out: In four different NY and NJ schools, our students manifested more than a 50% increase in empathetic thinking; two of those schools showed this skill at an 80% increase! Additionally, MTW participants showed an 86% increase in ability to manage their own anger and an 83% increase in ability to identify nuanced emotions in others.




Will food be provided for participants?

Yes! Guests will be provided with:

Saturday: complimentary breakfast and lunch

Sunday: complimentary breakfast and lunch




How can I stay up to date on exciting MTW events and opportunities?
Are you ready to MOVE THIS WORLD? Questions? Concerns? Don't be shy!
Reach out to MTW's Program Coordinator and Global Summit aficionado, Alejandra Paucar at apaucar@movethisworld.org or 718-938-3663
Need lodging?
The Host Hotel is the Embassy Suites Baltimore located at 222 St. Paul Place, Baltimore, MD 21202.  CALL: 1-800-873-6668 for reservations and mention you are with the Move This World Group and you will receive the below special rate for a junior suite (the suite has a King, Queen or 2 Queen Beds – as well as a mini refrigerator and microwave.)  Also included is cook-to-order breakfast and a nightly Manager's reception with alcoholic and non-alcoholic beverages, along with light appetizers.  The rates are: Single or Double - $109;  Triple-$119; Quad-$129
When & Where

National Academy Foundation School of Baltimore
601 N. Central Avenue
Baltimore, MD 21201


Saturday, September 21, 2013 at 9:00 AM

-

Sunday, September 22, 2013 at 5:00 PM (EDT)
Add to my calendar
Organizer
Questions? Concerns?
Contact: Katherine Lam, Director of Operations, klam@movethismorld.org
Move This World (MTW) is a global nonprofit that uses creative movement as a vehicle to transform conflict, violence and bullying in communities. In partnership with schools, community-based organizations, families and corporations, MTW has worked with over 10,000 individuals across 22 cities on four continents to build and connect more peaceful communities. Our hallmark program is an innovative, evidence-based curriculum that engages students Pre-K-12, educators, administrators, families, and corporate leaders in movement-based activities that promote empathy, mediation skills, and conflict transformation. In this way, MTW fosters cumulative skill building that grows with the individual and produces measurable impact to promote social change through the art of movement.