Location
Aikido & Healing Arts Center of Roseville
501 Derek Place
#100
Roseville, CA 95678
Description
The coming of Autumn is always a wonderful time here, as it marks the end of the hot Summer months and opens the door to cooler training periods. It's also one of the best times to visit our dojo for some fabulous training.

Please join us in Roseville, CA (located a few handfuls of miles north of Sacramento) for the 4th Autumn Friendship Seminar series hosted by the Aikido & Healing Arts of Roseville. This year, in addition to our perennial guest senseis, Dan Messisco of the Aikido Schools of Ueshiba, and Yoshi Shibata of UC Santa Cruz Aikido, we welcome Craig Fife Sensei, 6th Dan, lead instructor of Aikido Northwest, one of our CAA sister dojos.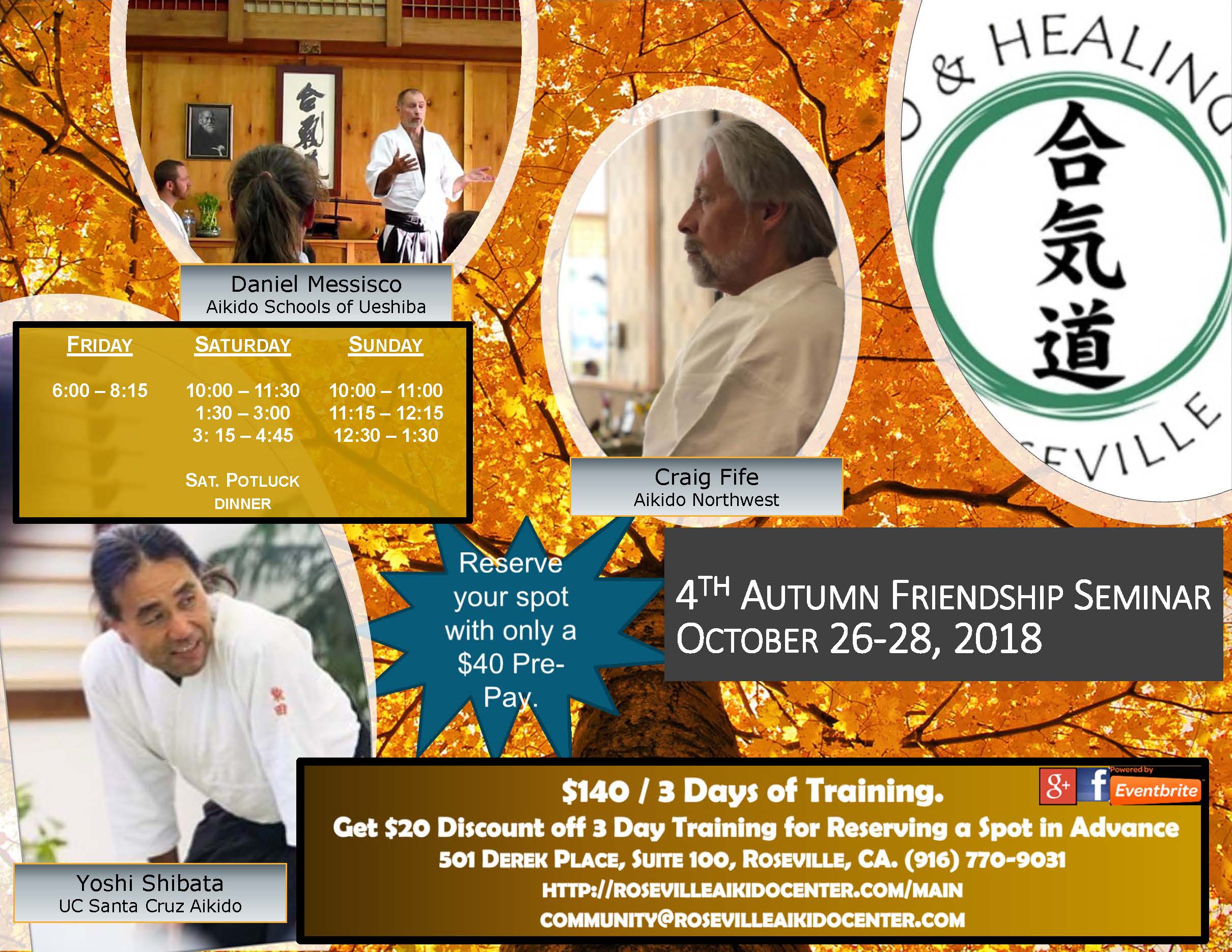 This year's practice promises to be another great opportunity to explore a multitude of aikido-related themes from a wide range of perspectives.

The seminar will be only $140 / 3 days of training and we also have reasonable day rates for those aikidoka who cannot join us in Roseville for all three days.

FRI $45

SAT $90

SUN $60

All three instructors will be training/leading class during each day of training; while we highly encourage everyone to join us for the full weekend, even if you cannot join us for all three days, you will be able to experience all the Senseis' instruction.

We highly encourage you to reserve your spot today with a $40 non-refundable, pre-pay that will be applied towards your training for that weekend. Your $40 will be applied towards your full three day or daily rate training, but more importantly, will help us gauge how much preparation will be necessary for our guests. Remaining payment is not due until you arrive at the dojo.
Special Discount --
In addition, if you use our Eventbrite $40 pre-pay option, you will be able to enjoy an additional $20 discount on our already low, $140 rate -- that's nearly 10 hours of training for only $120. We will be accepting $40 pre-pay deposits through 10/07 (SUN.)


FAQs
What's the refund policy?
Sadly, we will not be able to offer refunds on the $40 reservation, but you can transfer your reservation to someone else and your reservation costs are applied to any part of the seminar you choose to attend -- e.g. if you sign up with a $40 reservation and you are only practicing on Friday evening, your cost at the dojo would only be $5 ($45 Friday cost - $40 reservation.)

Do I have to bring my printed ticket to the event?
No. We will have your information from Eventbrite.

Can I update my registration information?
Absolutely. You can write to us at community@rosevilleaikidocenter.com and we will get it taken care of for you.

Is my registration fee or ticket transferrable?
Absolutely. Just write to us at community@rosevilleaikidocenter.com and let us know whom you would like to transfer the ticket to and we'll take care of it.

I am coming from out of town. Are accommodations provided?
We welcome guests to stay overnight at the dojo if they would like, but unfortunately, we currently do not have plans to provide accommodations. Roseville has many hotel options in town or if you would like to share accommodations with another aikidoka, you can post on our FB event page. We are hopeful that we will get many folks to sign up early so that our guests can coordinate together.