4th Annual Youth Law Camp presented by Chief Magistrate Judge Phinia Aten i...
Description
Admission is FREE, breakfast and lunch is included and the memories and lessons learned will be priceless. Students must bring their eventbrite ticket and completed and signed Registration Form and Camp Rules to participate on the event date.
Students in Rockdale, Newton and surrounding counties will enjoy a week of school winter recess beginning Monday, February 18, 2019. Why not make the break count and start smart by participating in Judge Phinia Aten's 4th Annual Youth Law Camp, on February 18, 2019, 8:30 a.m. - 4:30 p.m. The Camp is open to 8th - 12th graders in Rockdale, Newton and surrounding counties. It's a single-day camp like no other, offering Nonstop Fun and Learning for youth interested in a law-related or law enforcement career pathway, or those who would love to learn more about our justice system from our outstanding array of guest speakers including judges, lawyers, law enforcement officers and others. Register your student today for this unique and memorable opportunity with limited seating. Program includes a legal careers session, teen choices and consequences talk, mock trial, inspiring keynote address, meet and greet with government officials, free giveaways and much more.
To obtain the mandatory Registration Form and Camp Rules, click here this link Annual Youth Law Camp Registration Form and Rules.
For additional information contact: patricia.carreker@rockdalecountyga.gov or call (770) 278-7792.
FAQs
Do I have to bring my printed ticket to the event?
Yes. Students must bring their ticket and a completed registration form and camp rules signed by their parent/legal guardian.
Are there minimum age requirements to enter the event?
Students must be currently enrolled in 8th through 12th grades.
What may I bring into the event?
Cellphones are permitted but must be set to silent. Small snacks are permitted, but remember breakfast and lunch are provided. Program materials and pens will be provided.
May I leave the program early?
The camp program runs from 8:30 a.m. to 4:30 p.m. A student under the age of 18 is not allowed to leave the Magistrate Courthouse, without a parental escort, unless their parent/legal guardian has indicated early release instructions on the signed registration form. As the Magistrate Courthouse closes at 4:30 p.m., students must be picked up promptly.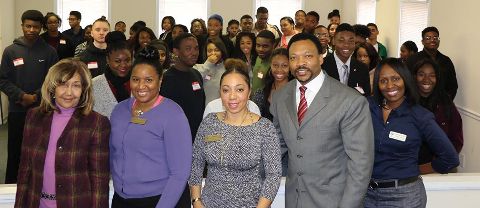 Inaugural Youth Law Camp
(Front row L-R: Rep. Pam Stephenson, Commr. Sherri Washington, Judge Phinia Aten, Judge Clarence Cuthpert, Jr., and Clerk of Magistrate Court Patricia Carreker)