Description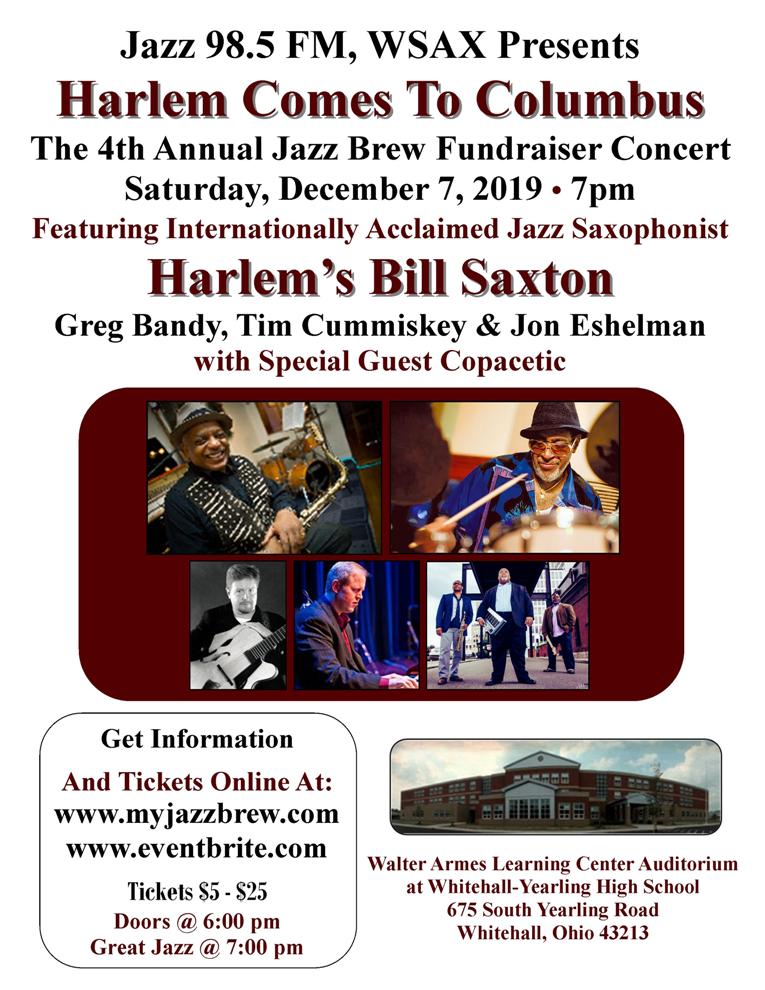 On Saturday, December 7th, we proudly present our annual fundraising concert. This year's theme Harlem Comes To Columbus, brings together two internationally acclaimed jazz greats, celebrated Harlem saxophonist Bill Saxton, teaming up with the Mayor of Harlem, famed drummer and Ohio native, Greg Bandy, in a one night concert event you don't want to miss. Joining Saxton and Bandy are two outstanding jazz greats, Tim Cummiskey on guitar and Jon Eshelman on piano and Hammond B3 organ. Opening for Bill Saxton is the smooth jazz recording group, Copacetic. We're sure you'll enjoy this concert and we thank you for your patronage and the support you provide to WSAX radio. Come enjoy and experience these special flavors of jazz while ensuring we keep jazz alive on the radio and in concert.

Bill Saxton
Bill Saxton, hard bop tenor saxophonist, works hard to keep the soul of jazz alive. Born and raised in Harlem, Saxton attended school in New York before continuing his post-secondary education at New England Conservatory in Boston. He's collaborated with many jazz legends such as Ray Haynes, Jackie McLean, Nancy Wilson, The Duke Ellington Orchestra, Tito Puente and Mango Santa Maria to name a few. Saxton has composed more than 80 pieces of music. He has also traveled with the U.S. State Department to West Africa.
In 2006, Saxton opened the speakeasy Bill's Place, which is prided to be "New York's only jazz speakeasy." Located on West 133rd Street, this historic prohibition-era hotspot was an after-hours hang out for many celebrities such as Langston Hughes, Duke Ellington, Moms Mabley and Fats Waller. This spot was also a place where William "the Lion" Smith would play piano and would also be graced by the appearance of a young, lesser-known Billie Holiday. Today, this speakeasy is helping continue the spirit of old, classic jazz.
Some of Saxton's accolades include receiving critical acclaim from several magazines and newspapers, having his life featured in the Harlem Jazz Museum and being inducted as a jazz legend at the Library of Music. A short documentary about his life called "Living Jazz with Bill Saxton" was made in 2012.
Greg Bandy
Greg Bandy, earned the nickname of "The Mayor of Harlem" for his outstanding ability to hold court.

Drummer Greg Bandy was discovered by Charles Mingus at the age of 20. He has played with a plethora of prominent jazz artists over the last thirty-plus years including, Joe Henderson, Betty Carter, Pharoah Sanders, Olu Dara, Curtis Fuller, Jack McDuff, Leon Thomas, Lee Morgan, Freddie Hubbard, Gary Bartz, Stanley Turrentine, George Benson, Yusef Lateef and many others.
Mr. Bandy's 1997 debut CD "Lightning in a Bottle" garnered two Grammy nominations. He produces "Bandy Does Blakey," a tribute to one of his mentors, the late Art Blakey, and often reunites former members of Blakey's Jazz Messengers.
Bandy worked in New York and in the following years with Art Davis (Reemergence, 1980), Lee Morgan, Malachi Thompson (Legends And Heroes, 1983), Jimmy Ponder, Joe Henderson, Betty Carter, Pharoah Sanders (Oh Lord, Let Me No Wrong 1987), Johnny Lytle, Freddie Hubbard, Olu Dara (Neighborhoods, 2001), Curtis Fuller, Jack McDuff, Leon Thomas, Stanley Turrentine, George Benson, Gary Bartz and Yusef Lateef. In 1997, Bandy's debut album Lightning in a Bottle (Big Ox Records), received two Grammy nominations.
Tim Cummiskey
Central Ohio guitarist and Educator Tim Cummiskey performs as both a leader and a sideman throughout the Midwest. Tim currently leads several groups ranging from solo jazz and classical guitar to larger group configurations.
As a sideman, Tim has performed and/or conducted clinics with John Abercrombie, Howard Alden, Carl Allen, Clay Aiken, Gene Bertoncini, Chris Buzzelli, Barbara Cook, Michael Feinstein, Benny Golson, Tim Hagans, Ingrid Jensen, Robert Klien, Romero Lubambo, Hank Marr, Lee Oskar, Patti Page, Rick Peckham, Bucky Pizzarelli, Debbie Reynolds, Neil Sedaka, Howard Shore, Russell Watson, Jack Wilkins, Frank Vignola, The Columbus Jazz Orchestra, the Columbus Symphony Orchestra, Opera Columbus among Others.
In addition to his busy performance schedule, Tim Has conducted clinics at the annual convention of the International Association of Jazz Educators, Bowling Green State University, The Ohio State University, Capital University, Denison University and Kenyon College.
Jon Eshelman
Jon Eshelman rounds out the group with his recognizable style on piano and Hammond B3 organ. Jon's classically trained fingers lends a special flair to his interpretations of jazz, no matter what style of jazz he plays.
Jon regularly performs with his own quartet and has accompanied many jazz artists around Central Ohio and throughout the country. His debut CD with his brother displays a talent that is exemplified in his outstanding live performances
Copacetic
Their name "Copacetic" simply means "all is well" or "everything is cool". That is the goal each time they perform – for those listening to walk away with a great listening experience and feeling that everything is cool, all is well.
With roots in Gospel, Jazz, and Soul, the band works to blend their experiences and musical interest to create a soul-stirring smooth jazz sound that appeals to many. The band members have been friends for years and it shows when they play together. They love to have fun when they perform and their audiences have a great time too.
Their name "Copacetic" simply means "all is well" or "everything is cool". That is the goal each time they perform – for those listening to walk away with a great listening experience and feeling that everything is cool, all is well.

Tickets are available now. Attending our Jazz Brew concerts help to ensure we Keep Jazz Alive and on the radio here in Central Ohio. Consider buying a ticket to this exciting SEMM Foundation, Jazz 98.5 FM, Jazz Brew Fundraising Concert and help us keep the momentum going into 2020.
This concert is presented by SEMM Foundation and your jazz station, Jazz 98.5 FM, WSAX. General Admission tickets are $25, $15 for seniors 60 and over, and $5 for students.

Join us for another great evening of live jazz brewed just the way you like it, starting at 7:00 pm. Bring your heart, soul and passion and support keeping jazz alive.
For complete concert details, visit www.myjazzbrew.com. Central Ohio deserves a great jazz radio station. Thank you for supporting your 24 hour non-profit jazz radio station, Jazz 98.5 FM, WSAX-LP and for helping keep jazz alive.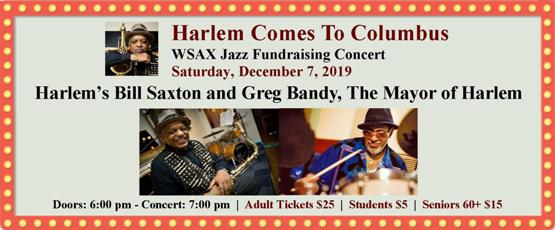 Organizer of 4th Annual WSAX Jazz Brew Concert Fundraiser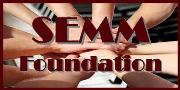 SEMM Foundation is a non-profit organization dedicated to supporting music education, entertainment and broadcast media services.  Jazz 98.5 FM, WSAX-LP Radio Station, is owned and operated by SEMM Foundation, whose mission is to keep the art of jazz music alive through education, promotion and support to our community, students, musicians and supporters. Donations, concert and event proceeds benefit the SEMM Foundation music education programs and helps support the operations of Columbus' new Jazz 98.5 FM radio station. For more information, visit our corporate website at http://www.semmfoundation.org or station website at http://www.myjazz98.com.