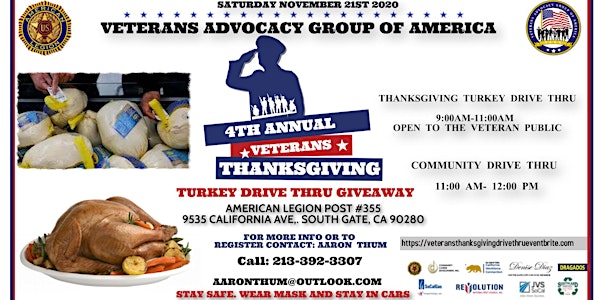 4th Annual Veterans Thanksgiving Appreciation Giveaway Drive-Thru
Location
9535 California Ave
9535 California Avenue
South Gate, CA 90280
4th Annual VAGA Thanksgiving Turkey Giveaway
About this event
Veterans Advocacy Group of America is hosting Veterans Thanksgiving Appreciation Giveaway Drive-Thru! *MUST REGISTER
On Saturday, November 21, 2020, the Veterans Advocacy Group of America and American Legion Post #335 will host a Veterans Thanksgiving Appreciation Turkey Giveaway.
The Veterans' Thanksgiving Turkey Giveaway is for our veterans and their families to show appreciation to veterans and those currently serving the United States Military.
The Thanksgiving Turkey Drive is open to:
0900 - 11000 - Any Veteran Family or Veteran from 0900- 1100
1100 - 1200 - Residents of Carson, Compton, East Compton, East Rancho Dominguez, Lynwood, North Long Beach, San Pedro, South Gate, Watts, Walnut Park, West Rancho Dominguez, Willowbrook, and Wilmington.
********YOU MUST APPLY AND REGISTER FOR TURKEY. ***********
1 TURKEY PER FAMILY/ PER VEHICLE
ONCE REGISTERED YOU WILL BE CALLED AND GIVEN A CONFIRMATION SLOT
YOU MUST BE ON THE PRE-APPROVED LIST TO OBTAIN A TURKEY.
Thanksgiving is a special time of the year and what a better way to show our veterans and families to come out
And let us serve them for their dedication to our country. They wrote a blank check to protect and serve us, now we will serve them this great Thanksgiving Dinner.
We are so happy to have this event at: American Legion Post #355 is an iconic part of the downtown South Gate community and was incorporated in 1919 serves as the home of the Los Angeles County Department of Military and Veterans Affairs, providing space for a variety of veteran services organizations and hosting events for veterans.
This event will include the following:
• Welcome and Guest Speaker
• Turkey Drive-In Giveaway
Serve the needs of Veterans with commitment, compassion, & respect