Description
This season, Duke City Rep is offering select "Pay What It's Worth" performance dates. No pre-purchased tickets or buying your seats at the door. RSVP here for the date you'd like to attend, show up, enjoy and pay AFTER. We're trying something new in our 10th season. We know seeing theatre can be pricey and occasionally, dare we even suggest- disappointing? We want everyone to have the opportunity to see a show and not feel as though they got burned on admission if it wasn't their cup of tea. By paying after you see the show, you get to decide what it was
worth
to
you
.
Note: RSVPs are HIGHLY RECOMMENDED. They will be given priority just like tickets. We will admit walk ups for remaining/available seats in the first 20 minutes of Box Office, and at 10 minutes before Curtain, we'll release unclaimed RSVPs to waitlisted walk up patrons. Bring cash for faster check out!

Want to buy old fashioned tickets for a different date? Do that here!
4th Annual Ugly Sweater Revue
The coolest acts in the city are coming together to bring you the hottest cabaret yet. Be mystified by magicians, tantalized by burlesque performers, and all-around entertained by singers, dancers, and improvisers! This year, keep those ugly sweaters in storage and don your wackiest Hawaiian shirt as we bring you Christmas in July...in December- where everyone gets lei'd.
If you were naughty this year, Santa might not be shimmying down your chimney. No need to worry! We have more shimmying than you'll know what to do with. This is bound to be the well-deserved umbrella in your cocktail this holiday season!
Recommended ages 18+ due to content and language

Red Door Brewing will serving their tasty brews before the show and during intermission!
Pay What It's Worth Performance Dates:
(First Friday, second Sunday and third Thursday)
Friday, Deccember 6th at 8pm
Sunday, December 15th at 4pm
Thursday, December 19th at 8pm
Ticketed Performance Dates:
December 5th, 7th, 8th, 12th, 13th, 14th, 20th & 21st
Thursday, Friday and Saturday at 8pm
Sunday at 4pm
Thursday, December 5th performance followed by Opening Night Reception.
Enter lobby at 112 Gold Ave
Parking is available in the garage/structure south of the TLab on 2nd Street (we can validate, but ONLY for 2 HOURS of parking time). There is free street meter parking daily after 6pm and all day Sunday. $2 pay parking lots located west of 2nd Street on Gold and Central Avenues. NOTE: Pay lots have electronic pay stations. Be wary of "Out of Order" signs and people accepting payment without issuing paper receipts or showing proper credentials.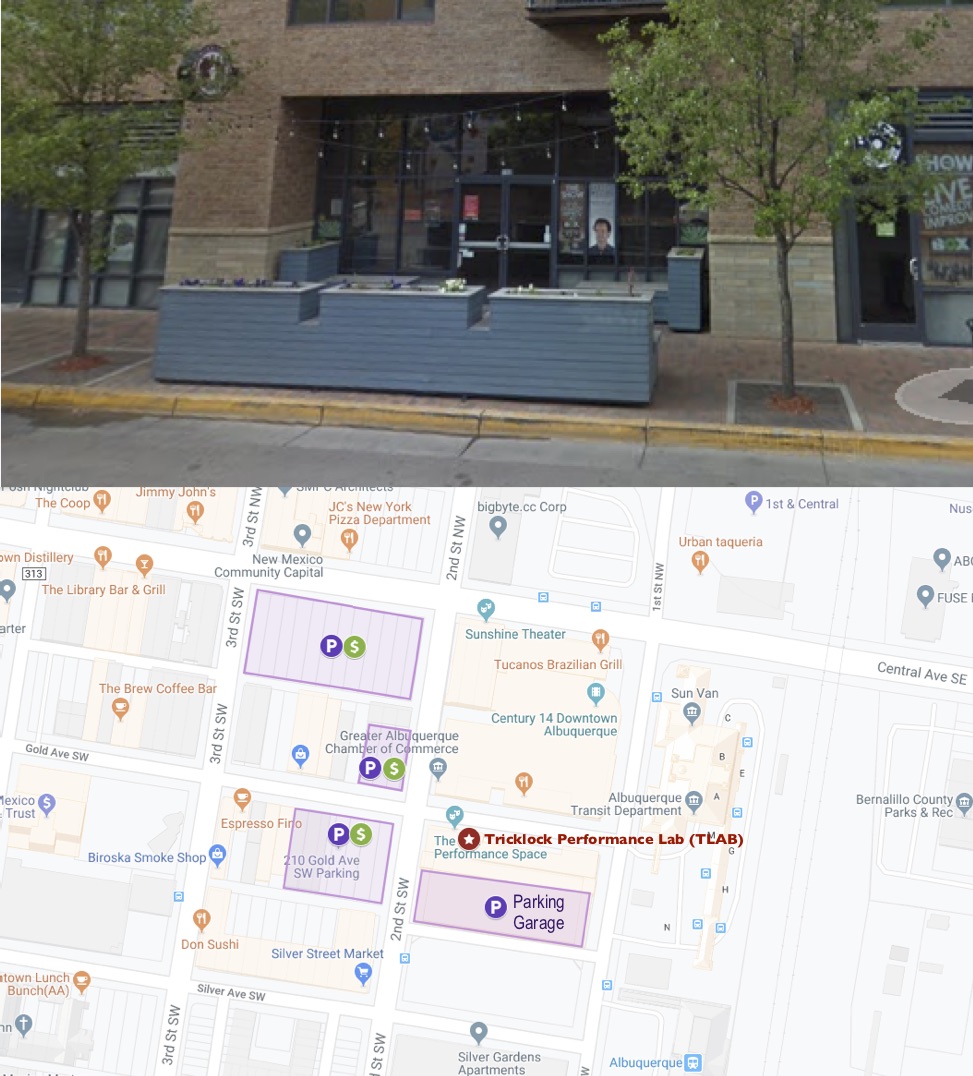 Box office and house open 30 minutes before curtain
No late seating
No "babes in arms" please
Unclaimed RSVPs may be released 10 minutes before curtain to waitlisted patrons
Refunds are at the discretion of management
We reserve the right to refuse admittance to anyone