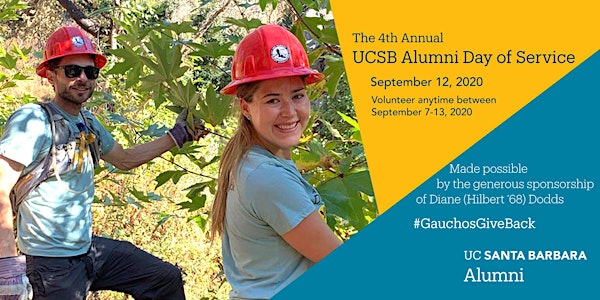 4th Annual UCSB Alumni Day of Service
Join fellow Gauchos worldwide in service to our communities!
About this event
What is the Day of Service?
No Matter Where You Are
No Matter What Your Passion
Together Gauchos Give Back and Make the World a Better Place!
Nearly three years ago Alumni Affairs launched its Day of Service program, to encourage and mobilize alumni to join community improvement projects. This year, the event looks a little different, but so does the world. In the midst of new norms around social gatherings, we are introducing a new Virtual Day of Service. While the official Day of Service is September 12th, you can volunteer any time from Monday September 7th through Sunday September 13th.
We are in the midst of a period in our country's history when there are repeated calls for more civic involvement and community responsibility. From fighting Covid-19 in our society to helping feed those who have lost their jobs; Gauchos worldwide are being asked to take the challenge of building a better society.
Therefore, this year we implore you to find new ways to aid in the growth and continuation of your communities. While this year's Day of Service should involve more at-home projects and smaller gatherings, we know that our creative and resourceful Gauchos will find a way to make a difference.
Below we will be listing some ideas to spark your creativity as well as some national and international organizations that you can donate money or supplies to. In your registration, please tell us what you'll be doing. If it's something that we feel could use some support from other Gauchos then we may add it to this list. If you have ideas for possible organizations or initiatives that we can list here, email us at programs@alumni.ucsb.edu.
Instead of T-shirts, this year we will be mailing everyone who registers by 11:59 on August 30th a UCSB Alumni Face Covering *while supplies last*. Therefore, there is no size selection question upon registration. Registrations after that date may not be guaranteed a covering.
UCSB-Related Initiatives:
To donate money: email ucsbasfoodbank@as.ucsb.edu
To donate supplies: email ucsbasfoodbank@as.ucsb.edu to set up drop-off details
- At this time the AS Food Bank is only taking physical donations of soap, menstrual products, and toilet paper. If this changes, we will reflect updates here.
Student Scholarships
Alumni Scholarship Fund: Gifts to this fund provide scholarship and/or loan support to qualified students based on need, merit, service to the University, or first generation college attendance status. 268 scholarships totaling $436,800 have been awarded since its inception in 2008. For more information and to donate, click here.
Class of 1969 50th Reunion Scholarship Fund: This fund seeks to invest in current student leaders who are making a difference at UCSB or in the community. For more information, click here or to donate, click here.
Civic Engagement Event Series
You may also choose to attend and participate in one (or both) of our upcoming Civic Engagement Events. "Civic Engagement in the Time of COVID-19", hosted by Dr. Ljiljana Coklin and Monica J. Solorzano will occur on Tuesday September 8th at 12:00 p.m. "I'm Not Karen, Now What?", hosted by Dr. Jeffrey Stewart, will occur on Wednesday September 9th at 12:00 p.m. For more information on these events and to register click here.
The Gaucho For Life Fund: Supports both student and alumni events on and off campus such as student study nights and All Gaucho Reunion. Annual donors receive additional alumni benefits. For more details on the fund, click the link above. Or to donate click here.
For a list of additional funds that go towards the UCSB Alumni Association, click the 'UCSB Alumni' link above.
Register for UCAN (UC Advocacy Network)
Become a UCAN Advocate and get involved in shaping the future of the UC system. Advocate for policies promoting the universities' mission of education, research and public service on the state and federal levels. By registering with UCAN, you will receive emails relating to issues that critically impact higher education. From there, you may be asked to make calls or send emails to legislators, using your voice to advocate for the next generation. To sign up, head to the link above.
For information on other giving opportunities across campus, click here
National (USA) Opportunities and Initiatives:
Some areas need Meals on Wheels now more than ever. Volunteer to deliver hot food to those in your community. The organization is in need of sanitary and capable volunteers who can safely deliver food to the most vulnerable. They are also accepting monetary donations. For more information and to volunteer, click the link above. Or to donate, click here.
National VOAD Members are organizations coordinating with federal entities like the CDC to do everything they can in the fight against COVID-19. All members are fully-vetted, experienced, and dedicated professionals who will get the most out of your generous donation. For more information, click the link above. To donate, click here for a full list of members, then head to the organization's website of your choosing.
This initiative helps to make historical documents more accessible. Through this program, volunteers will take hand-written notes, diaries, ledgers, manuscripts and more and transcribe them. If enough volunteers select this option, we will host a transcribe-a-thon! For more information and to sign up, click the link above.
The Feeding America nationwide network of food banks secures and distributes 4.3 billion meals each year through food pantries and meal programs throughout the United States and leads the nation to engage in the fight against hunger. Depending on the region, food banks are in need of volunteers who can donate time to serve meals, time to deliver groceries to seniors, face masks, and more. Follow the link above to find a local pantry in your area or to donate, click here.
Red Cross has an urgent need for blood and platelets. For a limited time, the American Red Cross will test all blood, platelet and plasma donations for COVID-19 antibodies as an additional health service to our donors. This testing may provide critical insight into whether donors may have possibly been exposed to this coronavirus. To find a blood drive in your area, click the link above. To learn about donation types, click here.
International Opportunities and Initiatives:
This downloadable app connects low-visibility and blind citizens with sighted volunteers. When you volunteer, you will occasionally be called by a random sight-impaired person who needs help with a task. Tasks can range from choosing an item in the grocery store or checking expiration dates, to distinguishing various colors from one another. For more information and to see if your country can participate, click the link above.
Amnesty Decoders is a platform for volunteers around the world to use their computers or smartphones to help our researchers sift through pictures, information and documents. It is run by Amnesty International, a global movement of more than 7 million people who campaign for a world where human rights are enjoyed by all. Participate in decoding and collecting data related to oil spills, destruction in global areas, online discussions, and more. For more information and for examples of completed projects, click the link above.
Translators without Borders is a U.S. non-profit organization that aims to close the language gaps that hinder critical humanitarian and international development efforts worldwide. You can volunteer with TWB if you are fluent in at least one language other than your native language. Whether you are interested in translating medical texts or translating for crisis response, there are engaging projects available to suit all preferences. For more information, click the link above. Or to donate, click here.
Once again, a huge thank you to Diane (Hilbert '68) Dodds for her generous donation to this event. Without her, Day of Service would not be possible.