Description
Description
Please join us to learn about transitioning to life after college.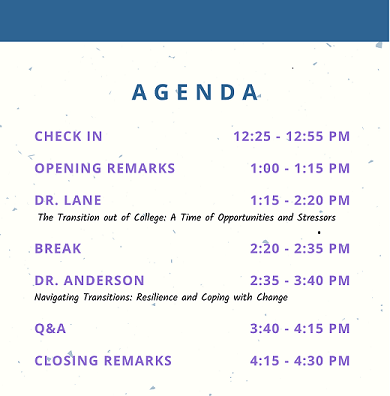 ---
Keynote Speakers...
Dr. Joel Lane
The Transition Out of College: A Time of Opportunities and Stressors
This session will focus on the experience of leaving college. Though generally viewed as an exclusively celebratory experience, exiting college is a major life transition that can prompt a wide range of experiences and feelings. Many graduating students encounter unanticipated stressors and difficulties like preparing for graduate school, lacking certainty regarding the next steps in life, leaving behind friendships and social circles, and losing the student lifestyle. In this session, we will discuss research about the college graduation transition, including factors that can promote resilience during this important time of life.
Bio:
Joel Lane, Ph.D. LPC NCC, is an Associate Professor and Chair of the Department of Counselor Education at Portland State University. His research involves the mental health implications of life transitions during emerging adulthood. He has studied and written about the impact of various transitions including entering and leaving college, leaving home, and entering career life. Through this work, Dr. Lane aims to assist counselors and other mental health professionals in being more effective when working with emerging adult populations.
Dr. Mary L. Anderson
Navigating Transitions: Resilience and Coping with Change
The purpose of this presentation is to provide a theoretical framework and practical strategies for navigating transitions. A specific focus will be on the challenges and opportunities that come with the transition from college to the world of work. Participants attending this presentation will come away with effective and culturally sensitive transition models, along with creative approaches that apply to one's personal and professional transitions. The models and strategies are useful for delivering services for clients in transition, and applications for counseling practice will also be discussed.
Bio:
Mary L. Anderson holds both a master's of arts degree and a Ph.D. in counseling from Oakland University, and she is a Licensed Professional Counselor and a National Certified Counselor. Dr. Anderson currently serves as an associate professor in the Department of Counselor Education and Counseling Psychology at Western Michigan University, where she enjoys teaching a variety of master's and doctoral courses. Dr. Anderson has served in leadership positions in professional counseling associations, and currently serves on the editorial board for the Journal of College Access. Her major publications include two editions of Counseling Adults in Transition, along with a number of book chapters and journal articles focused on transitions and counseling with various populations. Dr. Anderson's research interests include: life/career transitions, professional development for counselors, international issues in counseling, group counseling, and spirituality in counseling. She regularly presents on these topics at professional conferences, and she is an experienced facilitator of seminars and workshops. Dr. Anderson has extensive experience as a counselor educator and supervisor, spanning over 20 years serving in CACREP accredited programs at three universities.