4th Annual Symposium on Global Cancer Research

Friday, April 8, 2016 from 8:30 AM to 11:30 PM (PDT)
Event Details
The Event:
The Symposium is an annual event, since 2013, that aims to promote the exchange of scientific findings, best practices, and innovations in global cancer research. In addition, Symposium participants work to identify potential geographic and scientific areas for collaboration and to develop strategic priorities related to cancer research focused on low- and middle-income countries (LMICs). Highly interactive discussions will cover a range of topics, foster network building, and be geared toward developing action items for advancing global cancer research priorities. The focus of the 2016 meeting will be innovative and low-cost cancer-related technologies.

The Symposium consistently draws quality senior- and junior-level professionals from multiple sectors, including academia, industry, and non-governmental organizations, providing a valuable combination of experience, enthusiasm and varied perspectives to the discussions.
Co-Sponsors:
This event is co-sponsored by the National Cancer Institute (NCI), Consortium of Universities for Global Health (CUGH), University of California San Francisco (UCSF), Stanford University, and Global Oncology, Inc. 
Registration Details:

Registration for the Symposium closes on February 29, 2016.
This one-day Symposium occurs prior to the start of the 7th Annual CUGH Global Health Conference. Registration for the Symposium on Global Cancer Research is separate from registration for the 7th Annual CUGH Global Health Conference. Please complete registration at your earliest convenience since seats are limited.

***Please note that we will NOT be able to provide refunds. However, you can offer your ticket to another interested individual. Please email us at gosymposium2016@gmail.com regarding any changes.***
CUGH-Member University - 25% discount on Registration:
If you or your university are a member of the CUGH, you may obtain a 25% discount on your registration. If you choose to apply for this discount please be sure to verfiy that your university is a member of the CUGH at this link: https://www.cugh.org/membership/members

To qualify for the discount code, please bring proof of your CUGH membership or proof of membership in a CUGH-Member university to check-in, the morning of the Symposium. Your active university ID could serve as proof of membership. If you do not bring this proof of membership to the Symposium, you will forfeit your discount and pay the remainder of the regular Symposium ticket at check-in.
To access the discount registration, enter promotional code: CUGH_member
Abstract Submission for Posters & Technologies:
Deadline for submitting abstract is January 18, 2016.
This year, abstracts are being accepted for three categories: (1) original research conducted in LMICs; (2) program development in LMICs; and (3) development of novel devices or technologies used in low-cost cancer control. Abstracts can be submitted at https://www.openconf.org/2016NCIGOS/openconf.php
After Hour Reception - Register Here:

We'd love to invite symposium participants and attendees (21+ years old) to our free After Hour Reception event at ENO Wine Bar. Please follow the link below for more details:
https://www.eventbrite.com/e/4th-annual-symposium-on-global-cancer-research-after-hour-reception-tickets-19412118168
Contact Us:
If you have any questions, please email us at <gosymposium2016@gmail.com>

~~~~~~~~~~~~~~~~~~~~~~~~~~~~~~~~~~~~~~~~~~~~~~~~~~~~~~~~~~~~~~~~~~~~~~~~~~~~
Disclaimer: Registration fees for this event are used to offset the costs of UCSF, Stanford and GO. NCI, National Institutes of Health, U.S. Department of Health and Human Services and NCI Center for Global Health are not receiving any proceeds from the registration of this event.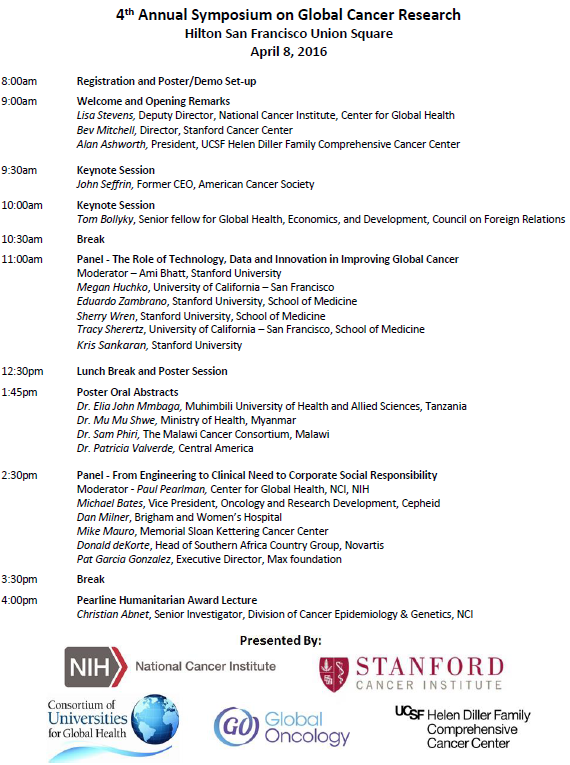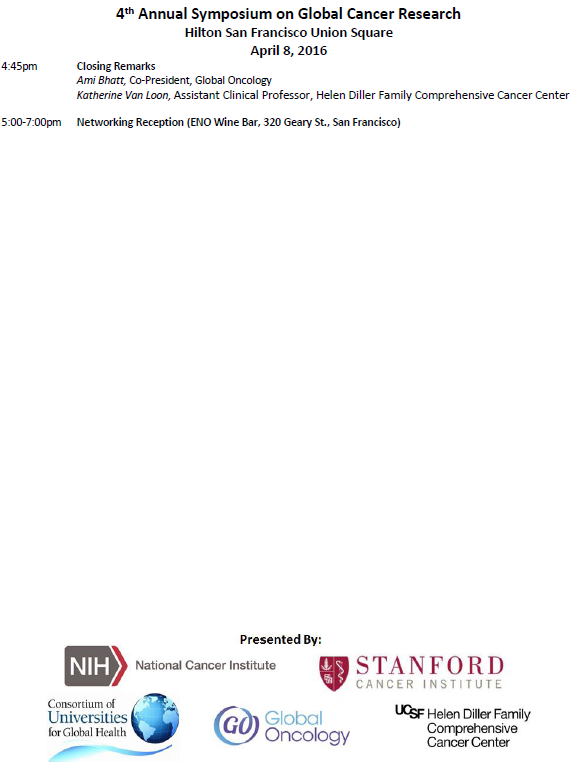 When & Where

Hilton San Francisco Union Square
333 O'Farrell Street
San Francisco, CA 94102


Friday, April 8, 2016 from 8:30 AM to 11:30 PM (PDT)
Add to my calendar