Multiple Dates
4th Annual Pre-Professional Healthcare Summit
Interested in becoming a healthcare professional? Our Summit is a place for you to learn about the most cutting-edge healthcare practices!
About this event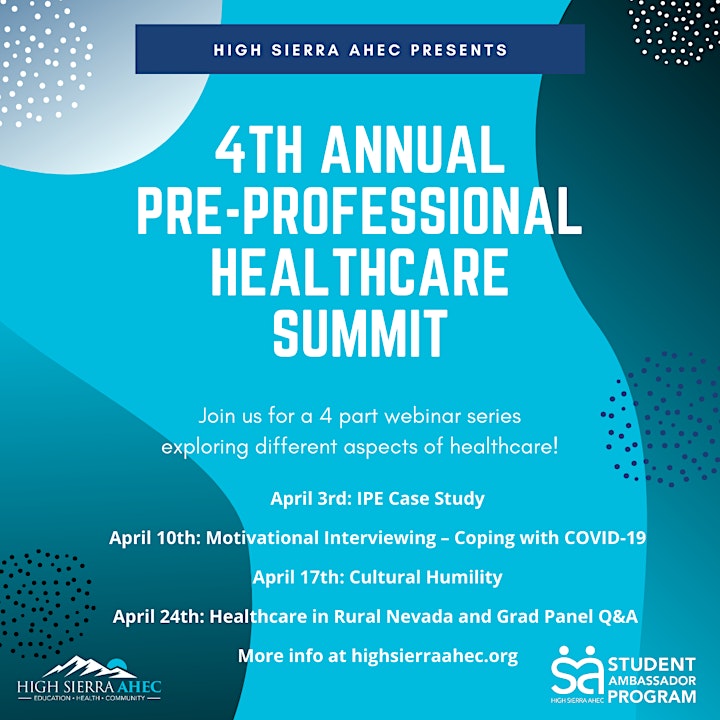 For students, by students, this conference sheds light on current and emergent health issues, topics, and trends that you should know about. Learn from the professionals themselves as they share their experiences, what it's like to be in the field they represent, and the tools you can take to enhance your knowledge! This event contributes to insight, encourages networking, and provides a space to explore what your next step may be as you begin your transition to becoming a future healthcare professional!
We are hosting four events in April 2021 from 10 am to 11:30 am PST on all four days. Students will receive a raffle ticket for some fabulous raffle prizes for each event they attend. Attend all four events to be eligible to receive the grand prize!
April 3rd: Students will get an overview of Interprofessional Education (IPE) and then take part in an IPE case study in teams with Dr. Jill Packman. IPE is an important concept in health care because it centers on the idea that multiple health professionals work together to deliver the best care to a patient.
April 10th: Motivational Interviewing (MI) is a style of communication in which active listening and respectfully giving information and advice is used to empower a patient to come to their own conclusions about their healthcare. It also encourages them to draw out their own meaning, importance, and capacity for change. Beth Schroeder will elaborate more on what MI is and how it is being used when providing for patients as they cope with COVID-19.
April 17th: Cultural Humility, as defined by the National Institutes of Health (NIH) is "a lifelong process of self-reflection and self-critique whereby the individual not only learns about another's culture, but one starts with an examination of her/his own beliefs and cultural identities." Nicholas Dunkle and Reema Naik will lead this session and engage in this important discussion.
April 24th: The final session will feature health care in rural Nevada and a Graduate Student Panel. Speakers are still TBD.
All undergraduates are welcome and encouraged to attend this FREE conference!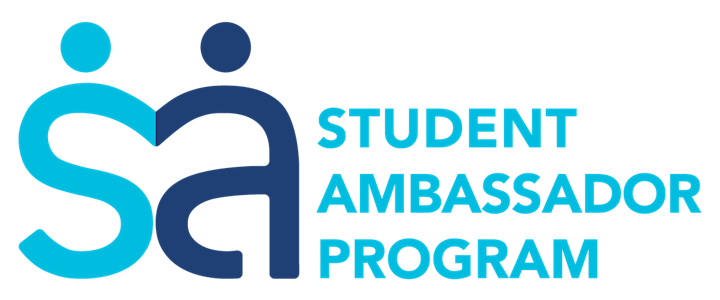 The Student Ambassador Program is the pride and joy of High Sierra AHEC. Our undergraduate students are a team of diligent, enthusiastic community leaders who promote the mission of High Sierra AHEC and make a difference in our community. Each Ambassador participates in civic engagement and professional development every semester while working to become influential healthcare leaders.
This program is a unique way to gain non-profit and public health experience while acquiring valuable professional skills. Perfect for undergraduate students pursuing careers in healthcare!
Interested in learning more about the Student Ambassadors? Click here to join our monthly newsletter!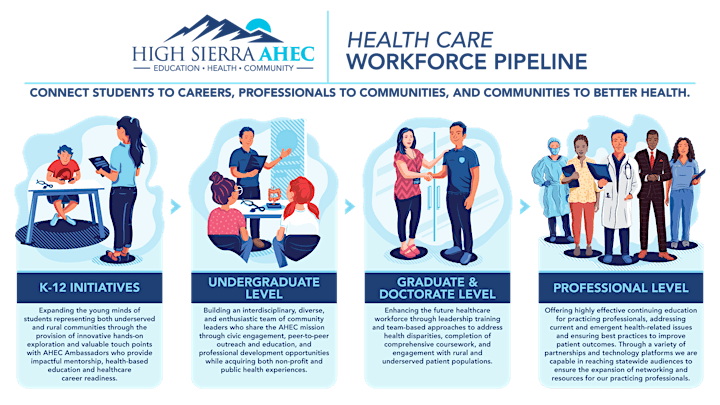 High Sierra Area Health Education Center is a federally and state-funded 501(c)(3) nonprofit committed to serving the under-served and rural population of Northwestern Nevada in collaboration with the University of Nevada, Reno School of Medicine, and the Office of Statewide Initiatives. High Sierra AHEC serves the following counties: Carson, Churchill, Douglas, Lyon, Storey, and Washoe.
For more information about our mission and initiatives visit: highsierraahec.org.