4th Annual Pre-Kosherfest Media Dinner - KosherFeast #kfeast14

Monday, November 10, 2014 from 5:30 PM to 9:00 PM (EST)
Event Details
KosherFeast 2014



Let the Kosher Feasting Begin!



Monday evening, November 10 
Register for the fourth annual pre-Kosherfest Media Dinner...
KosherFeast 2014 will be held on Monday, November 10th, in the historic Streit's Building in lower Manhattan, 5:30pm to 9pm. 
Influential food writers, culinary editors, media personalities, recipe bloggers, cookbook authors and food brand professionals are invited to attend.  We thank the Streit's family for welcoming KosherFeast to this historic location, and we are honored to have this nearly 100-year-old brand as a presenting sponsor along with premier sponsors Kosherfest and Kosher Today.
Once again pioneers and cutting edge luminaries of the kosher food world will be recognized including: Joey Allaham, Prime Hospitality Group; Brent Delman, The Cheese Guy; Joe Hurliman, Winemaker, Herzog Wine Cellars; Allison Josephs, Jew in the City; Estee Kafra of Kosher Scoop; Shifra and Shlomo Klein founders of Bitayavon/Joy of Kosher Magazine; David Mintz founder of Tofutti; Jeff Nathan celebrity chef and founder of Abigaels; Dr. Peter Praeger (z'l) founder of Dr. Praeger's; and The Streit's Family.

This memorable evening will reflect the heritage and history of the lower east side of New York. Attendees will enjoy a sampling of new and exceptional wines, signature Van Gogh vodkas, scrumptious frozen pops from Chloe's, along with swag bags brimming with food and culinary related goodies and more.
Coordinated by:
Esti Berkowitz, Digital Influencer,  Managing Editor - primetimeparenting.com
Roberta Scher, Managing Director, Executive Editor - koshereye.com

For more information or to share your thoughts with us:  kosherfeast@gmail.com
Culinary related brands are invited to inquire about sponsorship opportunities.  
Contact: kosherfeast@gmail.com or call Esther Berkowitz (917) 613-5040.
Follow the Feast on Twitter: #kfeast14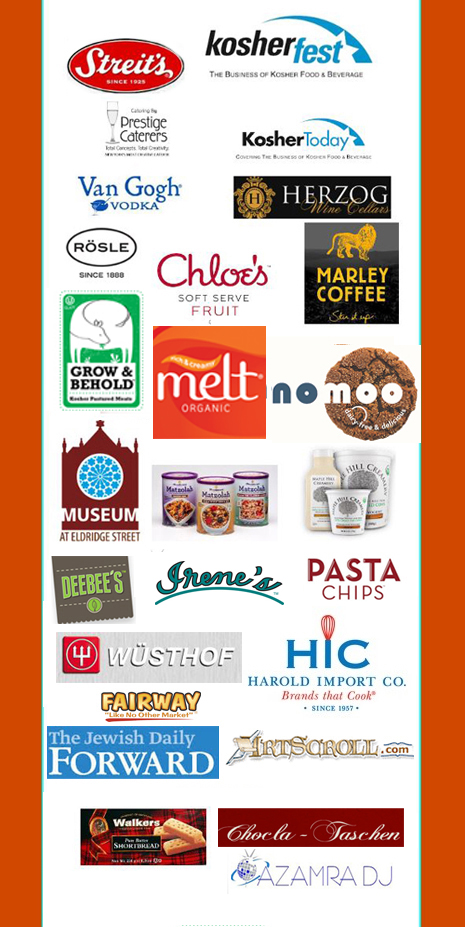 In the 1890's, Aron Streit and his wife, Nettie, left Europe and came to America, and opened their first matzo factory in 1916. The matzo was all hand-made. In 1925, Aron and one of his sons opened a "modern" bakery on Rivington Street in the very same building that Streit's stands today.. Although Aron died in 1937, his great-grandchildren carry on the family tradition, teaching the fifth generation how to maintain Jewish values in America.
Dinner will be presented by Prestige Caterers, which has been serving-up creative and innovative kosher culinary creations for over 45 years. Regarded as one of New York's premier and most creative kosher caterers, Spencer Katz, along with his father, founder Joel Katz and their culinary team, are planning a creative,gourmet menu exclusively for Kosherfeast 2014. They have infused some lower east side "soul" food into the contemporary, cutting edge menu. Past and current clients span both the corporate and private sector... including luminaries such as Hillary Clinton, Michael Bloomberg, Nancy Reagan, Joe Lieberman, Leslie Wexner, Ronald Lauder, Peter Maxx, and corporate clients such as Saks Fifth Avenue, Net JETS private jets, the IDF and more. Geographically speaking, Prestige has catered special events throughout the U.S. including Aspen, Baltimore, Chicago, Washington DC, California, Florida and Vermont.
When & Where

Streit's Matzo Factory
154 Rivington St
New York, NY 10002


Monday, November 10, 2014 from 5:30 PM to 9:00 PM (EST)
Add to my calendar
Organizer
The evening is being coordinated by Esti Berkowitz, of PrimeTimeParenting.comer of KosherEye.com
Esti Berkowitz founder and creator of primetimeparenting, a lifestyle blog about parenting, food and travel and Naomi Nachman, kosher peronsal chef, cookbook author, "Perfect for Pesach" and host of "Table for Two with Naomi Nachman" on The Nachum Segal Network.
4th Annual Pre-Kosherfest Media Dinner - KosherFeast #kfeast14