Description
Join The Atlantic Hotel for our 4th Annual New Year's Day Polar Bear Plunge!
Wash away 2018 and refresh with a literal plunge into 2019. Guest are invited to meet at Lifegaurd Tower 11 on Fort Lauderdale Beach in front of The Atlantic Hotel & Spa before going for a dive in their bathing suit, ball gown, tuxedo, or outfit from last night.
Pre-Fix Brunch Menu from 11 AM - 2:30 PM $29.50* per person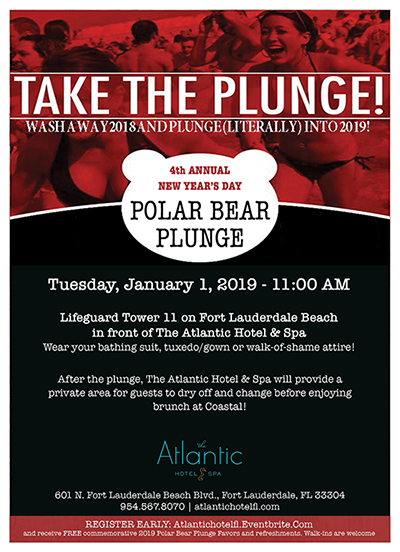 After taking the plunge, The Atlantic Hotel & Spa will provide a private area for guests to dry off and change before enjoying Brunch.
*Price does not include beverages, sales tax and gratuity. Event is Rain or shine.