About this event
The Pi(e) Run has been postponed. We are working another date and will let you know as soon as possible when that will be. If you have already signed up you will have an entry to the new date.
Time to celebrate the greatest number in the universe: Pi!
In honor of Pi Day, UNC Asheville is hosting a community fun-run. Run or walk (or skip or trot) the 3.14 mile distance, which celebrates Pi's value. The event is open to the public and has a nominal registration fee of $15.00 if you register before February 15th and $20.00 if you register from February 15th through March 14th. Your registration includes a t-shirt and swag bag. We cannot guarantee a swag bag for participants who sign up after March 1st.
There will also be a Pi(e) Baking Contest! Bring your homemade pies to be judged and eaten by runners, and win a prize! Be sure to let us know when you register if you're bringing a pie for the contest. If you are interested in just doing the pie baking contest and not running please fill out this google form: Google Form for Pie Baking Contest
New this year we will also be having a raffle with items from our generous sponsors. Each Pi(e) Run entry will grant you one raffle entry, but to increase your odds, you can also buy more on the day of the event.
Proceeds will benefit the Asheville Initiative for Math at UNC Asheville and its Marvelous Math Club at Pisgah View Community Center. Marvelous Math Club uses math as a catalyst to build leadership skills, create community and provide a space where elementary school students can grow academically and socially.
The Pi Day Run is a chance to show your support for math literacy, which enhances our ability to solve problems, understand statistical concepts like risk, and to communicate effectively with numbers. Math literacy is an essential skill in our current workforce environment and will continue to grow in importance for personal economic success.
Want to support Asheville Initiative for Math and Marvelous Math Club even more? Then become a sponsor! Businesses and individuals are welcome and any donation or sponsorship is greatly appreciated. Check out our sponsorship form at: Pi(e) Run Sponsorship Form
Want to volunteer? Check out our quick and easy form to volunteer at this years run and get a free t-shirt and swag bag: Volunteer Form
IMPORTANT DETAILS
Onsite check-in and registration begin at 2 p.m.
Race start time is at 3:14 p.m.
FAQs
Where will the race be held?
The race will be held at UNCA starting on the Main Quad. The route will be a loop that goes around UNCA's campus via sidewalks on University Heights. This loop will be done three times to complete the entire 3.14 miles. The race will then end on the Main Quad. A more detailed race route can be found below. Note the green arrow is the start and the red is the finish. Runners will complete this course three times before finishing on the Quad.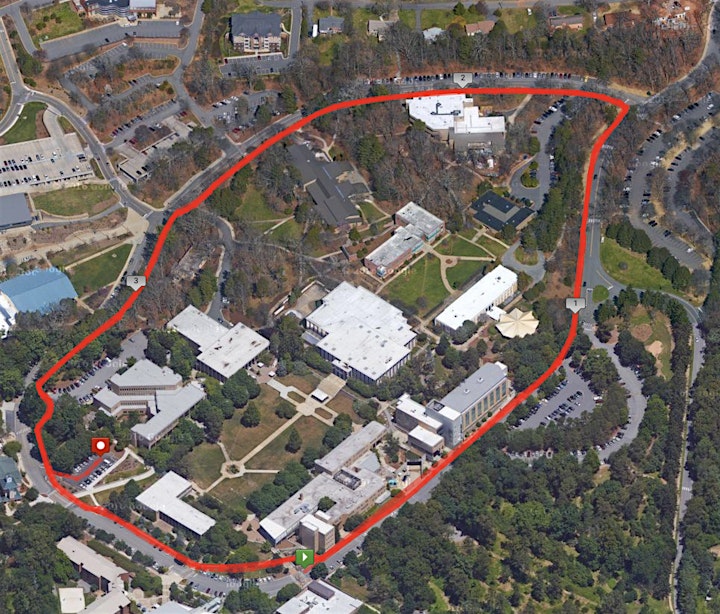 What are my transportation/parking options for getting to and from the event?
You may park in the parking deck (P4) along Field Drive and in the parking lots below Field Drive ( P25, P26, and P28). (Campus Map)
Will the race be timed?
As this is a fun run, the Pi Run will not be timed.
Can I register the day of the event?
For the Pi Run, in-person registrations will begin at 2 p.m. To secure your spot, advanced registration is strongly encouraged.
Can I run with my dog?
No, animals are not allowed on the Quad.
Are strollers allowed?
Yes. Runners with strollers must stay in the right lane for safety reasons.
What if there is inclement weather on the race date?
The race will be held on March 14 regardless of weather. If weather is unfavorable it will be moved to the Multipurpose Courts in the Student Recreation Center.
How can I contact the organizer with any questions?
You can contact Megan Lapkoff at mlapkoff@unca.edu
What is the refund policy?
As this is a fundraiser, we cannot offer refunds for non-attendance or if the event is canceled. Your donation to UNC Asheville's Asheville Initiative for Math is greatly appreciated!
Thank you to our sponsors!