4th Annual Open House & Demo - Sunday June 4th at 1pm (Spring Reins of Life...
Description

PRESENTS…

OPEN HOUSE – Come Visit the Farm, Meet the Herd & See The Horses In Action!
LIVE DEMOS – Showing EAGALA Model EAP Services for Veterans, At Risk Teens & Bereaved Children
(Three Bridges, NJ – Hunterdon/Somerset County)

EVENT IS RAIN OR SHINE! (Indoor facilities).Live Music from Danny Rongo! Family Friendly Event. Food Catering Truck, Bake Sale, Parking, Restrooms. HORSE DEMOS…And MORE!
COMMUNITIY AWARENESS – This demo is an annual event held on the first Sunday in June to invite the public to see how Horses are helping trauma survivors cope. We are hold this event each year to provide a day where the public can explore our work and generate interest and funding to cover our EAP programming costs which provides sessions free of charge to Veterans with PTSD-TBI-MST, At Risk Youth Teens and Children in Bereavement. This event is the ONE TIME during the year where the public is invited to the facility and meet the horses – all other visits must be scheduled with an appointment. Spring Reins of Life is an EAGALA Model certified program, a public charity 501c3 nonprofit and currently run by volunteers. With support we continue our mission of serving trauma survivors in New Jersey. Thank You.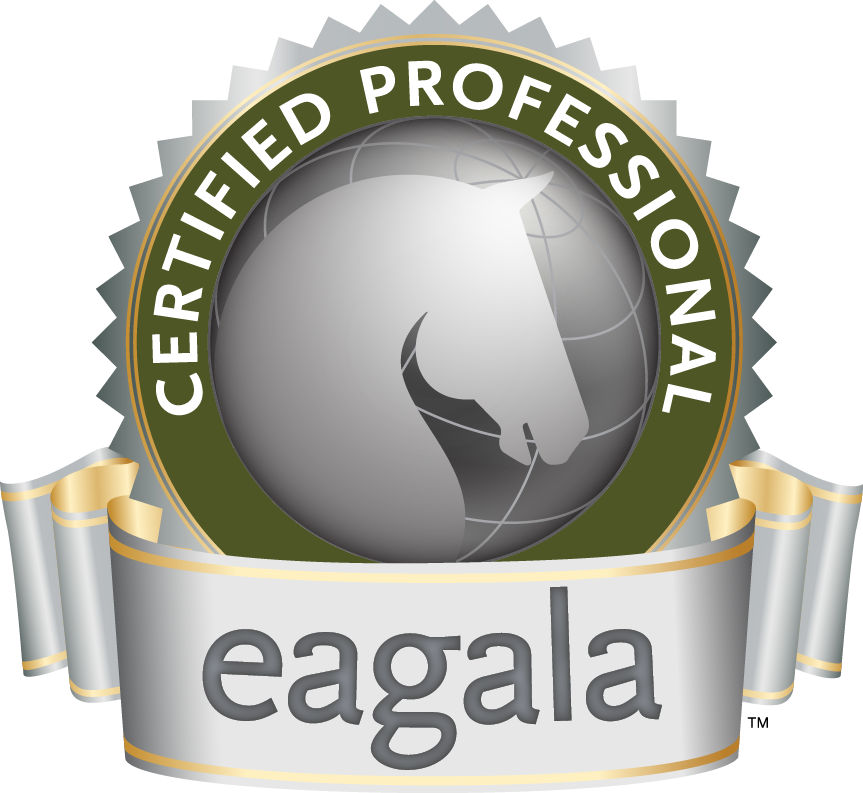 SAVE THE DATE! and JOIN US
When:
Sunday, June 4th, 1pm-430pm ET
*Horse/EAP Demos:
130pm (Intro), 2pm (Veterans), 3pm (At Risk Youth) & 4pm (Children's Grief)

Where:

(NEW LOCATION)


Spring Reins of Life, Inc. – at Hunt Cap Farms
401 Main Street, Three Bridges, NJ 08887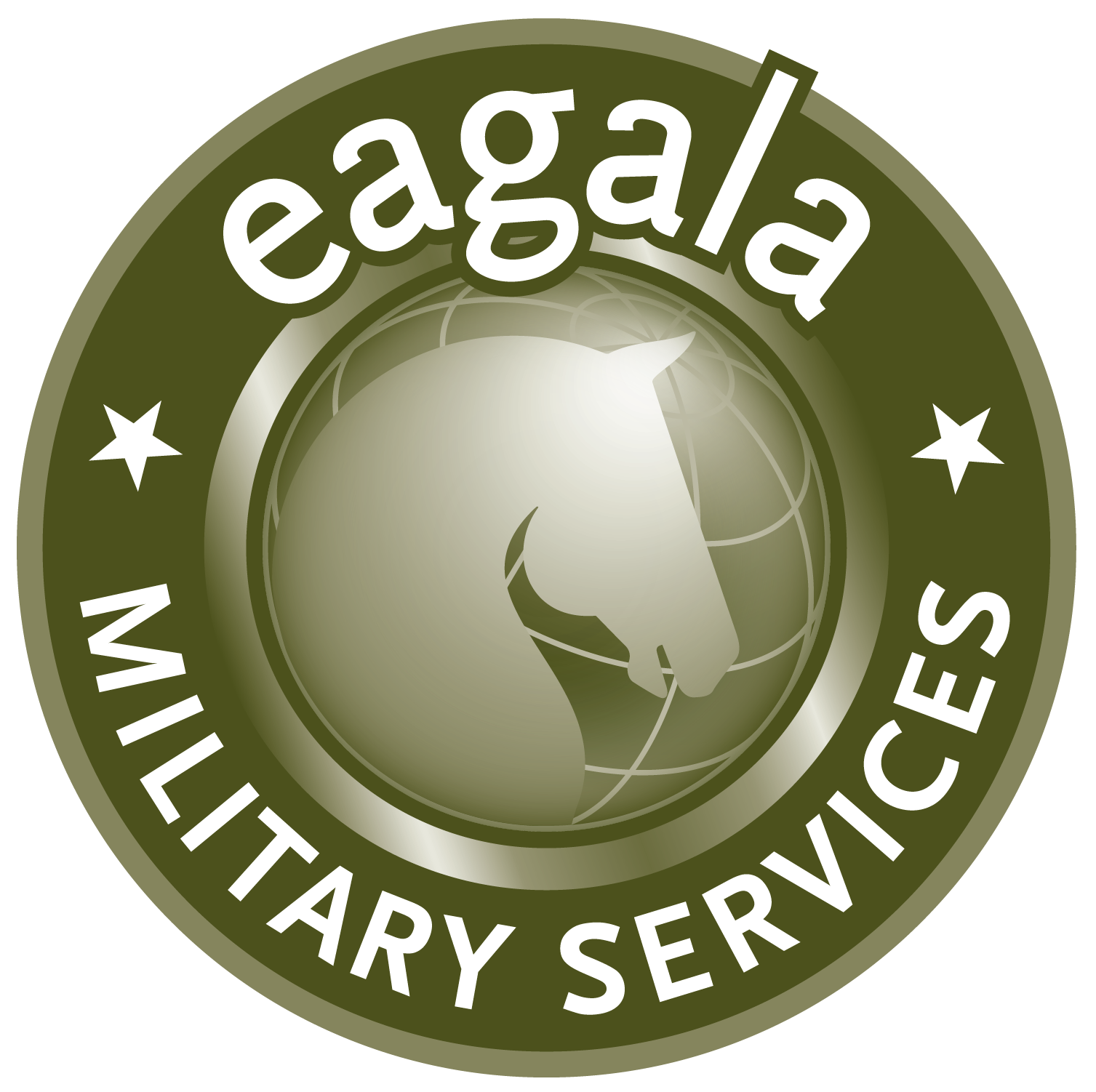 EAP can address the following (and with the assistance of horses it can be done in far less time than traditional therapy sessions): Anxiety, Depression, ADD/ADHD, Trauma, PTSD, Marital issues, Communication breakdowns, Family dysfunction, defiance, behavioral management, self-confidence, RAD, sexual trauma and much more…
The Core Mission of Spring Reins of Life is to serve Veterans and their Families (PTSD, TBI, MST and secondary PTSD), At Risk / High Risk Youth (Teens), and Bereaved Children. All of whom are moderate to severe trauma survivors who either do not want to or simply cannot – "talk about it". All sessions are provided free of charge in a group format (or at very low cost) dependent upon available funding. All donations made to Spring Reins of Life are tax deductible.
*RAND Report (as of 2010) 23 suicides per day with our veterans. This is nearly one per hour! Many states are not required to report and this is 5 years old now, we fear the actual number per day is much higher. Solutions needed today, not tomorrow. Spring Reins of Life is the first EAP program in New Jersey to earn the EAGALA Military Services Provider Certificate. Help us to help save lives. HORSES SAVE LIVES OF VETERANS (Without "Talking About It").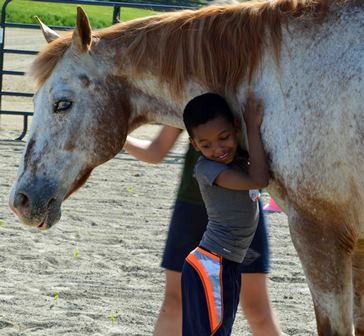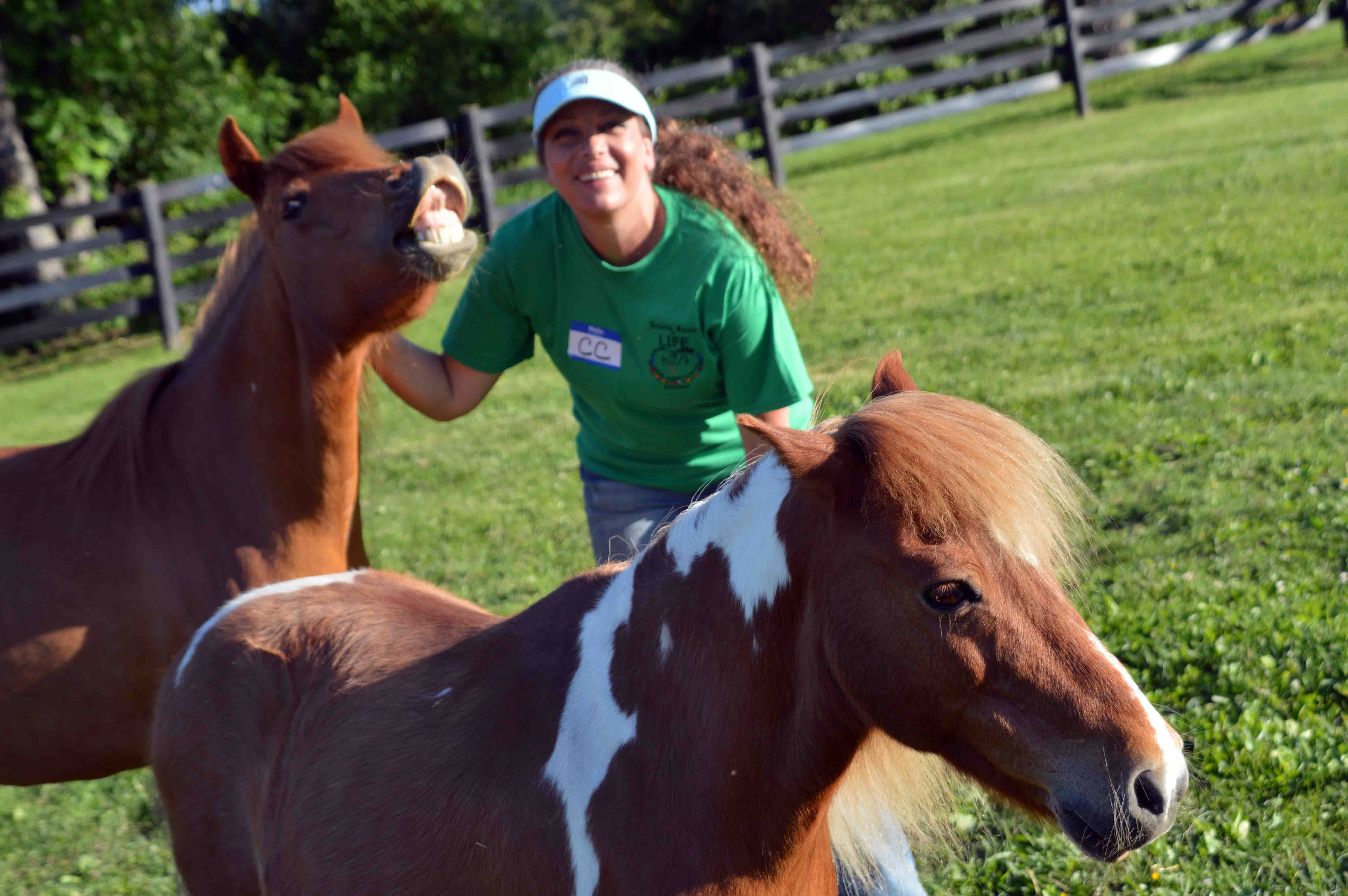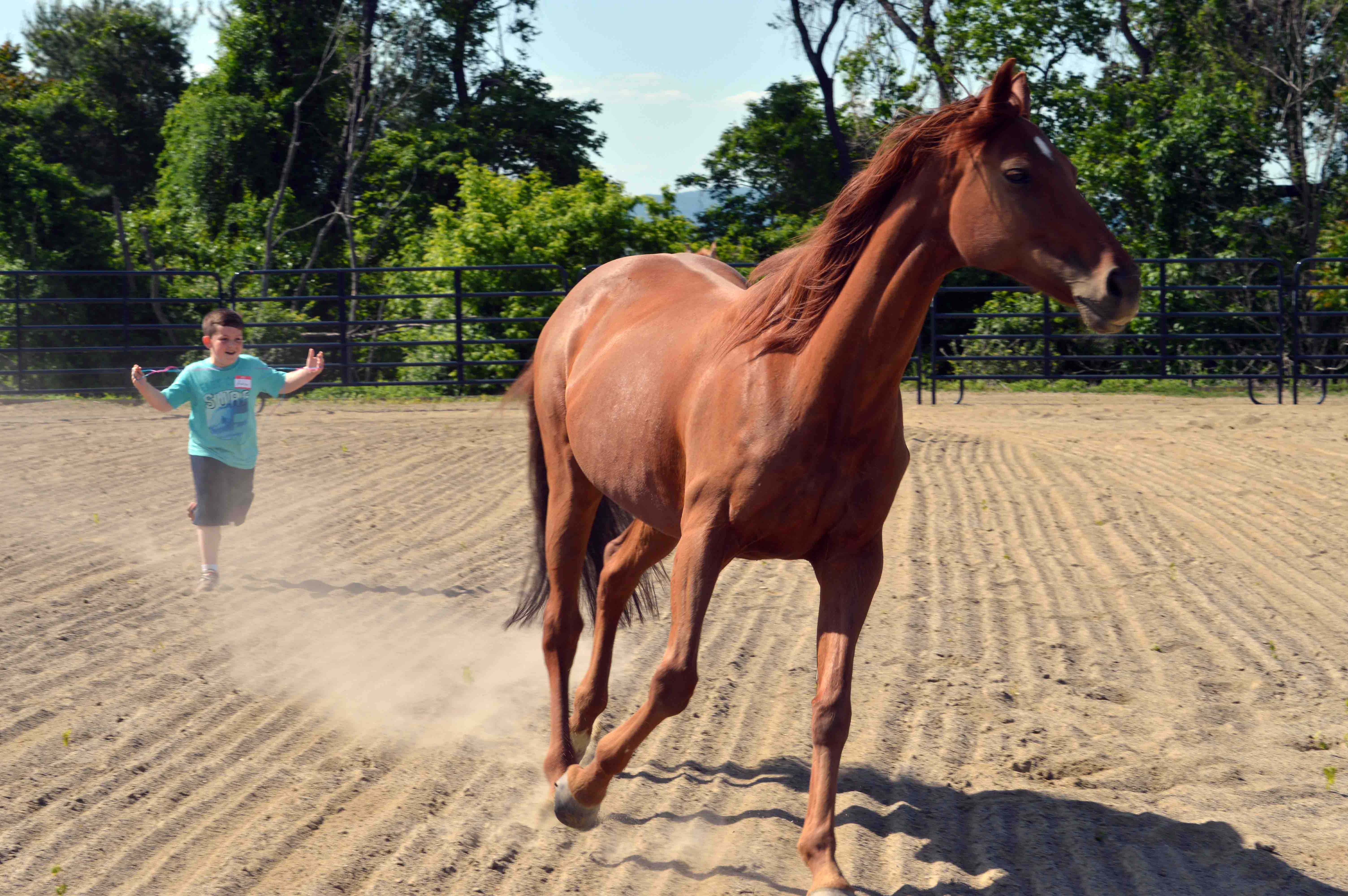 Who Should Attend:
Mental Health Professionals, Rx Psychiatrists, Educational Consultants, Social Workers, Case Managers, Parents, Teachers, Adults, Children, Couples, Families, and Philanthropists! Anyone who is even mildly interested in how horses can alleviate many of the issues we face in this every increasing complex world…ALL ARE WELCOME!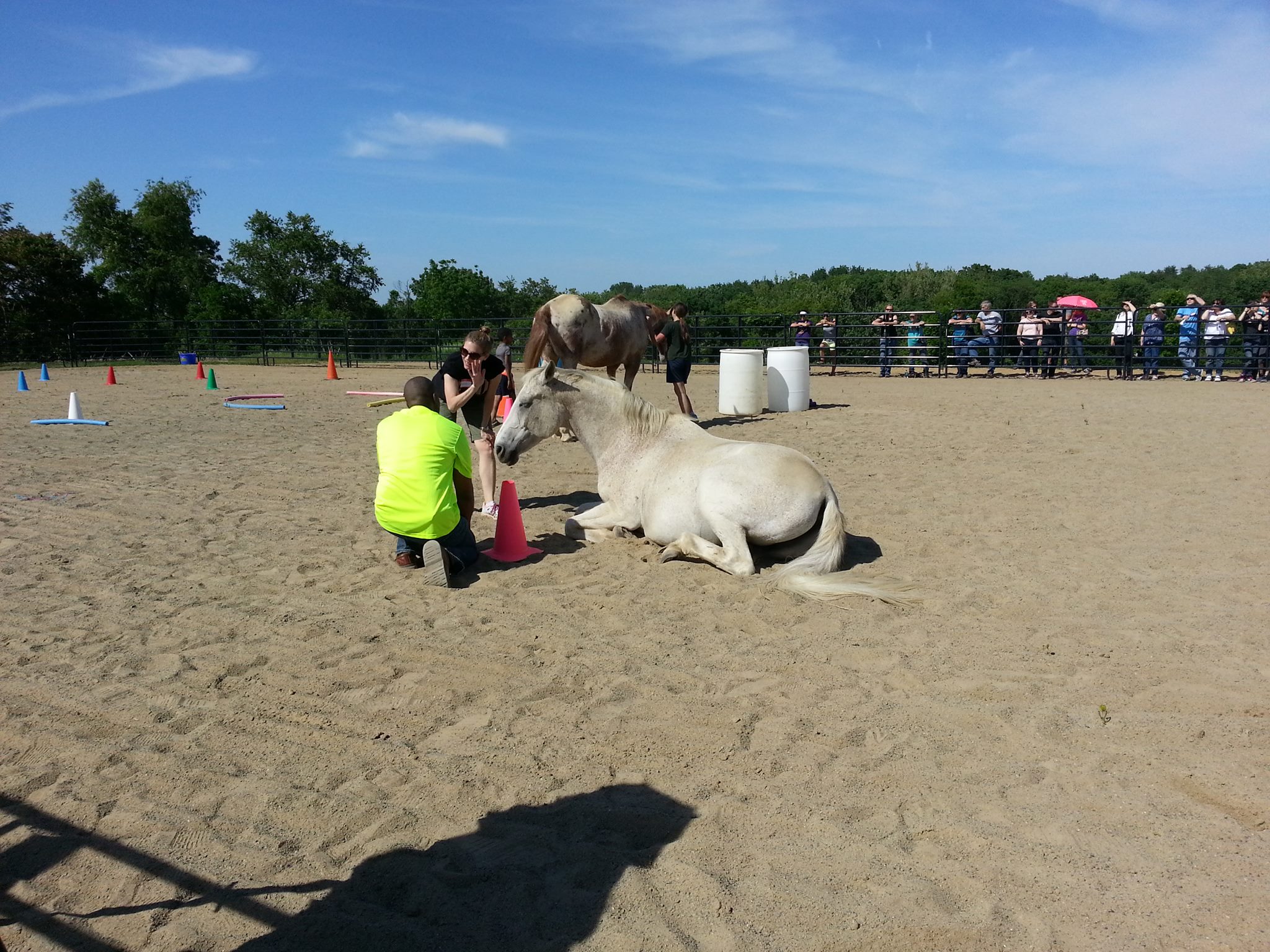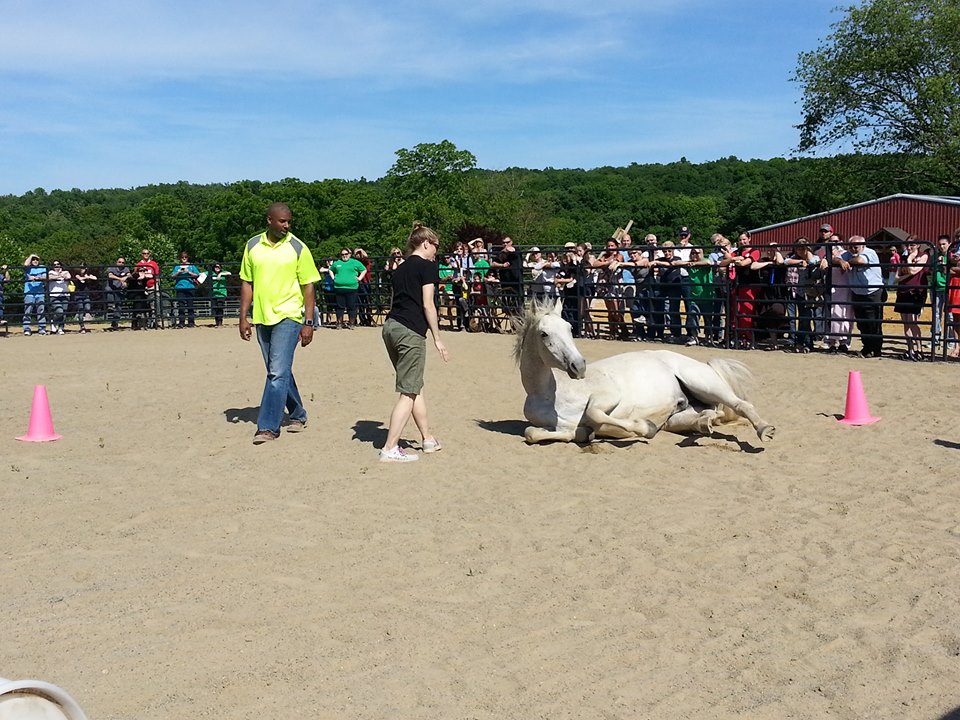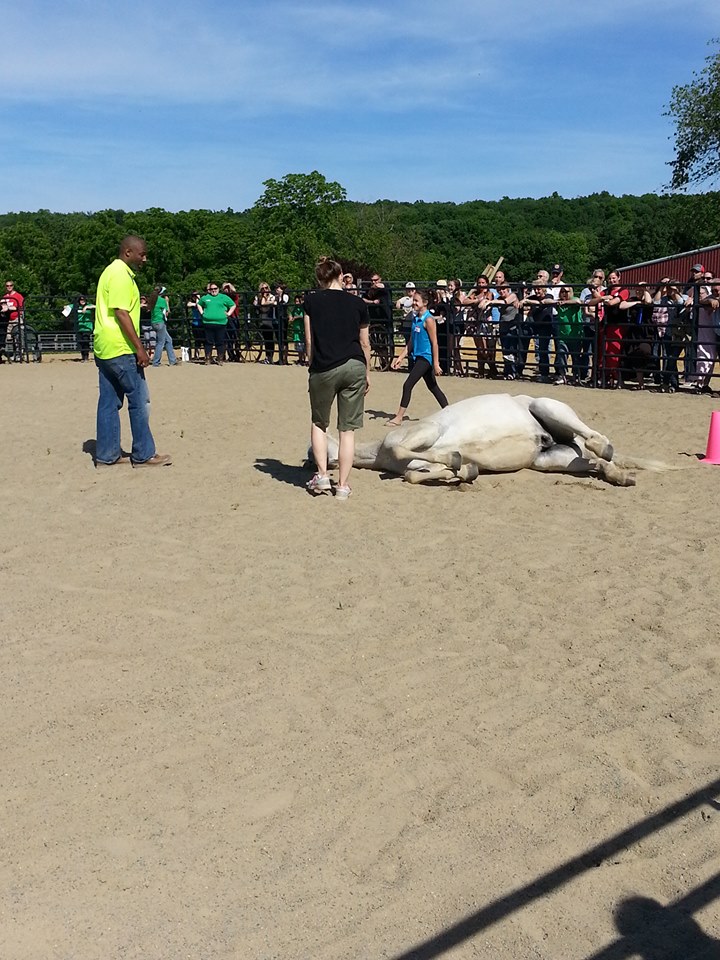 What:
This free demonstration in NJ is designed to introduce our equine assisted services to Somerset / Hunterdon / Mercer Counties. Anyone who is interested in learning more about how horses can help us solve problems and overcome obstacles is encouraged to attend. SRoL is an EAGALA certified program and we want to illustrate how EAP can offer a direct path to success and personal coping skills for At Risk (and High Risk) Youth, Veterans with PTS, TBI, MST, Families of Veterans, and Bereaved Children.
Did you ever think that the missing links to solving some of life's most complex problems just might come from…a HORSE?
Why:
We offer an annual open house event where we can give a live demonstration of EAP and EAL services. This is a fast growing field with marked results, yet because of its new-ness many people are unaware of how it works and why it is so effective. 'Seeing is Believing', therefore we offer demonstrations to show the horses in action and also to allow interested parties to experience this innovative approach to solving problems; creatively, effectively, and quickly. So if you are curious, come see what the horses have to offer!
Details:
Rain or shine – we have an indoor arena so either way we will begin at 1:00pm ET. Suggested to wear comfortable clothing (bring layers) and NO open toed shoes (no sandals, flip flops, etc). No Riding is Involved – No Horse Experience Necessary.
Spring Reins of Life is the first and currently the only EAGALA program in New Jersey to earn the "Military Services Provider Certificate". Right now we service 3 Units at Lyons VA Hospital, funding is always needed to keep this going. We also have interest for a weekly outpatient group for ongoing "Operation Horse" EAP sessions...

Spring Reins of Life completed a 10 week pilot contract with The NJJJC providing EAP to the incarcerated youth in Jamesburg NJ at the NJTS (New Jersey Training School – for Boys). Currently we have 4 programs that are awaiting funding to take part in EAP/EAL sessions for at risk youth... YOUR SUPPORT IS GREATLY APPRECIATED!
Food Catering Truck on Grounds
Ample Parking
Live Music (Danny Rongo Music / OneSong)

Craft Sale

Family Friendly
Bake Sale

Donations in any amount welcomed

Meet our Horses
4 Live EAP Demonstrations

Introduction to EAP (Equine Assisted Psychotherapy – EAGALA Model) – Approx 1:30pm
EAP and Veterans – Approx 2:o0pm
EAP and At Risk/High Risk Youth – Approx 3:00pm
EAP and Childhood Bereavement – Approx 4:00pm
*The EAGALA Model is growing! Over 400% in past 3 years world-wide! (EAGALA = Equine Assisted Growth and Learning Association). To date over 4500 members with over 600 programs running in ALL 50 USA states and over 49 countries around the world. For more information on EAGALA see: www.eagala.org
The EAGALA Model is based on four tenets:
1. A Team Approach (Mental Health Professional, Equine Specialist and Horse(s)).
2. Solution Focused Experiential model (we believe our clients have their own best answers).
3. Code of Ethics (both followed and enforced).
4. Ground Focused (all activities are un-mounted / no riding is allowed).
More information:
Please RSVP or for more information/directions you can call us at: 347-886-2798
or email us at: info@springreinsoflife.org
Demo is FREE! Donations are accepted and appreciated. We would love to meet you! Tell and/or bring a friend! HOPE TO SEE YA THERE!


HORSES HEAL THE INTERNAL WOUNDS OF TRAUMA and DESPAIR without having to TALK ABOUT IT…
A 501c3 Public Charity, founded in 2012.
Spring Reins of Life – constant funding is needed based on the growing demand/holding list for EAP services among Veterans with PTSD and At Risk Youth. All Donations are tax deductible at: www.springreinsoflife.org
SPRING REINS of LIFE, Horses – Humans & Healing (501c3)
Cannot Attend on June 4th? Would Like to Help Anyway?
Tax Deductible Donations Accepted Online & via Mail at:
*Event Listing for RSVP and Credit/Debit Card Donations
*PayPal Donate Button on this site or via your PayPal account (info@springreinsoflife.org)
*Do your online shopping to benefit Spring Reins of Life at iGive or Amazon Smile
*Mail a check/money order with appropriation to:
Spring Reins of Life, Inc. PO Box 5311, Clinton NJ, 08809