4th Annual Oktoberfest Show presented by Fifteen52 & HRE Wheels

Friday, October 5, 2012 at 12:00 PM (PDT)
Event Details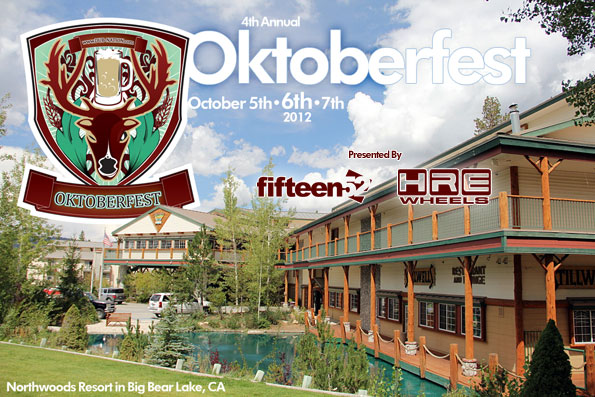 Welcome to Oktoberfest Show 2012
This year will be our 4th Annual Oktoberfest Show in Big Bear Lake, CA. Presented by fifteen52 & HRE Wheels. It's open to all makes and models. Year after year we have grown in attendance and doubled in size. Attending our event will consist of an epic drive up the Rim of World Hwy and upon entering the town you will be greeted by hand carved wooded bears in every size. The relaxed and chilled atmosphere is like no other, it's a vacation from other car show events. It's a time to reflect our year and enjoy our cars one last time before the SEMA rush and the family oriented holiday season.
We have one location, one hotel and one purpose. Drive to Northwoods Resort, park your car and party all weekend long in the spirit of Oktoberfest!
---
SPONSORS & VENDORS
---
DID YOU KNOW?
The Friday Morning "Rim of the World" Cruise will be lead by a great group of fellas from VW GTI SOCAL. They are very well known for their end of the month Malibu Cruise through PCH, click here to follow their official thread. On the way up, there will be photographers squatting to get that perfect shot. So please follow all traffic rules and keep an equal distance for optimal photos of your ride.
On-Site Flashing from GIAC is available, please stop by their booth or schedule an appoint prior to the event. Don't forget to mention Oktoberfest when calling (949) 470-1080.
Car Cleaning Service will be available during Oktoberfest by Eco-Shine Auto Reconditioning. Please contact Mitch at (818) 339-4909 to reserved your cleaning appointment.
Official Oktoberfest Hoodies will be provided by Volkwear Clothing. They are currently taking pre-orders on their website.

Must order before Sept 28th.

Saturday Night "Oktoberfest" Party will be decorated by German Exklusiv. Please come dressed in Oktoberfest attire. We will have games and activities for your enjoyment.

Must present Official Oktoberfest 2012 Silicone Wristband at the door.
---
EVENT SCHEDULE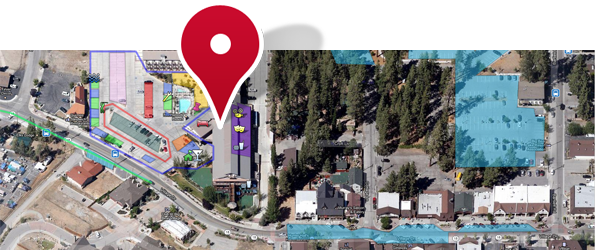 (View our Interactive Map)
Friday, October 5th 2012

Wildwood Park

(300 E. 40th Street, San Bernardino, CA 92404)
10am -
Morning Meetup @ Base of Big Bear Mountain
11am -
Start of "Rim of the World" Mountain Side Cruise

Northwoods Resort

(40650 Village Drive, Big Bear Lake, CA 92315)
12pm -
Group Lunch @ Stillwells Restaurant (open to all)
1pm -
Hotel Room Check-In
2pm to 5pm -
Meet & Greet GTG/Pre-Booth Set Up/Registration Pickup
5pm -
Limbo Contest (lowest of low)

Northwoods Resort Ballroom

(Inside the Host Hotel)
6pm to 8pm -
Dinner Party (prepay online at oktoberfestshow.eventbrite.com)
6pm to 1am -
Private Bar Hours
8pm -
Movie Night

Saturday, October 6th 2012

Northwoods Resort

(40650 Village Drive, Big Bear Lake, CA 92315)
8am -
Vendor Setup
10am -
Show & Shine Starts/Registration Pickup
11am -
Vendor's Choice Judging Starts
12pm -
Stuff Da Dub (who can get the most people in a VW)
1pm -
Twinkie Eating Contest (fastest to eat 3 twinkies w/o liquids)
2:30pm -
Beer Boot Challenge
4pm -
Awards Ceremony
4:30pm -
Raffles

Northwoods Resort Ballroom

(Inside the Host Hotel)
7:30pm -
Party Starts
(Chicken Dance Competition, Best Oktoberfest Costume Walkoff, Limbo Contest and much more...)

Sunday, October 7th 2012

Northwoods Resort

(40650 Village Drive, Big Bear Lake, CA 92315)
10am -
Brunch @ Stillwells Restaurant
11am -
Mobbin Da Town Cruise (depart Northwoods Resort)

Alpine Side

(800 Wildrose Lane, Big Bear Lake, CA 92315)
12pm -
Alpine Slide ($5 per run/$20 for 5 run book)
2pm -
Time to go home
---
WHY IS IT SO AFFORDABLE?
To keep our cost down, we always support the venue. The more money the venue makes, the less upfront cost we pay. Which we pass along the savings to you. This year, Northwoods Resort asking us to prepay one week in advance a head count for Friday Night's dinner. If you are staying at the Host Hotel, this is a must! By prepaying, help us get us access to the ballroom for both Friday and Saturday night, just present your Official Oktoberfest 2012 Silicone Wristband at the door. We will provide the entertainment. But please support our event by purchasing food & drinks at Northwoods Resort. A single Friday Night dinner meal ticket will include:
(1) Hamburger or Veggie Burger
(1) Potato Salad
(1) Bag of Chips
(1) Cookie
(1) Soft Drink
---
MESSAGE
Our goal for Oktoberfest is to take over and to #OccupyBigBear. Our dream is to look outside your room and see a modified car. Everywhere you turn, you see a car rolling down the street, parking, getting gas, etc. We would rather see a modified car in it's natural environment rather than being parking. So drive around town and enjoy the weather and atmostsphere.
We can't wait to see everyone again! New faces and old faces!
Please help spread the word and invite your friends!
You can show them this too.
http://vimeo.com/30478950 & http://vimeo.com/30353325
For more information, you can visit our facebook page www.facebook.com/OktoberfestEvent or website www.oktoberfestshow.com.
---
THINGS YOU SHOULD KNOW
We got a lot of fun stuff planned. It's a lot more fun when we all participate. People will be dressing up in costumes, there will be party beads, drinking hats, etc, etc. We are doing this to have a great time!
Please signup & pre-register for our event. Registering is a way for us to keep you informed and it helps us generate funds for the Susan G Komen Breast Cancer Foundation, in return you get a wristband that let's everyone know you are part of our group. (http://oktoberfestshow.eventbrite.com/)
No Oktoberfest shirts this year, however, there will be Official Oktoberfest Hoodies for pre-sale. (http://volkwearclothing.storenvy.com/) One for $35 and Two for $60, use code "2for60".

Get your orders in before this Friday, Sept 28th.

Our event is not a traditional judged car show, it's a show & shine. A fancy word for a car gathering. It's free to show and there is no registration needed for your car.
No more party packs. In the past, our event has always moved our after-party to Big Bear's Convention Center, this is right across the street from Motel 6. We have built an awesome relationship with the Convention Center, but as our event grows, the Convention Center can not handle our large capcity. But if you like to attend Big Bear Lake 42nd Annual Oktoberfest, you can get information here.
Parking is limited. We are well over capacity with our Host Hotel and nearby Hotels. We are only reserving parking spots for our sponsor booths & staff. If you have a nice car, please try to find a good spot towards the front of the Host Hotel. All others please follow all traffic laws and find a comfortable spot. We are working with the city of Big Bear to find more available parking for all the attendees near and around the Hotel.
SIMPLE RULES
No glass bottles anywhere. If you bring alcohol, please keep inside your hotel room. Beer is available for sale on parking lot grounds and the bar inside Northwoods. Please support the Hotel. Keeps our cost low for next year.
No burnouts, drag racing, fighting or any immature behavior. Be respectful with property and the people around you. We would like to continue using this hotel, it's the biggest one in Big Bear.
No double parking or saving parking spots. Be civil and share.
Please clean up after yourself.
---
LODGING
When & Where

Northwoods Resort
40650 Village Drive
Big Bear Lake, CA 92315


Friday, October 5, 2012 at 12:00 PM (PDT)
Add to my calendar
4th Annual Oktoberfest Show presented by Fifteen52 & HRE Wheels