Description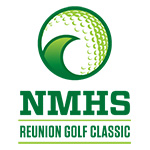 The 4th Annual NMHS Reunion Golf Classic benefiting Harrybrooke Park at Candlewood Valley Country Club on July 29, 2017 is an opportunity for people of all ages who attended schools in the New Milford region to get together and spend a fun filled day with others who share the common bond of having grown up in the greater New Milford area.
Start the day by gathering with friends around the putting green and reminiscing about growing up in New Milford before gearing up for a shotgun start at beautiful Candlewood Valley Country Club. Play with a group of your choosing, or make some new friends in a random grouping. The choice is yours. Enjoy the many on-course contests such as: longest drive, closest to the hole, most accurate drive and a putting contest while playing in a four-person scramble. The kitchen staff at Candlewood Valley will provide a delicious boxed lunch for you to enjoy during your round and we will also have two beverage carts roaming the course to get the party started.
If you're a business owner, or work for a company that could benefit from some on-course advertising during the event, inquire about the sponsorship opportunities available on each hole. After golf has concluded, join us upstairs for the awards ceremony. Trophies and prizes will be awarded to the top six teams and prizes will be awarded to all of our contest winners.
This is also our opportunity to celebrate our guest of honor, Joe Neff. Joe will be presented with the "Spirit of New Milford Award" which celebrates Joe's lifelong contribution to the town and people of New Milford. As both a teacher and a coach, Joe has demonstrated a never ending reserve for helping others. Over his nearly 40 year career, Joe has led his teams to multiple championships and his students to long lasting careers. Please come and celebrate Joe's contributions to the people and town of New Milford with us.
If golf is not your thing, make plans to join us anyway. The party really starts immediately following the golf tournament. We will enjoy a complete barbeque dinner while the very friendly Candlewood Valley staff works the room. While the bartenders keep the drinks flowing and the DJ keeps the music going, all you need to do is have fun. Come join us and create some new memories with old friends and new ones alike while enjoying a full blown New Milford party!
So what are you waiting for? Register today and join us on July 29th. It may seem like a long time from now, but space is limited and this promises to be another unforgettable event. Don't wait until this field fills up to secure your spot. Come and join us for a great day of golf, food and fun while we raise funds for some great causes. See you in July.