Alpha Kappa Alpha Sorority, Incorporated, Lambda Chi Omega Chapter Presents the 4th Annual Miss Fashionetta Pageant
About this event
"Renaissance Pearls of Paradise"
As the Miss Fashionetta pageant enters its fourth year, we focus on the arts -- the dynamic Harlem Renaissance. Spanning the 1920s, it is a golden age of intellectual, social, and artistic African American expression.
The theme of this year's event perfectly captures the essence of the intelligent, charming and poised contestants vying for the title of Miss Fashionetta 2020.
We are grateful for your continued support for our scholarship program and mentoring of the special young ladies who participate.
You don't want to miss it! Dinner included.
Proceeds will go to the Pearls of Paradise Foundation — a 501(3)c nonprofit, in support of Lambda Chi Omega Chapter, Alpha Kappa Aloha, Sorority, Incorporated scholarships and programs .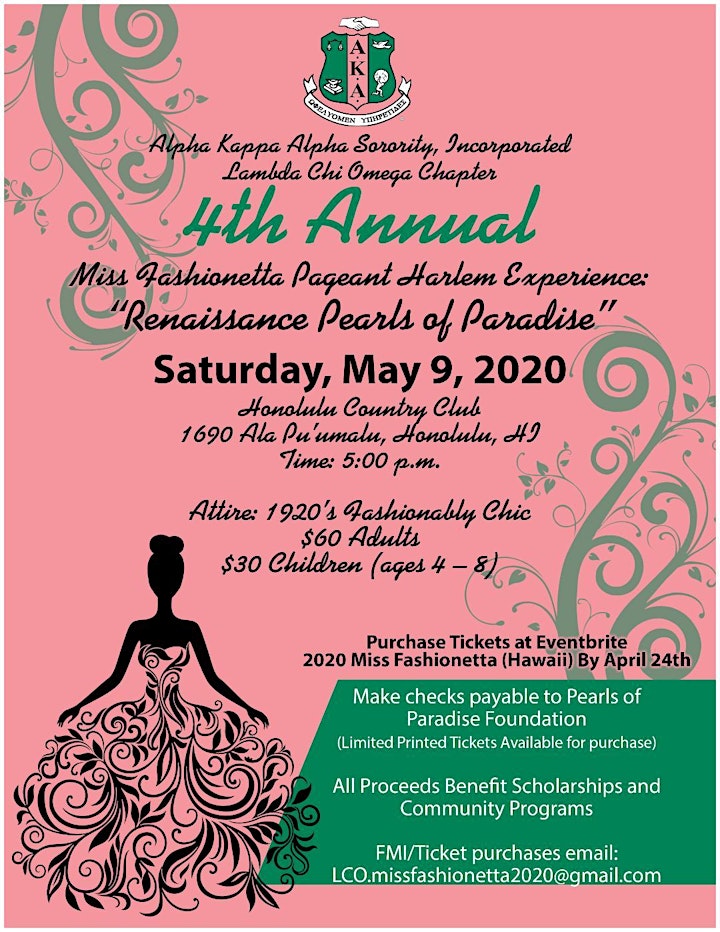 Organizer of 4th Annual Miss Fashionetta Pageant
The Pearls of Paradise Foundation, a 501(3)c organization, supports the educational and community service programs of Lambda Chi Omega Chapter of Alpha Kappa Alpha Sorority, Incorporated. 
Alpha Kappa Alpha Sorority, Incorporated was founded in 1908 in Washington, District of Columbia.  For 112 years our membership continues to serve globally as leaders and change agents to improve quality of life throughout the globe in service to all mankind.  The Lambda Chi Omega Chapter membership is comprised of college educated women with demonstrated leadership in professions which include medicine, education, law, business and finance as well as public service at federal, state and local levels.